Colkeririn Rhodesian Ridgebacks
Quality Rhodesian Ridgebacks, Derbyshire, E​ngland
CRUFTS 2013 for all of us at Colkeririn Ridgebacks was a day full of warm wishes, good cheer, great friends and lovely, brightly coloured rosettes!  Colby opened the day as the very first dog in the ring in the Veteran Dog class.  Motoring round as if he wasn't a day over 4 (9 years and 2 months, but we don't tell him) he loved his time on the green carpet, winning a 3rd Place rosette for the 2nd year running.
Rio and I had a very long wait for the Open Bitch class (the biggest class of the day) and were very happy to be placed 2nd in a beautiful class, losing out only to the Best of Breed winner of the day.  
Although Verde qualified, we decided not to take her along, preferring to leave her at home with her sister and auntie Indie for the day.  
We were so proud of Colby and Rio's benching behaviour - splendid ambassadors of our breed.  
Our congratulations as always to our winners, placers and to all who attended - CRUFTS is a qualifying show, so every dog present in the ring is a winner!  
We are thrilled to have a website back up and running again, so Rio's fans can keep up to date with her latest news!
Over the summer Rio has continued with her excellent 2012 and after the Windsor Championship Show was recognised in Dog World as the UK's Halfway Leader.  In 2012 alone she has won 9 Challenge Certificates, 7 with Best of Breed - every time making the judge's cut and was awarded a warmly received Group 3 under Mrs Viv Phillips at SKC.    In September we became the stewardsp of the beautiful Owlsmoor Trophy in recognition of Rio's joint Top Rhodesian Ridgeback status in 2011.
Since her return to the UK in March 2011 she has won 15 CCs, 11 with Best of Breed, 5 RBCCs and 3 Group 3s!  She so enjoys the show ring and lucky for us, Kim does too!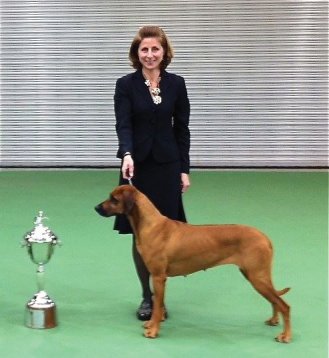 /