Colkeririn Rhodesian Ridgebacks
Quality Rhodesian Ridgebacks, Derbyshire, E​ngland
** Kamba's Going to be a Daddy * Puppies Due June 2nd **
We are very happy to make the exciting announcement for Janet Larkin of Msaka Ridgebacks that her beautiful liver nose girl Asha (Faahac Royaal Finesse) is in whelp with at least 8 wriggling wonders sired by our handsome boy Kamba (Colkeririn's Sunlight).  Janet was so happy Asha was in whelp she stopped counting at 8 when Asha was being scanned recently!  
Puppies are due on June 2nd.   Janet is accepting enquiries about the litter.  We are happy to pass enquiries on, or to contact Janet directly, her details are on our announcement photo below.   
We'll be sure to share some photos of this beautiful combination once they are born. We take huge responsibility in breeding and Kamba will only be used on selected, health tested bitches with good hip and elbow scores. We are honoured Janet should have selected Kamba to sire Asha's first litter.   As our announcement says, 2 beautiful parents with 4 stunning grandparents - we have excellent knowledge of the dogs behind both Asha and Kamba and have fully documented health test results for several generations behind them.
Asha:  (Faahac Royaal Finesse) Elbows:  0/0   Hips:  4/5 = 9
Kamba: (Colkeririn's Sunlight)     Elbows:  0/0   Hips:  3/4 = 7
Both Asha and Kamba are tested for and clear of Degenerative Myelopathy.
Good Luck to Janet and Asha!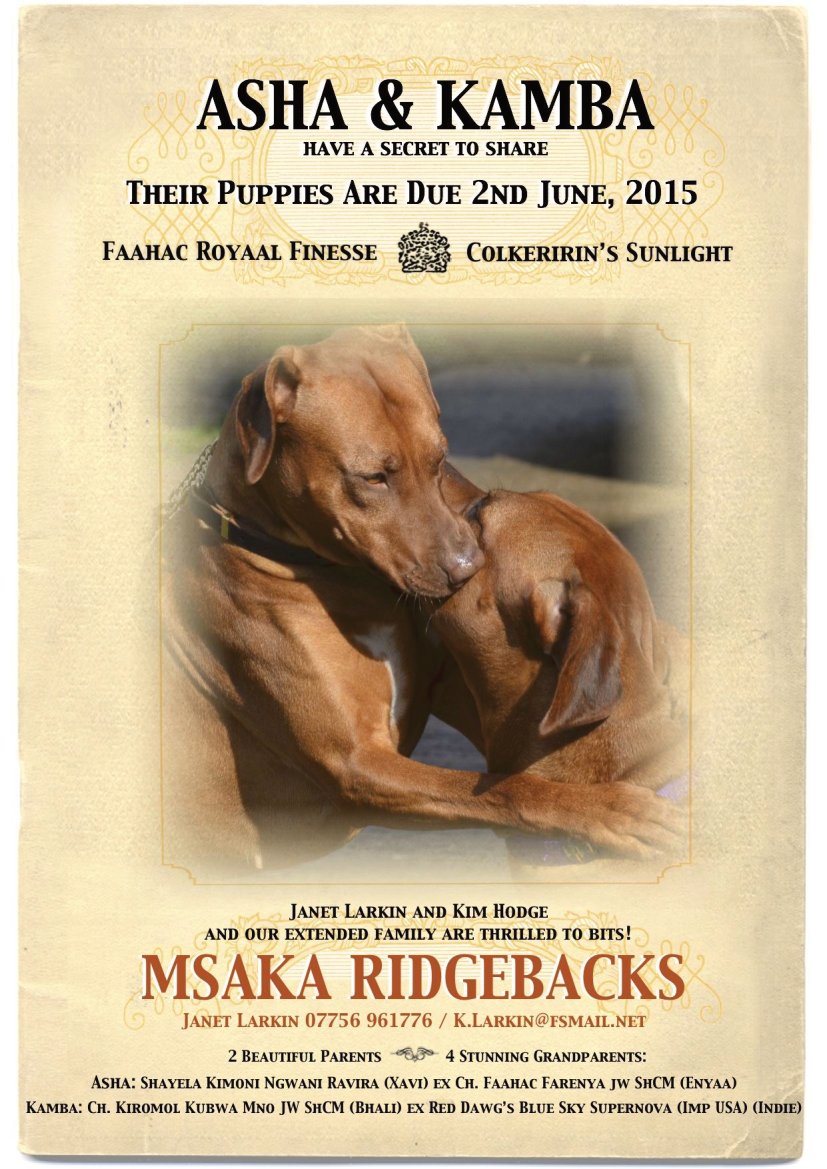 Happy New Year to all our followers - the Colkeririn pack have enjoyed a wonderful holiday of good company, good food, plenty of new toys, great walks and lots of fun in the snow.    
We thank our lovely puppy owners who shared photos, cards, videos and their love of their dogs with us over the festive season, its wonderful to see so many happy families.  We are excited to be making new friends with those interested in our upcoming litter between Kamba and Verde, and love the fan club Kamba has with friends and followers far and wide - he's one special boy.   
His first experience of snow was great fun to be a part of.  After he dug, muzzled, jumped and ran like the wind in it all, he stood still for me to take this photo  - perfecting his aloof look as if to say "snow, what snow?".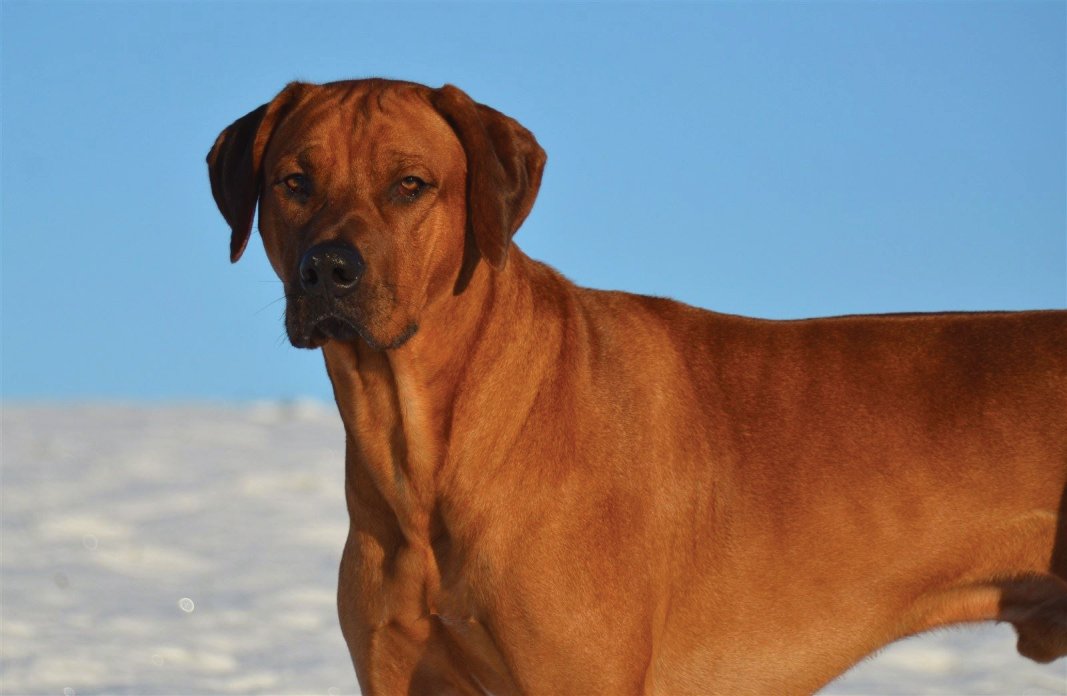 Rhodesian Ridgeback Puppies - Spring 2015
We are excited to announce our Spring 2015 planned breeding of our home bred Rhodesian Ridgebacks Verde (Colkeririn Your Good Elf) and Kamba (Colkeririn's Sunlight).   
If you are interested in finding out more about this litter of puppies, please visit our Planned Litter page.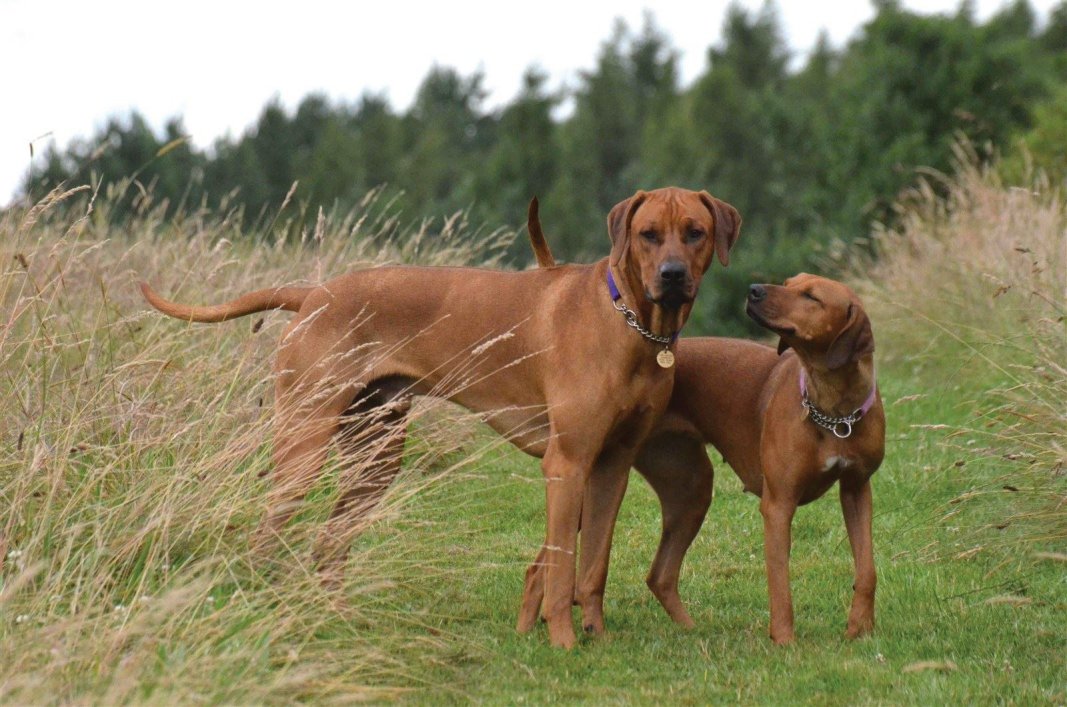 Puppies are here!  Born June 30th 8 boys and 3 girls!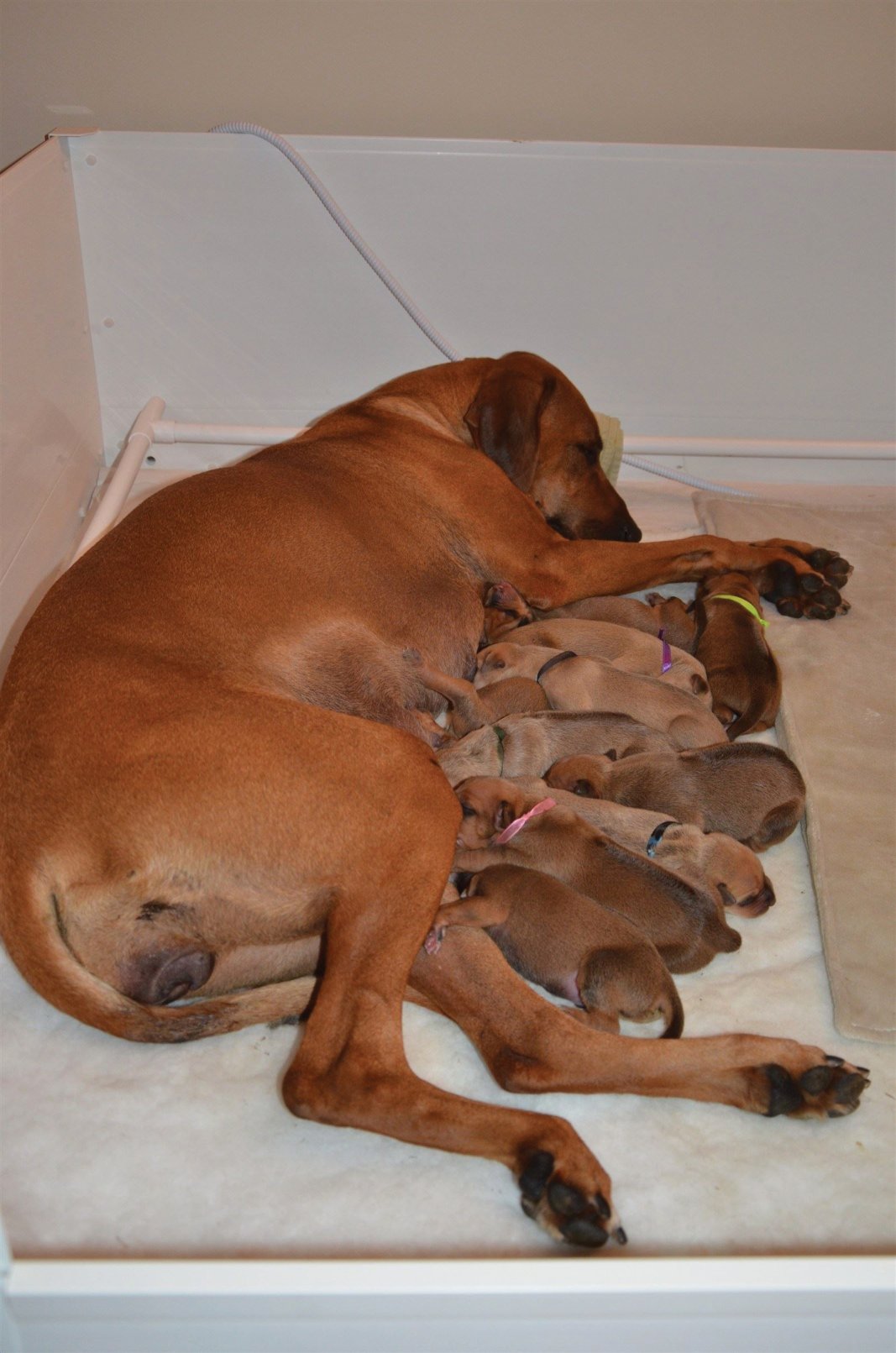 They have beautiful colours - light wheaten to wheaten, very little white, no tail kinks, we have 7 correct ridges, 2 very slightly off set and 2 ridgeless.  
They have been health checked by our veterinary surgeon with a clean bill of health, and so far no dermoid sinus has been detected!  
Mummy Indie is doing wonderfully well, and her babies are robust, thriving puppies - we are very happy indeed!
Due to the exciting combination of Indie and Bhali, we have had a lot of interest in this litter, so if you like the idea of owning one of these puppies, please get in touch by email and we'll discuss the possibilities.  
We are thrilled to share that Indie was scanned at 28 days and has been confirmed in whelp with eleven puppies.  They are due to be born early July.  
Indie is taking her pregnancy very much in her stride, enjoying her regular exercise, delicious raw diet - thank you Wolf Tucker - and is certainly finding the most comfortable places to sleep, ensuring she gets her beauty sleep now, as she's going to be busy with 44 little legs to keep up with!  As a desert dog, born in Arizona, USA, she is thoroughly enjoying the warm English weather and basks whilst stretching her tummy towards the sunshine!  Here she is at 5 weeks, enjoying an early morning walk.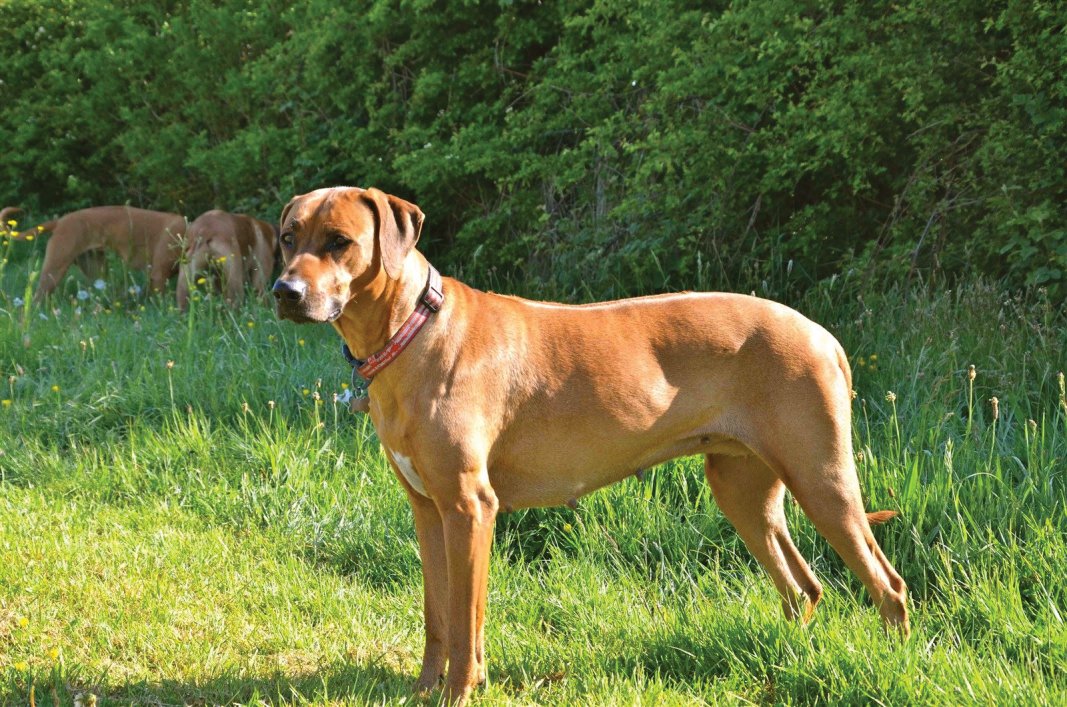 We have continued to enjoy daddy Bhali's successful Spring and early Summer in the show ring, and of course have been very busy meeting potential new owners for the puppies.  We have some wonderful families who are now busy making plans in their own homes for their new arrivals.  
If you are interested to learn more about this breeding, please visit our Planned Litter page, or email me at
[email protected]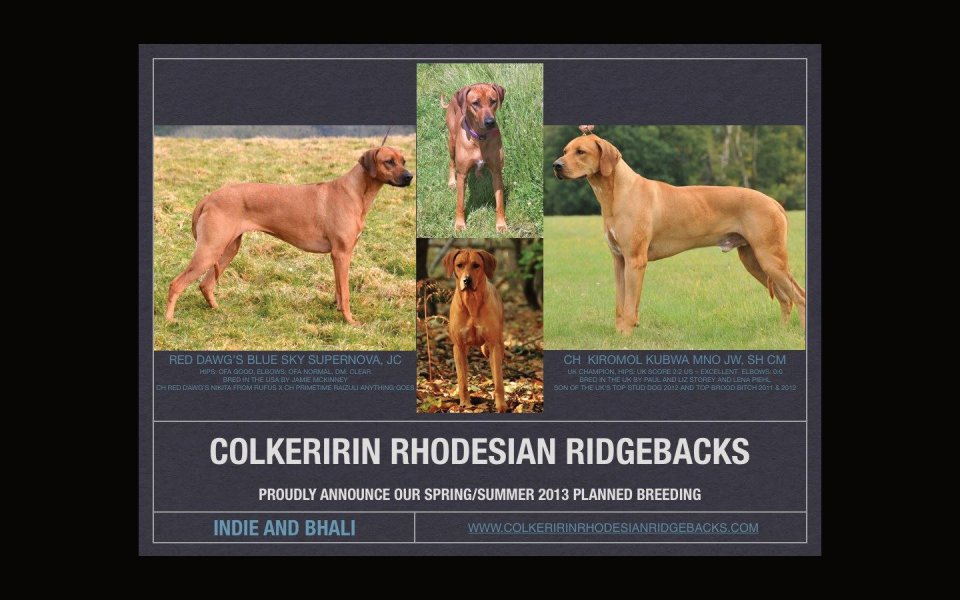 We are happy to announce our Spring/Summer 2013 planned litter between our USA Bred girl Indie (Red Dawg's Blue Sky Supernova, JC) to UK Champion Kiromol Kubwa Mno, JW, ShCM
We have chosen Bhali primarily for his outstanding temperament, beautiful head type, his wonderful substance and that he has several generations of Kiromol dogs behind him.  Bhali has been hip and elbow scored under the BVA scheme with excellent Hips 2:2 and Elbows 0:0.  He is the son of the UK's 2012 Top Stud Dog and the 2011 and 2012 Top Brood Bitch.  We have long admired the breeding ethics and practices of Paul & Liz Storey and Lena Piehl who make up the Kiromol Kennel in the UK, and are really excited they have agreed to us including Bhali in our breeding programme.  
Indie is bred some some truly outstanding dogs in the USA.  Both her mother Niki and father Kibi finished their US Championships with 3 majors each.  Her grandsire on her father's side is BIS, BISS Camelot's Code Red, ROM otherwise known and loved as Mojave and her grandsire on her mother's side is another outstanding producer Ch Rajataru Dbltake Sir Rufus, ROM.  She is also lucky to carry Ch Rivercity's Travlin Man behind her, who sired some of the USA's most recent top ranking Ridgebacks.    Indie's health tests were done in the USA under the OFA scheme and has Hips: Good, Elbows: Normal and is Degenerative Myelopathy: Clear.
If you are interested in finding out more about this upcoming breeding, please drop me an email.
/