Colkeririn Rhodesian Ridgebacks
Quality Rhodesian Ridgebacks, Derbyshire, E​ngland
This long weekend has been nothing short of miraculous in Derbyshire.
As some of you know Lana was mated in August.  Everything with the mating was text book and was a positive experience for both Lana and her beau.
As the weeks progressed every single sign told us she was in whelp, which is why our hearts sank when we looked at Dominie's screen on day 29 as what can only be described as peering into an empty abyss.  Not one sign of life or even a change in gradient or colour from one side of the monitor to the other. 
In disbelief, we pregnancy tested her again to get a negative result.  A period of readjustment, re-focussing and what felt like mourning commenced, this may sound dramatic to some, but is an honest account, nonetheless.   
John and Jane visited with Lana two weeks later and Lana seemed, as so many often do, to be fully indulged in a phantom pregnancy.  And two more weekends later, as this was the weekend we were all hoping to whelp her litter, Jane and I decided to keep the time we had both booked off work and all spend the time together to try and find something nice to do, and stop ourselves thinking of what should be happening.
On Friday morning we planned a walk with Lana and her some of her family and friends here.  Luckily Jane decided to mention that as Lana had woken up she had passed what seemed like a combination of wee and some clear discharge.   This to me seemed like a bitch whose waters had broken, and my initial thought was how could a bitch fake waters breaking as part of a phantom (she was, after all, on day 60).   I decided to call a friend, Janet Larkin, who has been nothing short of brilliant since the day I met her 18 months ago, providing invaluable knowledge from her veterinary nurse training and experience as a breeder.  Talking through my thoughts it swiftly became clear Lana should see a vet.  
The brilliant practice, Blenheim Veterinary who I'm so lucky to call my vets, made space immediately in their back to back appointments for Sarah to see Lana.  As soon as she put her hands on her she could feel something.  We progressed into the darkened scanning room, lubed Lana's tummy and faced towards the screen.  A backbone was immediately visible, followed by a strong, regular heart beat!  A miracle!
We looked for more puppies through the 2 dimensions of the scanner and as if to make sure and probably to reconfirm what our eyes had just seen, asked for an x-ray.   A single puppy, who Sarah noted appeared very large, was confirmed.
Stunned, excited, confused, elated and now with a whole new set of emotions to manage, we left the vet and came home.  We called the sire's owner and tried to comprehend how brilliantly Lana had kept her secret for 60 days.  And we marveled at how her master plan had been played out.
A weekend of reading, thinking, talking and weighting up our options to ensure the best outcome commenced, and with the help of the sire's owner, breeder, and with Jo Pyke volunteering a back up surrogate mother/litter on standby, we decided an elective c-section on Monday morning was the way forward. 
Lana, with just a solo puppy in her uterus, was clearly lacking the full blown stimulation to go into labour, but with her plug removed and a potential very large puppy and now at day 63, our minds were made up.  
Yesterday morning we welcomed the arrival of a thriving correct boy who has won a village  of peoples' hearts and minds in 24 short hours.  
Lana is slow to bond with him, but has allowed him to feed occasionally and to his delight have a wonderful explore over his mummy's tummy.  
We know the road ahead might have bumps, but we're so grateful for the gift of this beautiful soul, so please join myself, Jane, John, Lisa and Sharon to welcome Lana and Elvis's miracle son.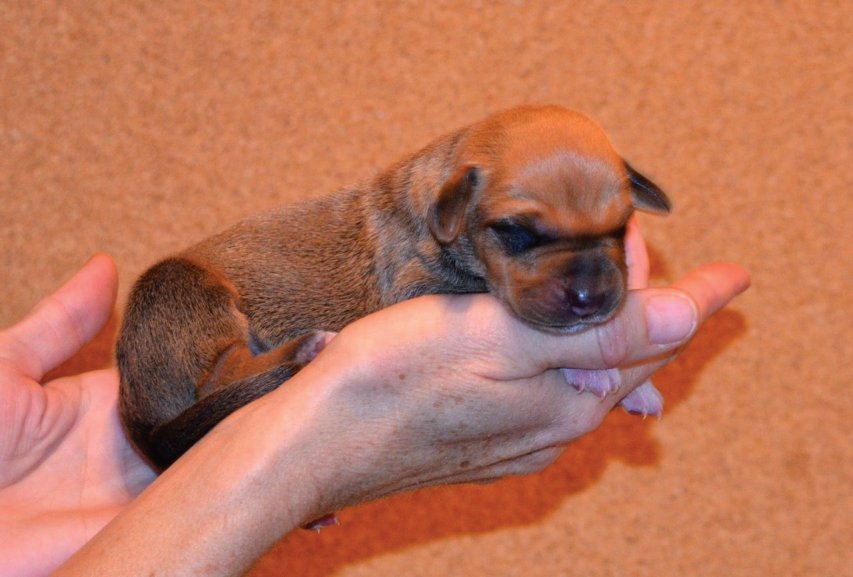 Ch Sonstraal's Chocolate Storm JW, ShCM x Colkeririn Indigo Lightly at Lonaza
It is with great pleasure we can share the safe arrival of Verde and Kamba's litter - born on Monday, 24th August 2015, Verde did a wonderful job whelping all 12 puppies in 6 hours and 50 minutes!   Her final count is 8 girls and 4 boys.   Kamba sat outside the whelping room the whole time, as did new grandpa Colby, seemingly waiting on the news!   
We are very happy with the litter and how they are growing - a very content and peaceful bunch and Verde, despite not liking her whelping box much at first, soon realised it was a safe place to keep her flourishing brood, and is proving to be an excellent first-time mother.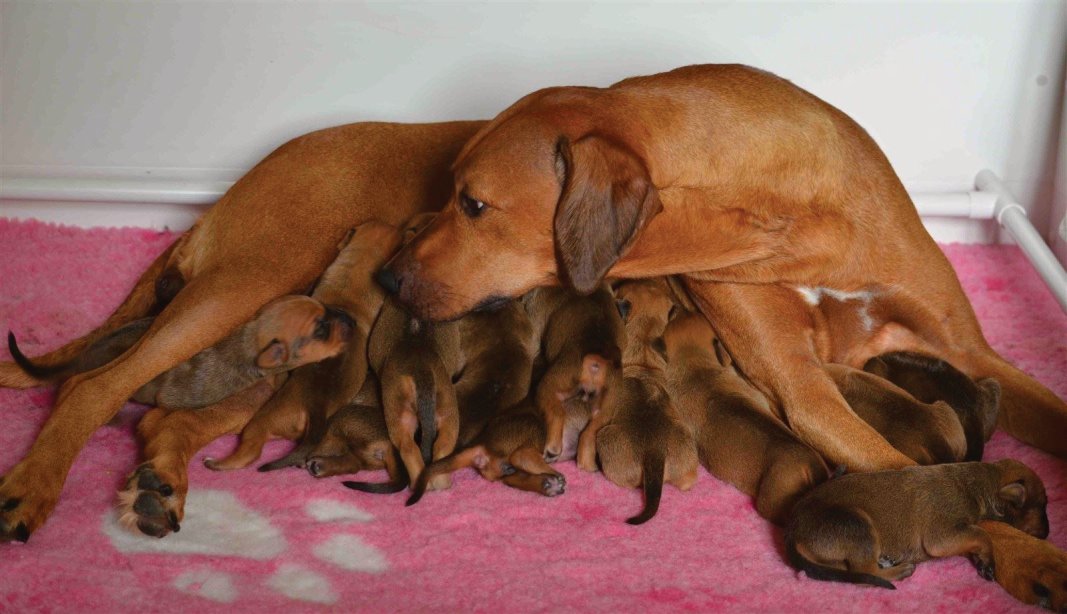 We've had a great time watching Kamba's puppies to the lovely Asha grow and flourish, and thank Janet again for asking us to have Kamba sire her litter.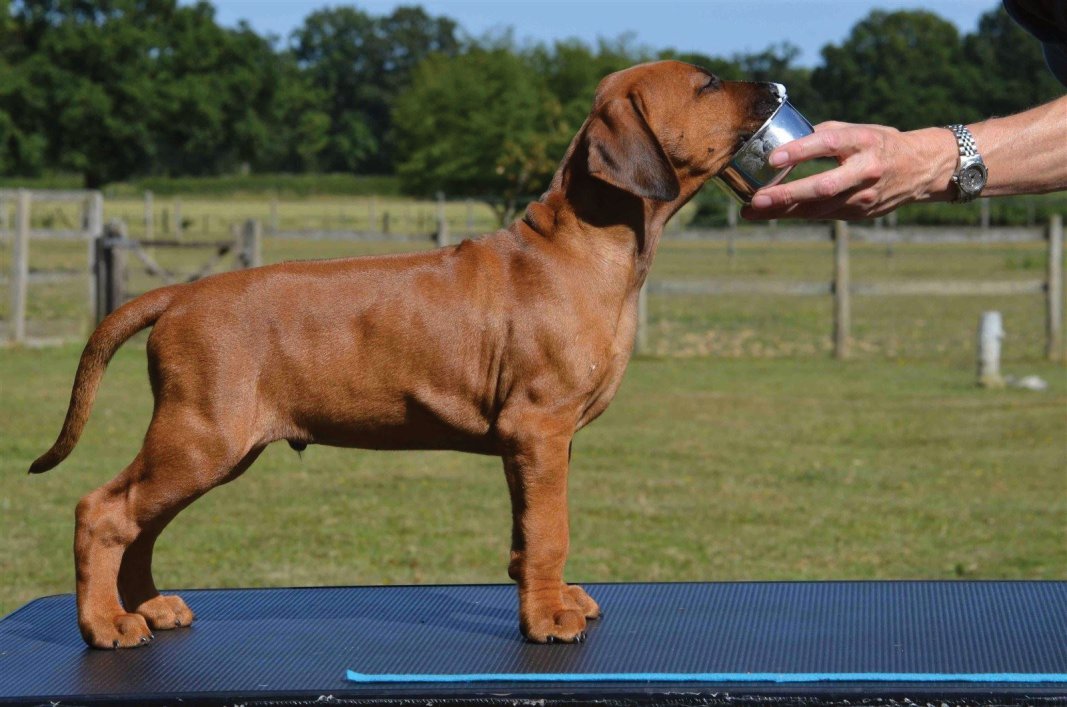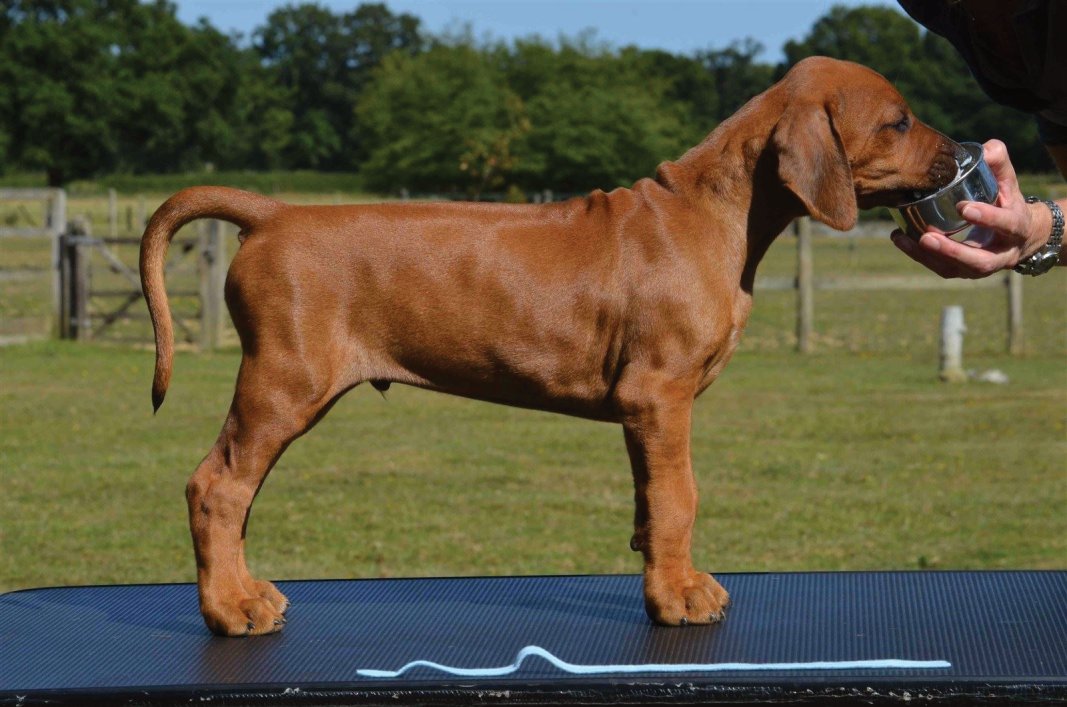 We had the pleasure of visiting Janet on the last weekend all the pups were together to take some photos of them all getting up to mischief and ones of them individually, which are great to have for reference and to show off the quality this pairing produced! Can you tell we're proud?!
They are all now settling into their new homes and we're loving hearing the news of how they are enjoying their new families and house mates - many are living with older Ridgebacks.  We're especially happy Janet kept a puppy girl from this fabulous litter.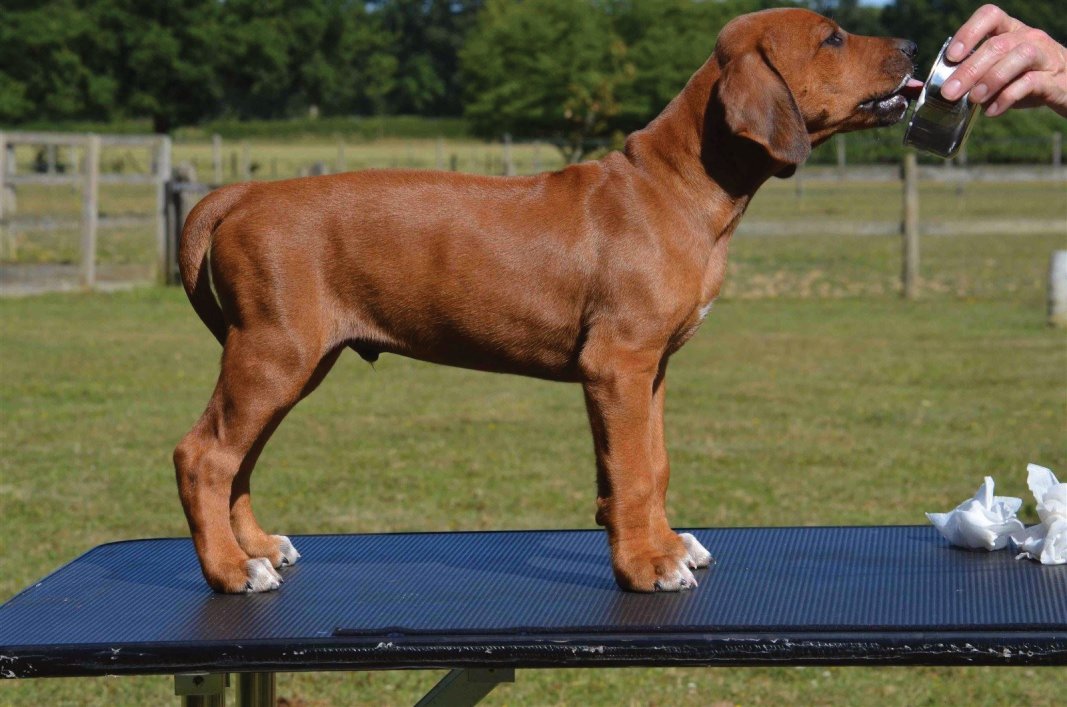 Our own litter Kamba has sired is due in 3 weeks' time, the dam is our very own Verde who is getting beautifully bigger by the day.   His litter to Verde has been a long time planned and we're very excited about this pairing and the pups it will produce.    
Verde is expecting 14 puppies which is a larger litter than we anticipated, so we are accepting additional enquiries through our Contact Us page on this website from families seriously interested in owning one of our puppies.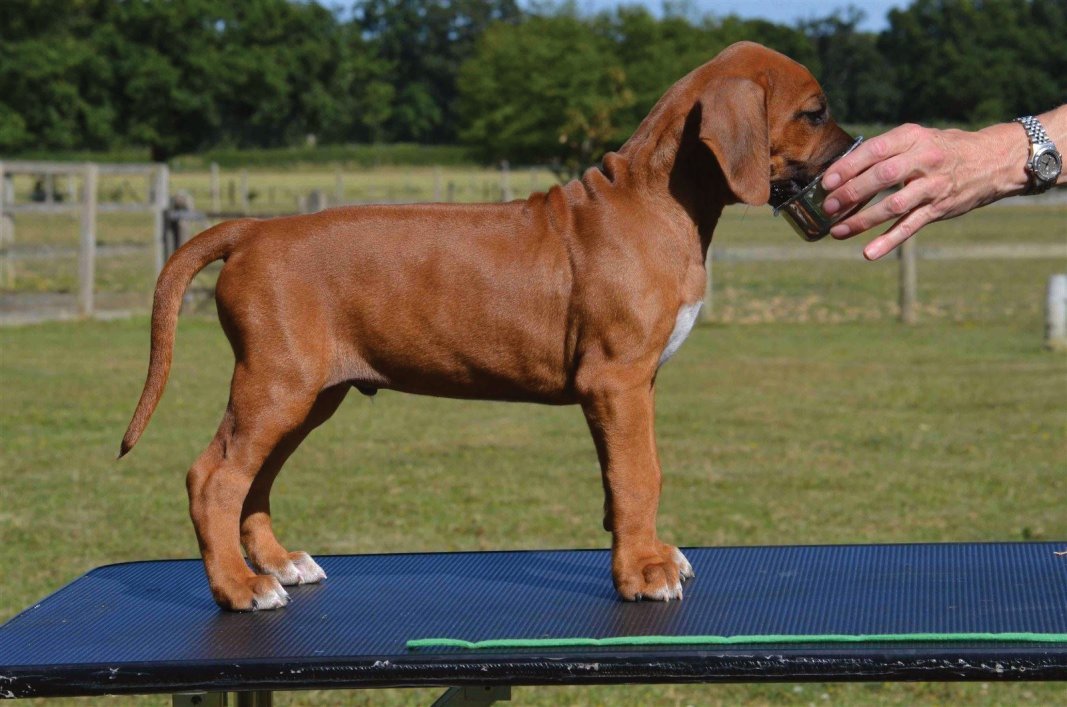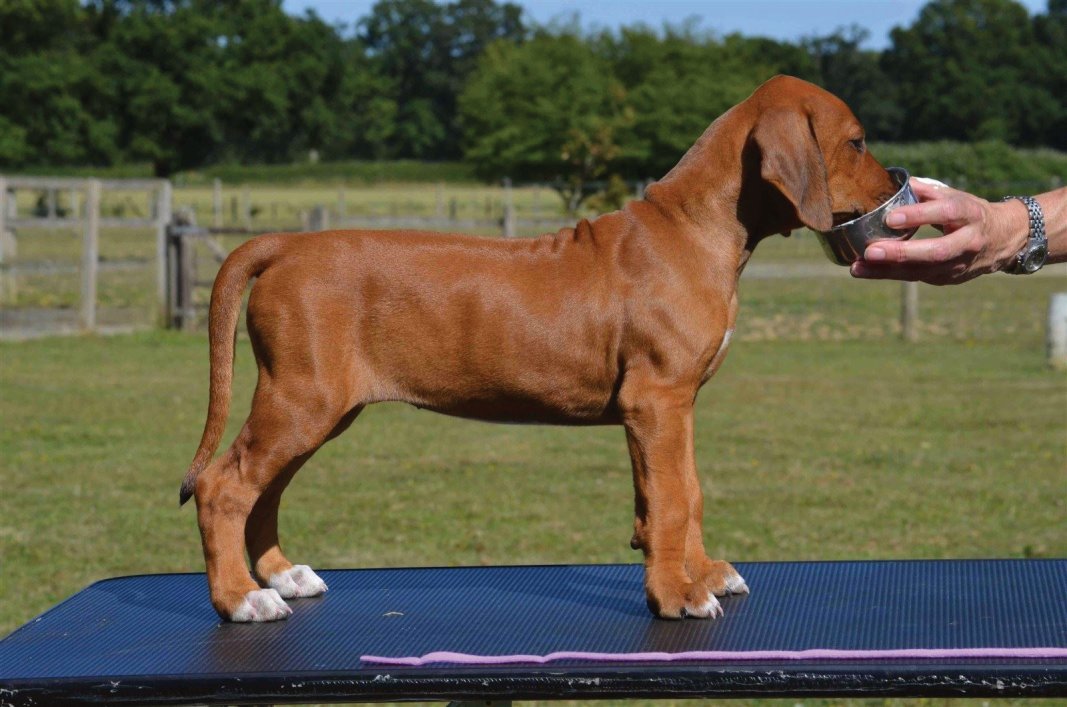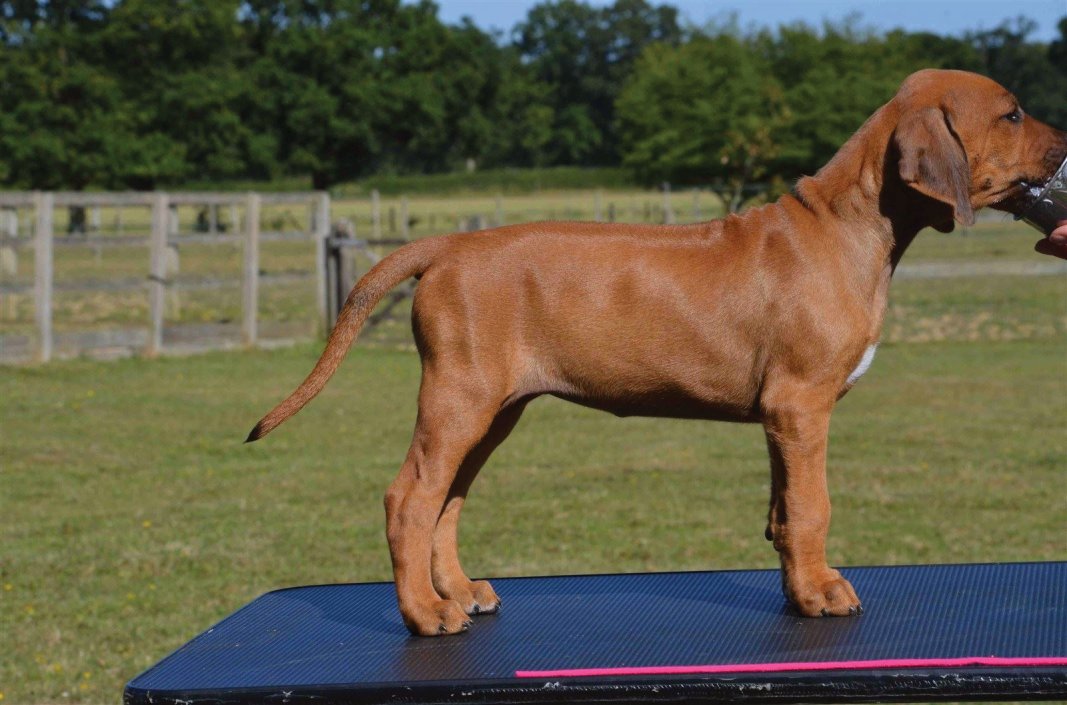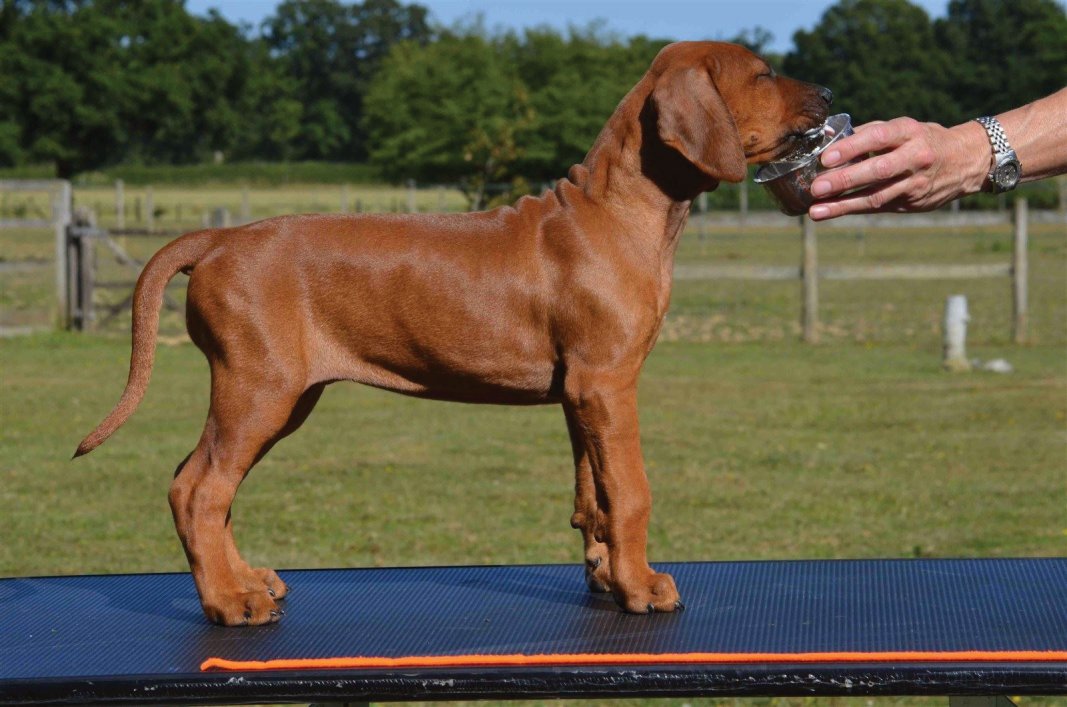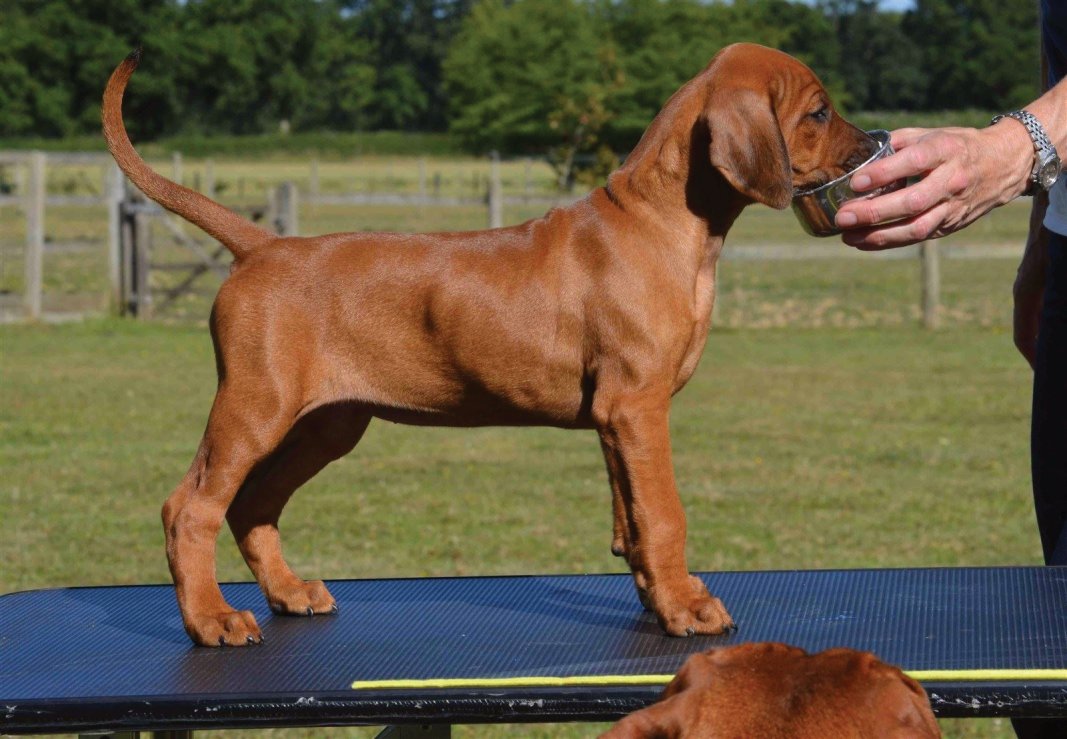 Planned Litter Summer 2015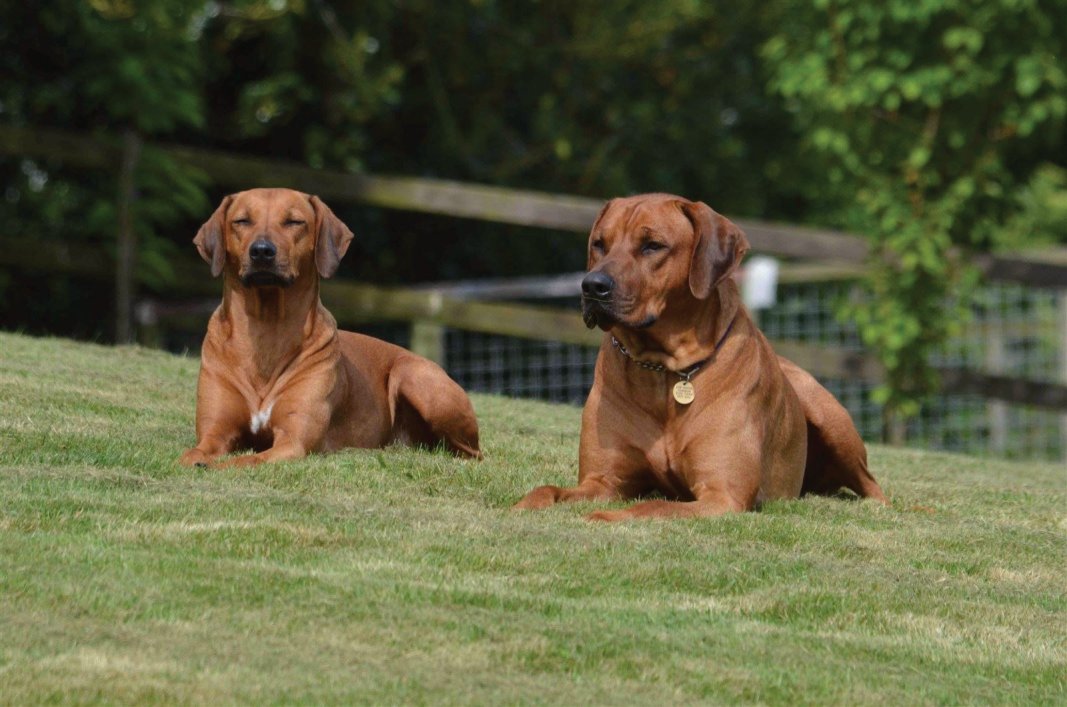 Verde & Kamba (above) are expecting puppies!! 
Verde has been scanned and is confirmed in whelp with at least 12 puppies!  Her due date is on or near to August 21st.
This is a larger litter than we anticipated, so we are accepting additional enquiries through our Contact Us page on this website from families seriously interested in owning one of our puppies.
This is our first Colkeririn to Colkeririn breeding, and brings together the beautiful American lines behind Verde's father Colby and Kamba's mother Indie, all supported by the best of British behind Kamba's father Bhali and the old African lines behind Verde's mother Keira - a long awaited combination. 
Verde and Kamba both live with us in our home along with Verde's father, Kamba's mother and two aunties!  We have detailed health test results on several generations behind Verde & Kamba who are both hip and elbow scored with great results (see test results on "Our Dogs" page), they are both tested and clear of Degenerative Myelopathy and are both tested with High Confidence Clear results on EOAD.  (Early Onset Adult Deafness).
We are therefore hoping for a dozen (maybe more!) happy, healthy puppies next month!  
Who doesn't love a photo of a beautiful litter of Rhodesian Ridgeback puppies!  
Janet and Asha, Kamba and I are proud to share our happy news that Asha has whelped 10 "very strong and determined" and apparently "stunning" puppies.  5 boys and 5 girls; 7 with correct ridges, 3 ridgeless, no kinks, no Dermoid Sinus detected so far, 2 possible livers.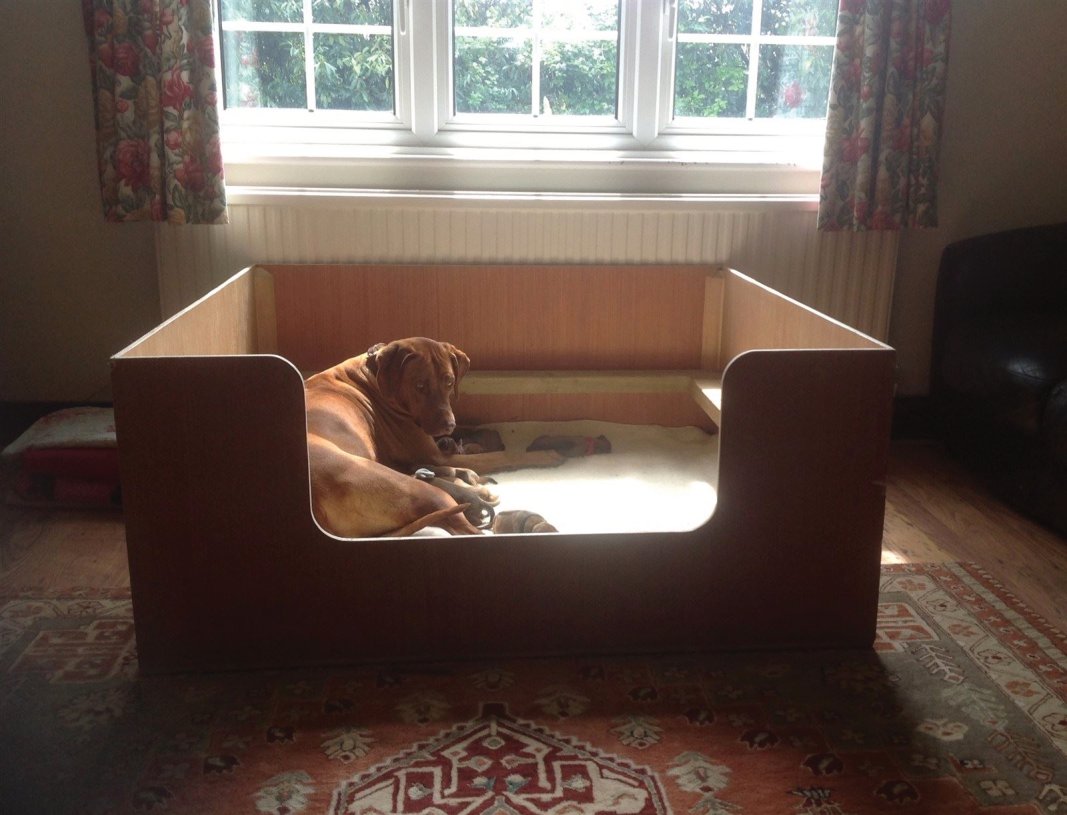 We haven't met the puppies yet, but Daddy Kamba, Grandma Indie and I are relieved and delighted they are all happy, healthy and even sized babies, and that Asha has taken to motherhood with such ease.  Janet tells us Asha's even injected a little comedy into her whelping box routines by hiding food to snack on, and was caught being such a determined mum to get food to them that she dropped a bread roll on top of them!  
We are so grateful for the photos from Janet, and are so proud of the wonderful job that she and Asha are doing - they are looking fabulous - we absolutely can't wait to meet these little wonders!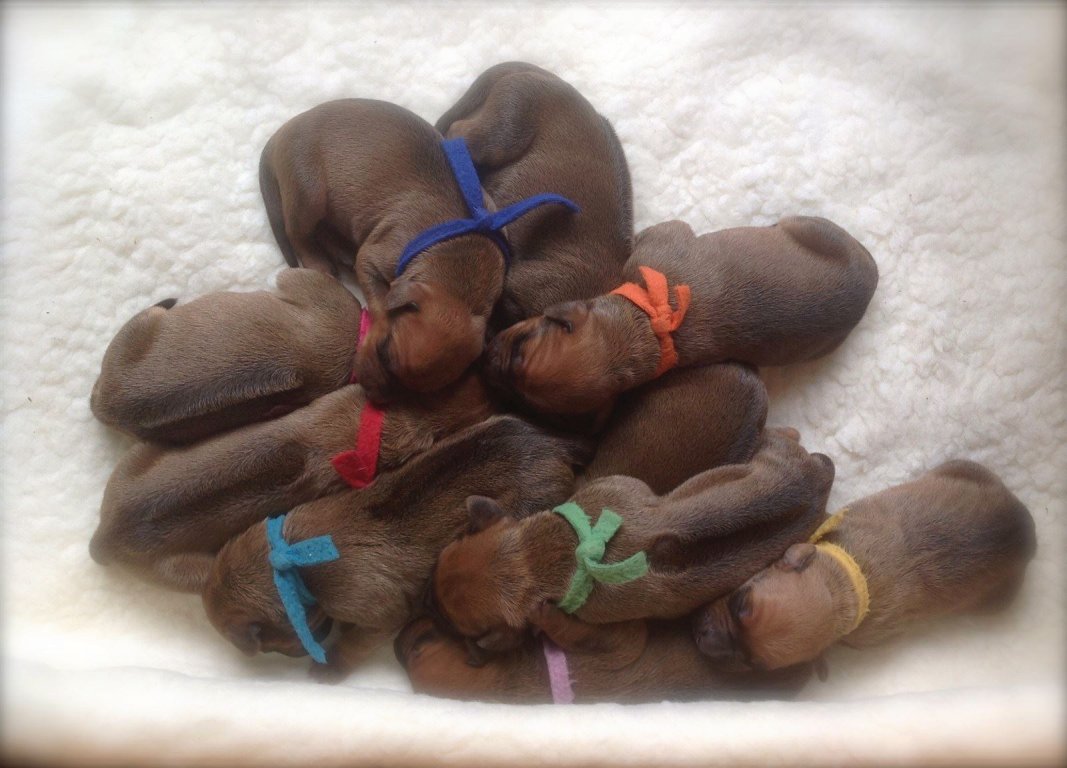 ** Kamba's Going to be a Daddy * Puppies Due June 2nd **
We are very happy to make the exciting announcement for Janet Larkin of Msaka Ridgebacks that her beautiful liver nose girl Asha (Faahac Royaal Finesse) is in whelp with at least 8 wriggling wonders sired by our handsome boy Kamba (Colkeririn's Sunlight).  Janet was so happy Asha was in whelp she stopped counting at 8 when Asha was being scanned recently!  
Puppies are due on June 2nd.   Janet is accepting enquiries about the litter.  We are happy to pass enquiries on, or to contact Janet directly, her details are on our announcement photo below.   
We'll be sure to share some photos of this beautiful combination once they are born. We take huge responsibility in breeding and Kamba will only be used on selected, health tested bitches with good hip and elbow scores. We are honoured Janet should have selected Kamba to sire Asha's first litter.   As our announcement says, 2 beautiful parents with 4 stunning grandparents - we have excellent knowledge of the dogs behind both Asha and Kamba and have fully documented health test results for several generations behind them.
Asha:  (Faahac Royaal Finesse) Elbows:  0/0   Hips:  4/5 = 9
Kamba: (Colkeririn's Sunlight)     Elbows:  0/0   Hips:  3/4 = 7
Both Asha and Kamba are tested for and clear of Degenerative Myelopathy.
Good Luck to Janet and Asha!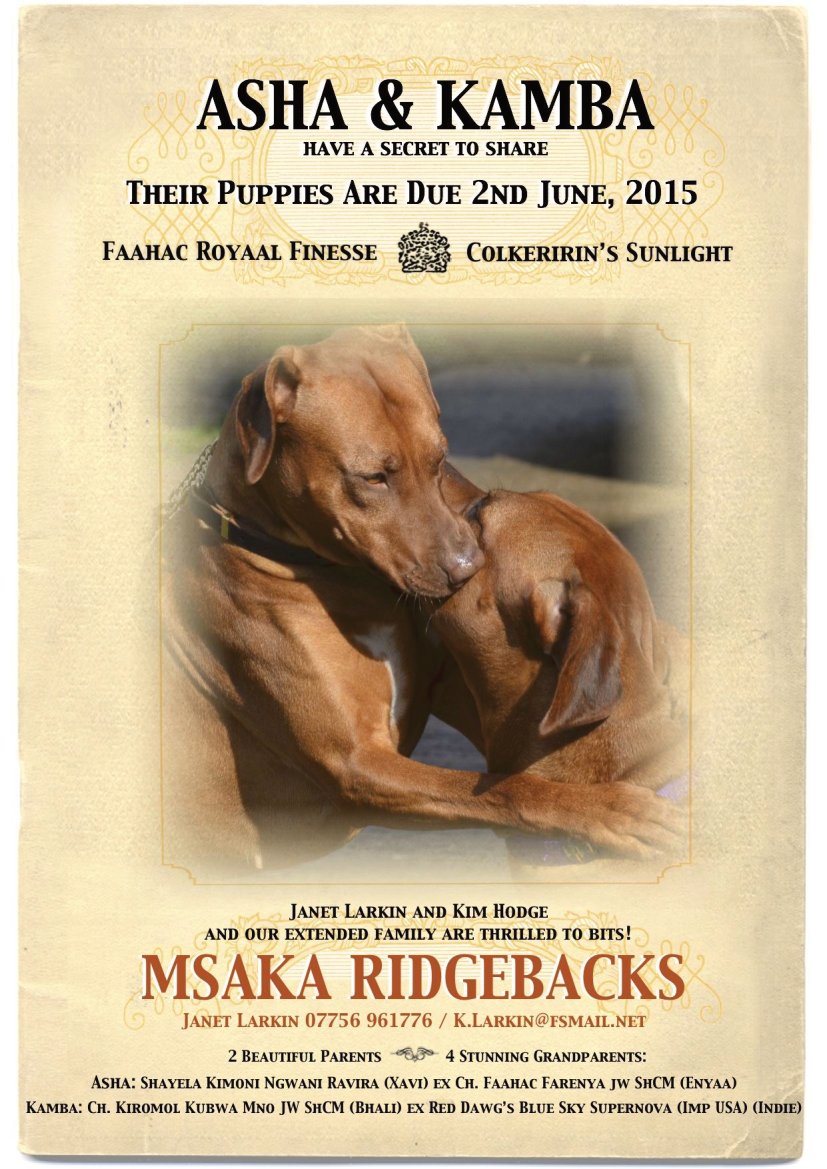 Lana is Kamba's full litter sister and we are lucky and very grateful to co-own her with Jane Hawkins and John Smith.   Too good to not include on "Our Dogs" page, Lana now has her own entry, which Jane, John and I had great fun writing together!  Be sure to check her out (she likes nothing more than being in the spotlight!)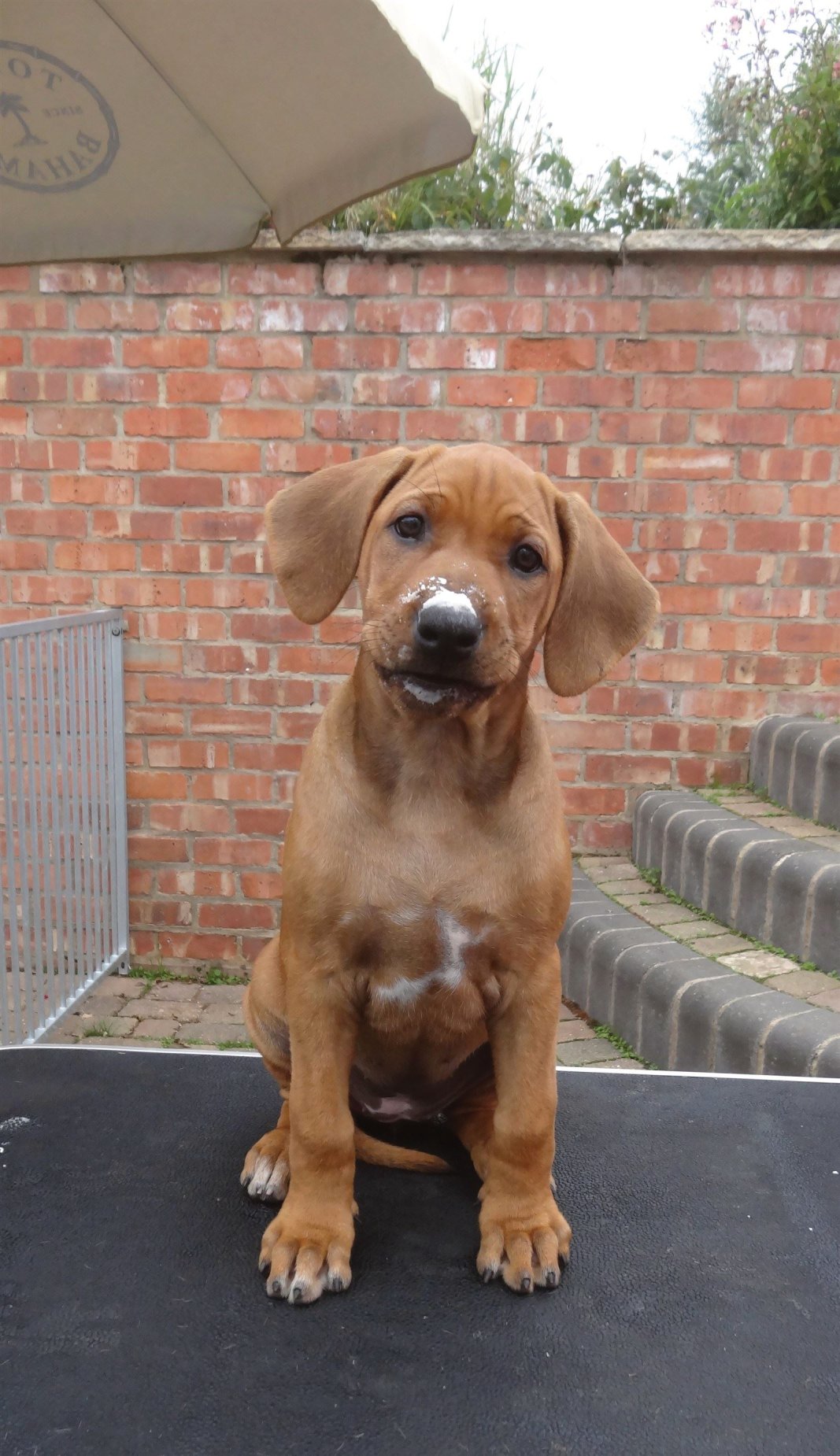 Here she is the day she left our home to go and live with Jane and John.  Cheeky then, and even cheekier now.
We are lucky she comes and stays with us regularly, and coming up very soon, her human entourage will all be going to cheer her on at the Kent Super Dog 2014 competition to which she qualified for winning BEST PUPPY IN SHOW at the East Kent Society Open Show in 2014 under Mike Spencer (Bannonbrig).   We are so proud of Lana and Jane for this fantastic win.
Wish us luck - photos to follow!  
Rhodesian Ridgeback Puppies - Spring 2015
We are excited to announce our Spring 2015 planned breeding of our home bred Rhodesian Ridgebacks Verde (Colkeririn Your Good Elf) and Kamba (Colkeririn's Sunlight).   
If you are interested in finding out more about this litter of puppies, please visit our Planned Litter page.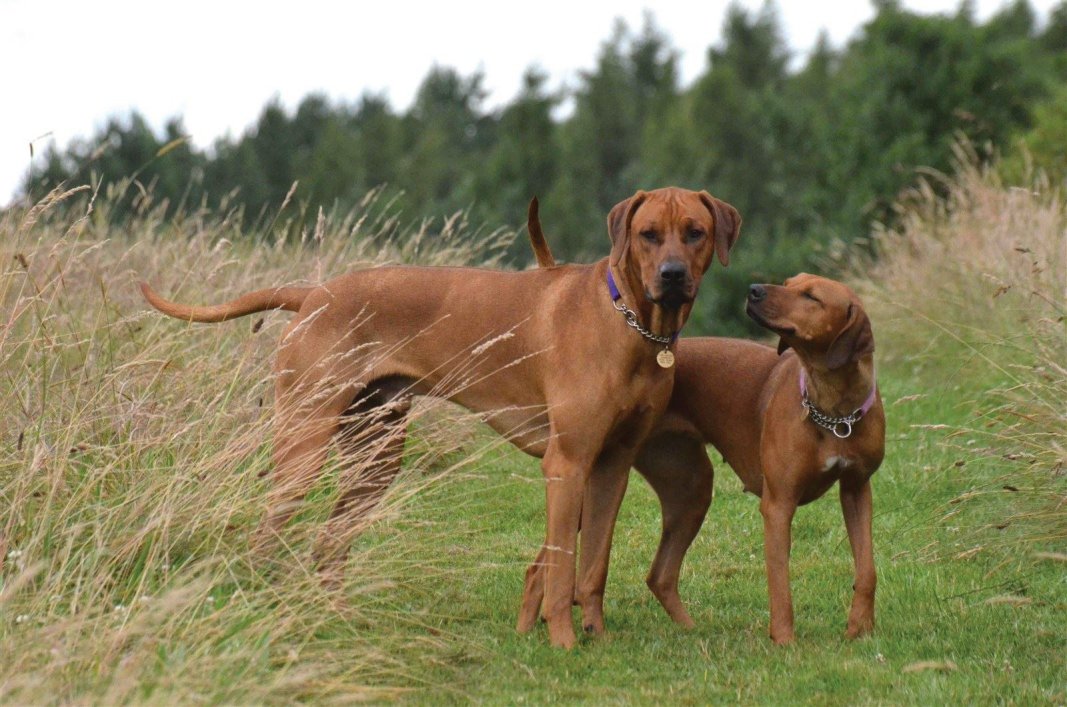 Puppies are here!  Born June 30th 8 boys and 3 girls!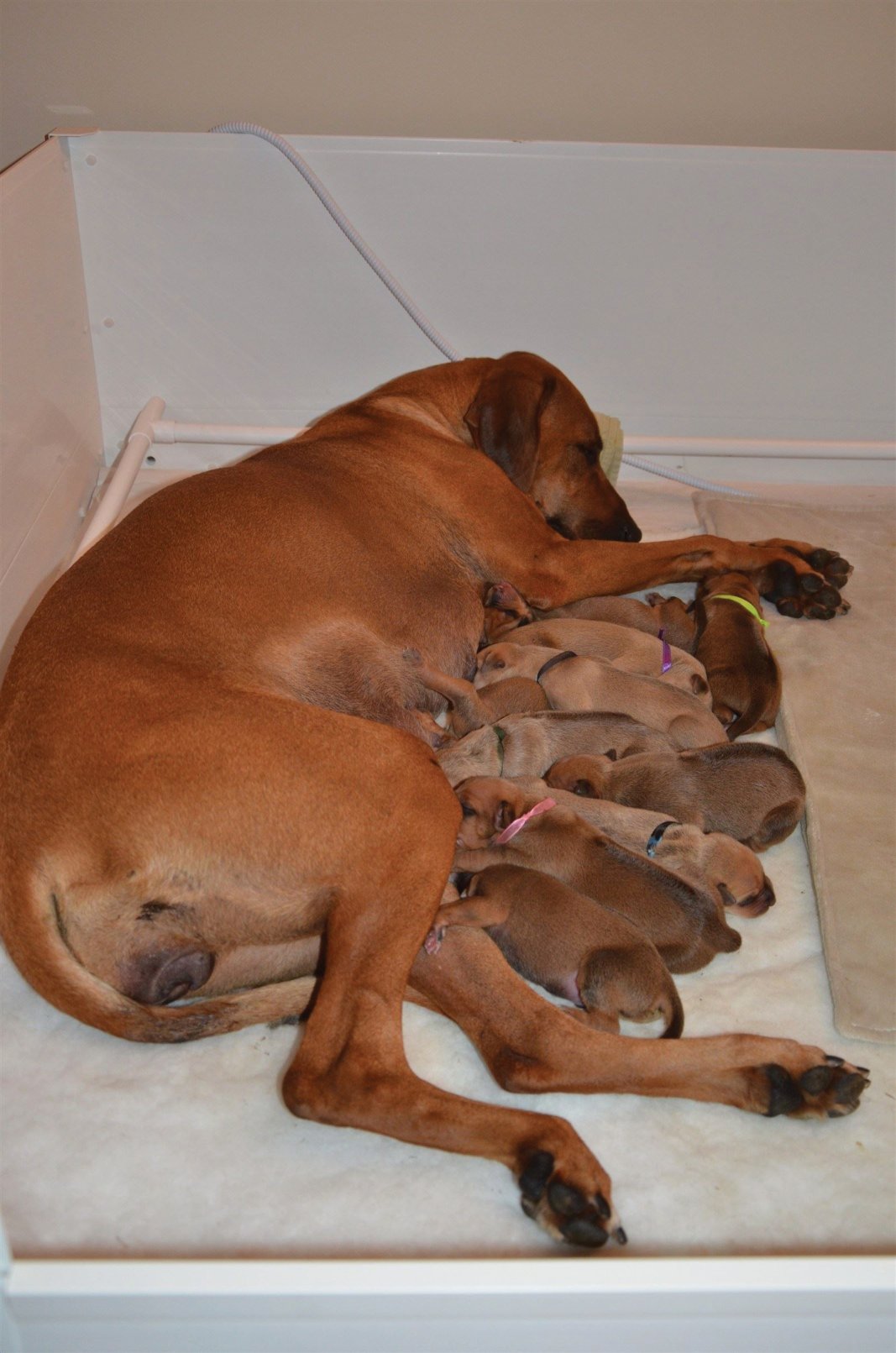 They have beautiful colours - light wheaten to wheaten, very little white, no tail kinks, we have 7 correct ridges, 2 very slightly off set and 2 ridgeless.  
They have been health checked by our veterinary surgeon with a clean bill of health, and so far no dermoid sinus has been detected!  
Mummy Indie is doing wonderfully well, and her babies are robust, thriving puppies - we are very happy indeed!
Due to the exciting combination of Indie and Bhali, we have had a lot of interest in this litter, so if you like the idea of owning one of these puppies, please get in touch by email and we'll discuss the possibilities.  
/