Colkeririn Rhodesian Ridgebacks
Quality Rhodesian Ridgebacks, Derbyshire, E​ngland
We are absolutely delighted to read the critiques for both Colkeririn's Sunlight and Colkeririn Indigo Lightly at Lonaza from the recent Championship Show, WELKS 2015 judged by breed specialist Liz Storey (Kiromol).   
Kamba won the Limit Dog Class (entry 13 with 4 absentees) and went on to win his second Reserve Dog Challenge Certificate (at his 2nd consecutive Championship Show) and his litter sister Lana placed 2nd in the Limit Bitch Class (entry 15 with 3 absentees).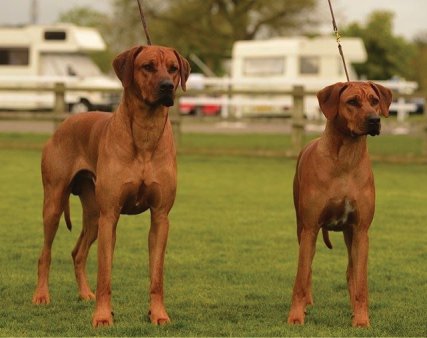 Photo by kind permission of Lena Piehl
For anyone who has observed Liz's judging, you will notice she is as thorough with her hands on the dogs as she is critical with her eye, so we were delighted she acknowledged what she saw and felt on both youngsters. 
Kamba:
"1st. Hodge's Colkeririn's Sunlight. Handsome and upstanding hound of excellent proportions. Well off for bone and substance. Very attractive head type with parallel planes. Kind, round eye. Excellent length and depth of muzzle to skull proportions with good width to underjaw. Good sized ear carried correctly. Well crested neck of good length into excellent shoulder placement with corresponding length of upper arm. Deep brisket, well ribbed back. Elbows carried close. Strong topline and good strong rear quarters. Moved out true with reach and drive. Very well muscled and in top condition. Expertly handled. Pleased to award him the RCC."
Lana:
"2nd. Hawkins, Smith and Hodge's Colkeririn's Indigo Lightly at Lonaza. Slightly smaller stamp, well proportioned all through. Very alert and typical expression, eye colour harmonising with her red wheaten coat. Nice head planes, good muzzle proportions. Excellent front assembly, well boned for size and good, compact feet. Elbows well under withers and carried close. Very good spring of rib, excellent rear with correct set on of pelvis. Strong and well muscled thighs of good width all through. Purposeful mover, very accurate for and aft. Nicely handled."
** Kamba's Going to be a Daddy * Puppies Due June 2nd **
We are very happy to make the exciting announcement for Janet Larkin of Msaka Ridgebacks that her beautiful liver nose girl Asha (Faahac Royaal Finesse) is in whelp with at least 8 wriggling wonders sired by our handsome boy Kamba (Colkeririn's Sunlight).  Janet was so happy Asha was in whelp she stopped counting at 8 when Asha was being scanned recently!  
Puppies are due on June 2nd.   Janet is accepting enquiries about the litter.  We are happy to pass enquiries on, or to contact Janet directly, her details are on our announcement photo below.   
We'll be sure to share some photos of this beautiful combination once they are born. We take huge responsibility in breeding and Kamba will only be used on selected, health tested bitches with good hip and elbow scores. We are honoured Janet should have selected Kamba to sire Asha's first litter.   As our announcement says, 2 beautiful parents with 4 stunning grandparents - we have excellent knowledge of the dogs behind both Asha and Kamba and have fully documented health test results for several generations behind them.
Asha:  (Faahac Royaal Finesse) Elbows:  0/0   Hips:  4/5 = 9
Kamba: (Colkeririn's Sunlight)     Elbows:  0/0   Hips:  3/4 = 7
Both Asha and Kamba are tested for and clear of Degenerative Myelopathy.
Good Luck to Janet and Asha!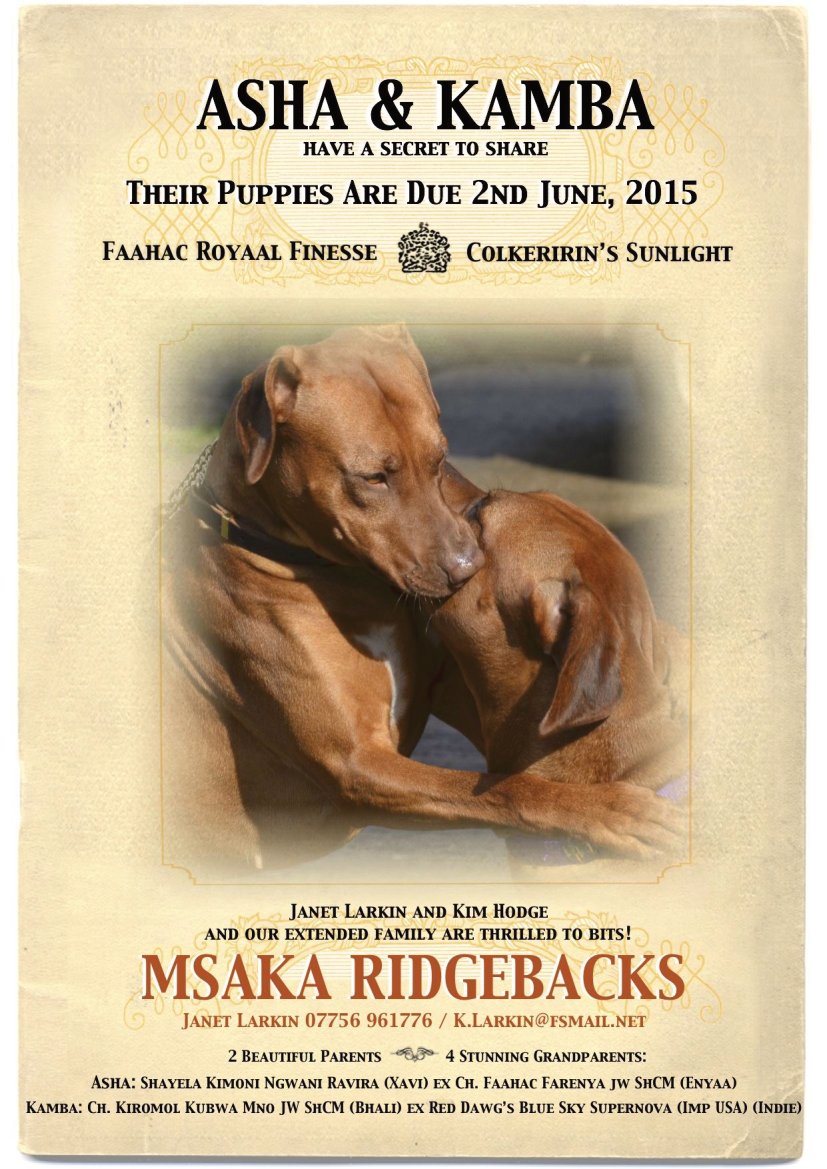 Colkeririn's Sunlight (Kamba) and Colkeririn Indigo Lightly at Lonaza (Lana) had a fabulous day at W.E.L.K.S. 2015 on Saturday, 25th April.  The sun managed to keep shining on our youngsters who both showed their way to excellent placements under Breed Specialist Liz Storey (Kiromol).   Kamba won the 9-strong Limit Class and went on to win the Reserve Dog Challenge Certificate - his second RDCC in two consecutive championship shows for him (we didn't get to Hound Assoc Scotland) and Lana placed 2nd in her well stocked Limit Class, placing behind the day's BCC winner.  Here's Lana standing for her judge's critique - we are so proud of her and Jane.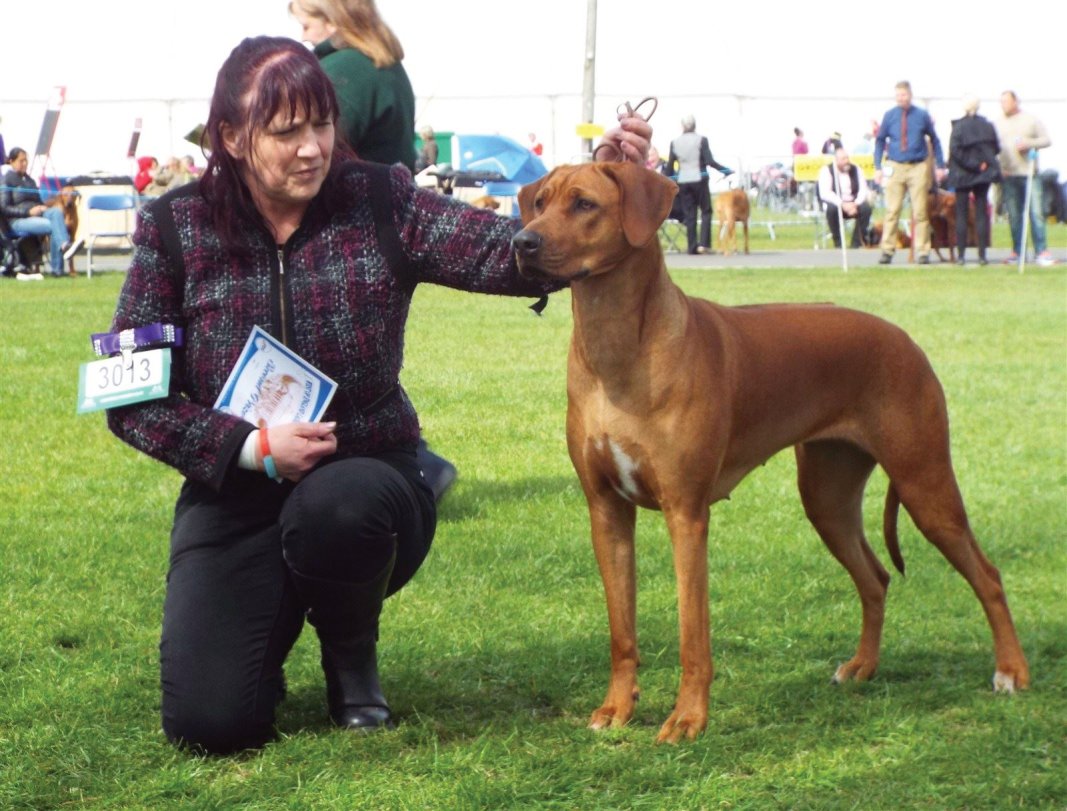 (Photo with kind permission from John and Gillian Mulligan)
Kamba's show career since leaving the Junior Class has been a real thrilling journey.  Still at only 21 months, this is Kamba's 4th class win and 2nd RDCC under Breed Specialists at Championship Show level (in only 8 Champ Shows we've attended - where he's placed in the cards at every show):
Gillian Mitchelson (Voortrekker) 1st PGD Hound Assoc 2014
Sue Campbell (Nyassa) 1st PGD LKA 2014
Gill Lawless (Faahac) 1st PGD and RDCC Crufts 2015
Liz Storey (Kiromol) 1st Limit and RDCC WELKS 2015.  
Under 2 more Breed Specialists he's been placed 2nd:
Gill Hutcheson (Gabisa) 2nd PGD Bournemouth 2014
Charlotte Strickland (Voortrekker) 2nd PGD Richmond 2014.  
We are so grateful this first class group of ladies with so much combined experience and knowledge of our breed appreciate Kamba, so much thanks for keeping us smiling on our journey!  Although we can't attend every Championship Show in the year, we are looking forward to what has started out to be a really exciting 2015 for us!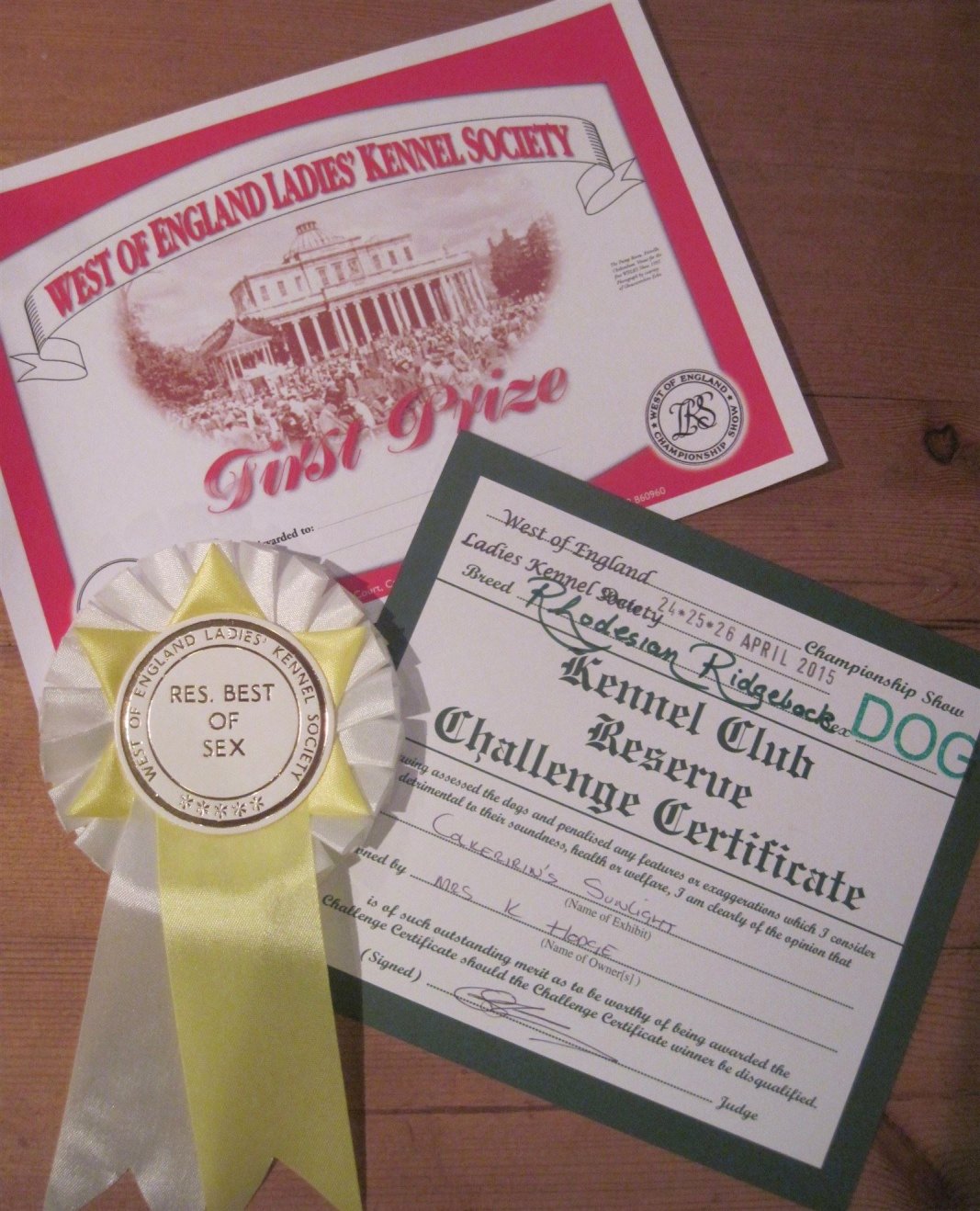 Colkeririn Rhodesian Ridgebacks are raw fed dogs.  We have recently discovered a fabulous source of Coconut Oil which we supplement our dogs' diets with, by adding a tablespoon to their morning feed.   We enjoyed recently meeting Garry Stiven, CEO at Coconoil.co.uk, and are thrilled to bits to be included in Garry's company website in a recent blog entitled "Coconuts for Canines".  
Our Crufts 2015 experience keeps on giving! We are thrilled to be able to share our two fabulous critiques for Rhodesian Ridgeback litter mates Kamba (Reserve CC) and Lana (2nd Place Yearling Bitch).  Our breed specialist judge Gill Lawless (Faahac) created not just a magical day at the NEC for what seems like her entire Rhodesian Ridgeback entry, but has also delivered a beautifully, comprehensively and throughly written set of critiques which have most certainly put smiles on our faces!  
We have picked this photo by Lena Piehl as an excellent one to look at as you read Kamba's critique, we can easily follow Gill's description as she considers his form: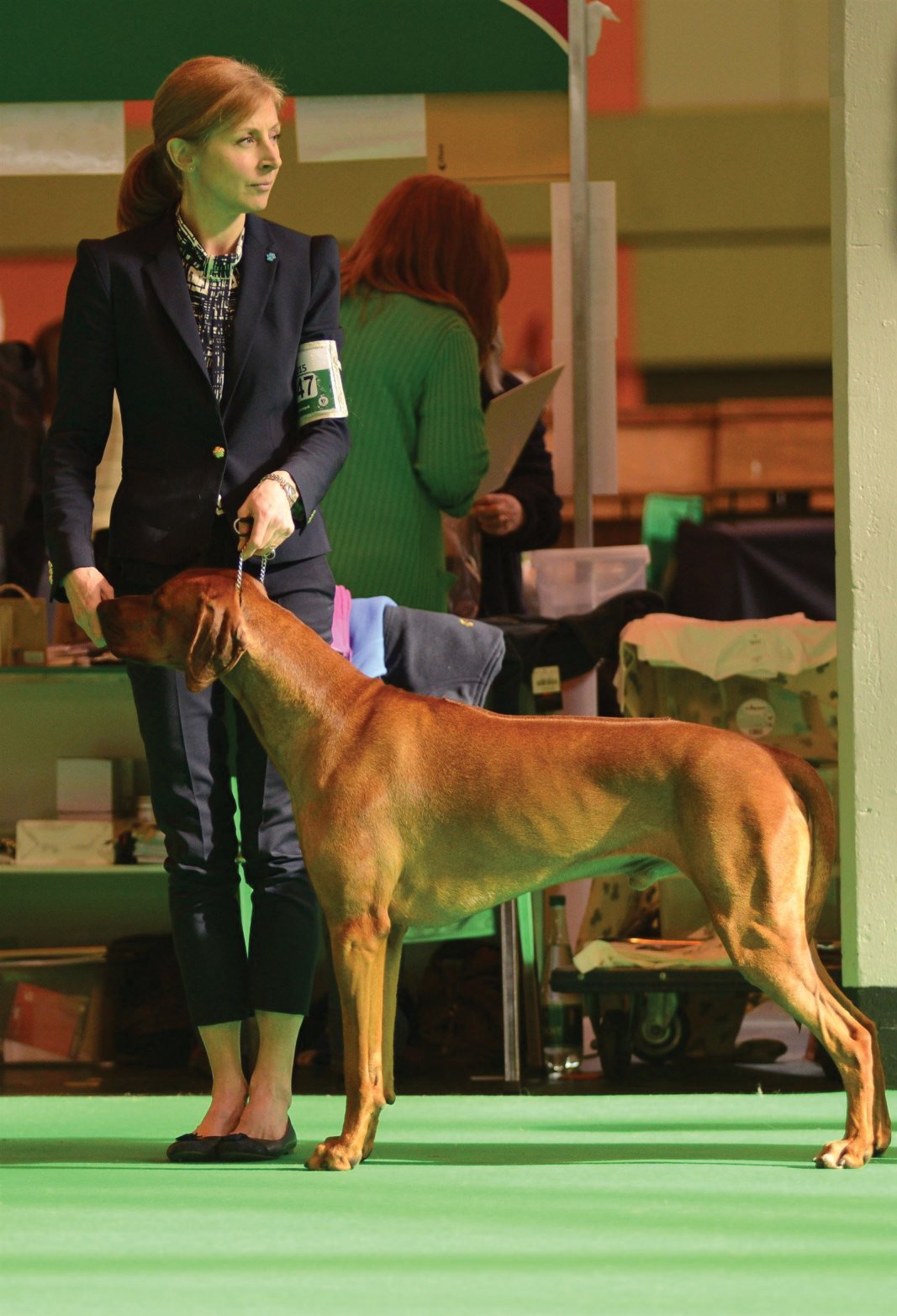 (16/1) 1 Hodge's Colkeririn's Sunlight. Super young dog with a lovely balanced outline. Well proportioned head with equal plains, kind expression, nice dark round eye, strong well arched neck with nicely shaped shoulder and length to upper arm.  Level top line and well arched loin, deep chest down to tight elbows. Nicely angulated rear quarters with good width to second thigh  He stands on well boned limbs and tight feed. Moved out accurately with drive and purpose.  At one with his handler. RCC.
And here's Lana's:
2 Hawkins, Smith and Hodge's Colkeririn Indigo Lightly at Lonaza.  A slightly larger framed bitch with balanced proportions.  Lovely head plains with a soft kind expression.  Clean neck on a nice front, good shoulder, straight well boned forelimbs and excellent tight feet. Deep chest well let down and close elbows. Good length to ribbing slightly short in loin, strong top line. Nicely angulated rear quarters with good width to second thigh. Moved out well with easy stride.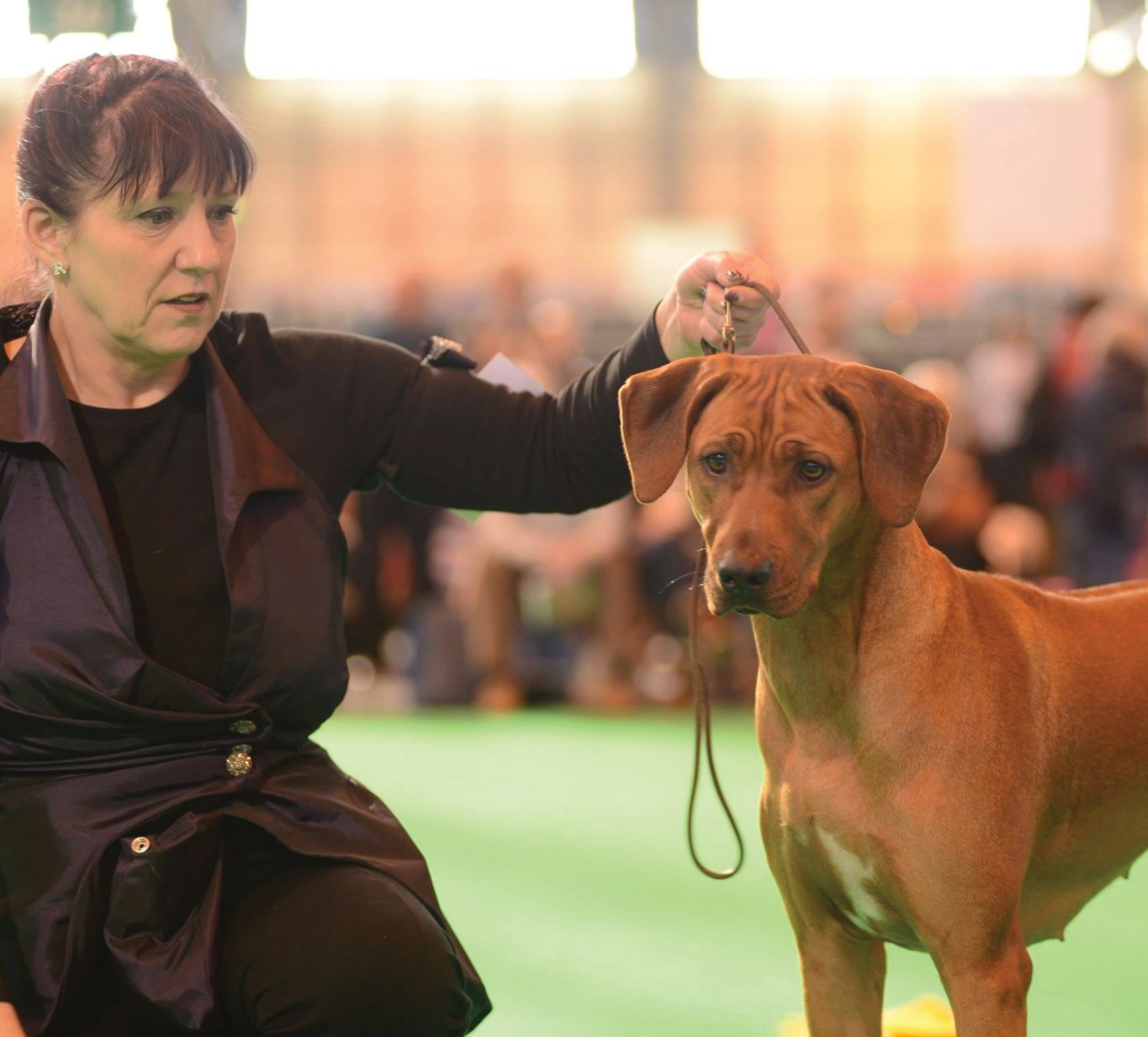 Photo: Lena Piehl
CRUFTS 2015 - What a day for Colkeririn!! (Show ring photos by kind permission of Lena Piehl)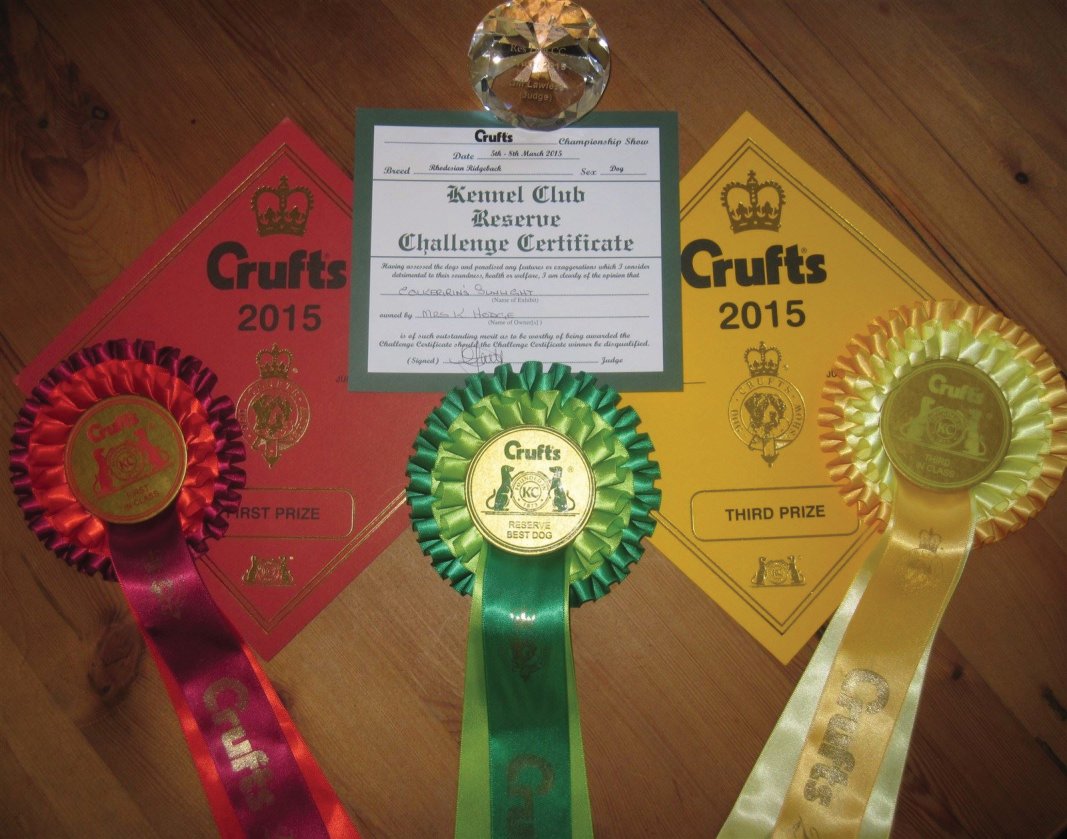 The world's largest dog show attracts the biggest breed entry of our year at Championship Show level.   With visitors in attendance from all over the globe, we wanted to step into Breed Specialist Gill Lawless (Faahac)'s ring in the best condition we could, so in January ramped up our training to ensure we were all in tip top shape!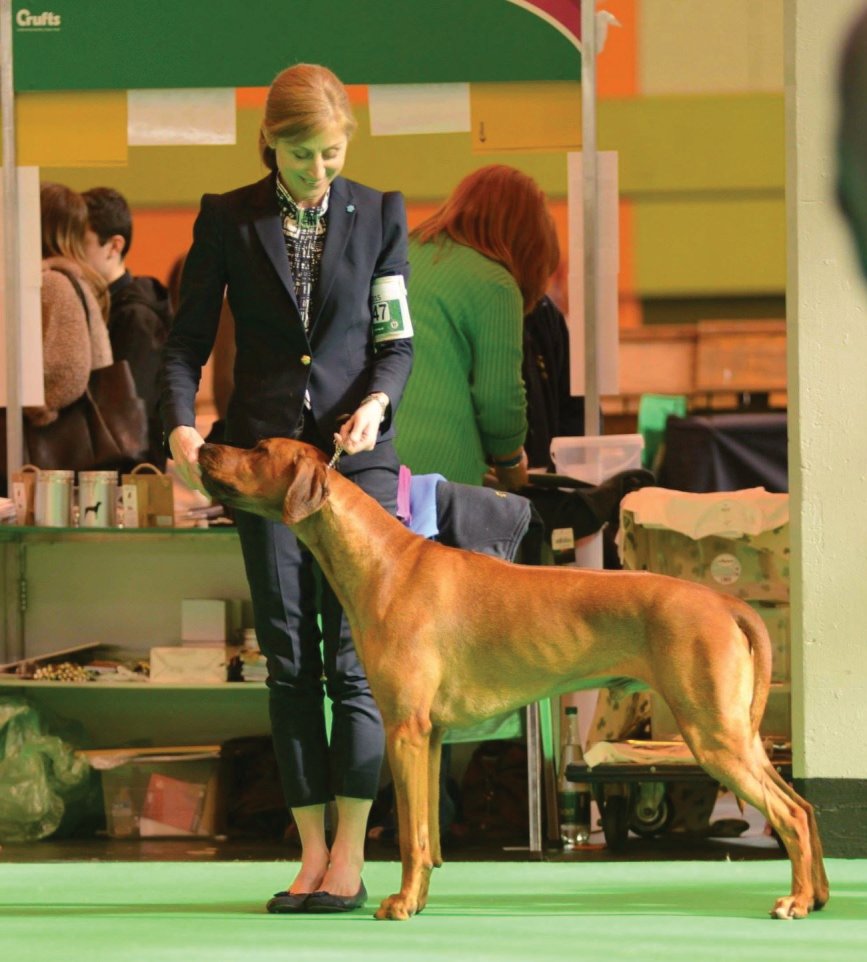 Although Colby qualified, we decided to focus on Kamba and Rio for Crufts 2015.  Kamba was first off the benches and gaited confidently into the ring to take his place in the 16 strong Post Graduate Class, he demonstrated his form enough to take the class and win our first ever Crufts red ribbon! (Rio won a RBCC in 2012 as the 2nd placed bitch in Open Class).  A short time later Kamba was back in the ring for the Dog Challenge.  
Standing amongst some truly magnificent dogs and soaking up the wonderful atmosphere which surrounded our ring was a magical feeling enough, but when Gill walked up to us and asked for a down and back to assess his movement one more time we felt elated.  Kamba rose to the occasion and gaited enthusiastically with his powerful reach and drive, we stood back in line and watched carefully as Gill considered her line up.  She awarded her DCC to her Open Dog class winner, a handsome dog from The Netherlands, and then to our absolute delight awarded the Reserve Dog CC to Kamba.  Gaining a Kennel Club Stud Book number under a breed specialist of Gill's calibre at Crufts just doesn't come any better!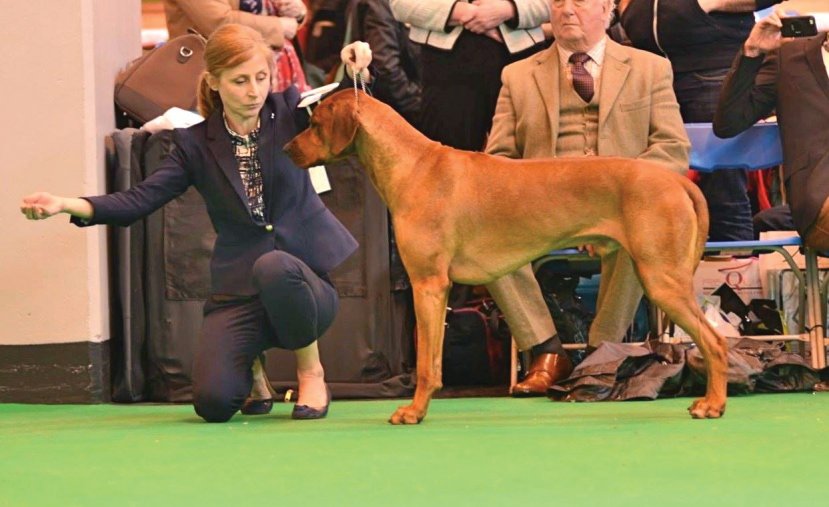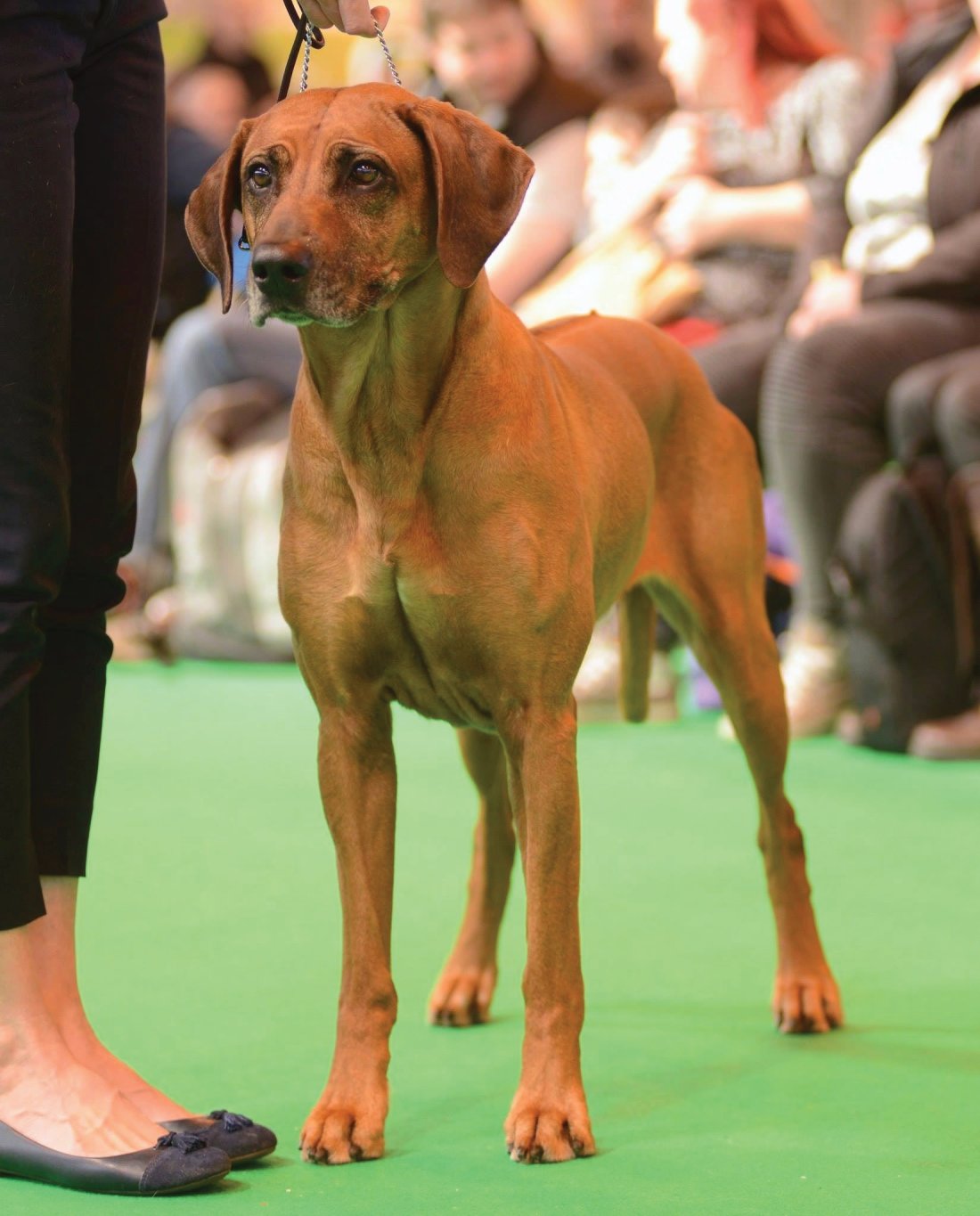 Rio was the very next class of the day and amongst all the excitement we were both a little over exuberant and after flying round the ring were delighted to be awarded 3rd Place in Veteran Bitch behind two spectacular Grand Dames who we've stood alongside in the ring for several years now.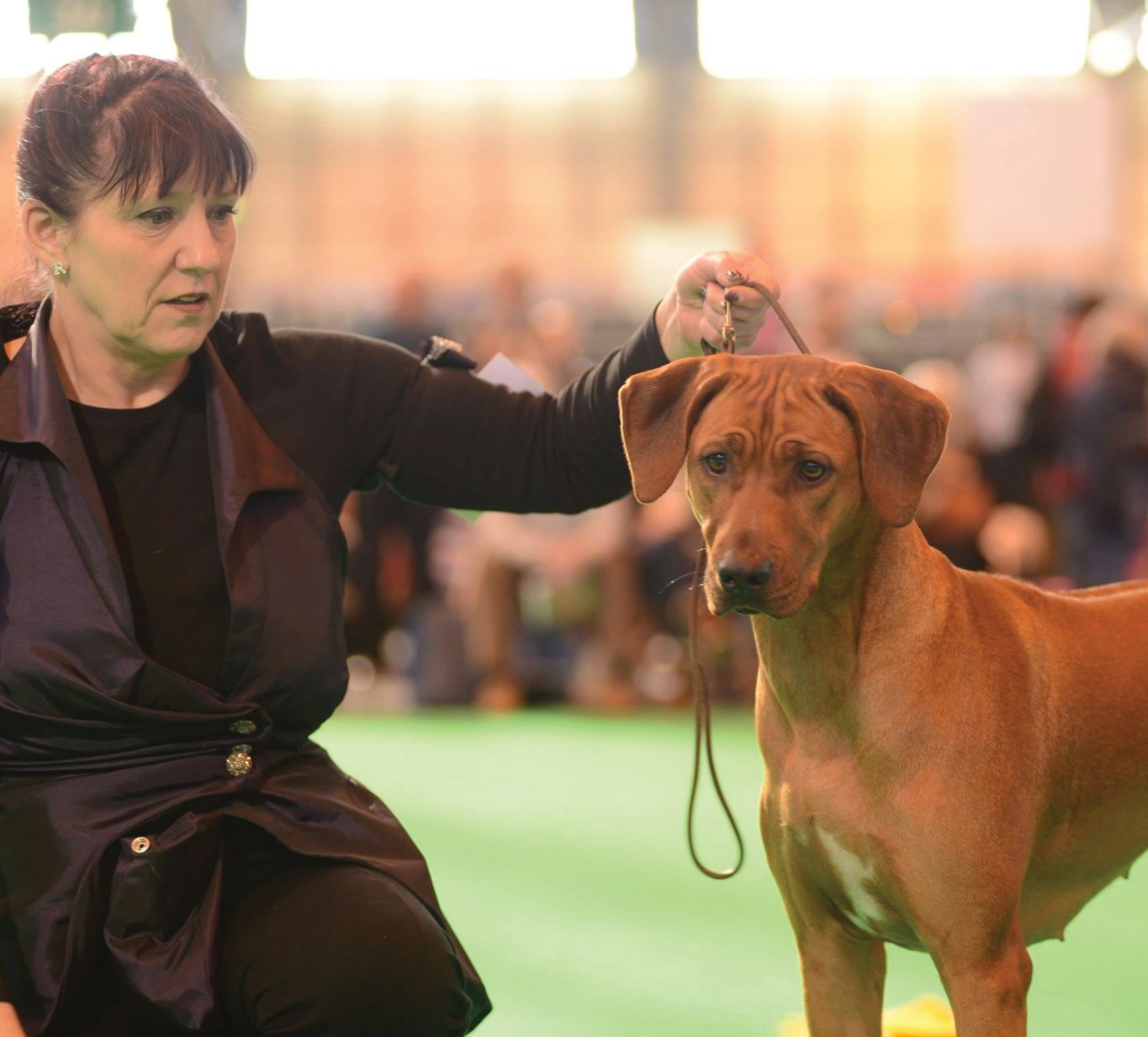 Our beautiful Lana who we co-own with Jane Hawkins and John Smith was next up in Yearling Bitch and with tears in my eyes as I watched Jane and Lana standing to perfection, let out a shriek of excitement when they were awarded 2nd Place in a 12-strong class.  Not only that, Kamba and Lana's litter brother had also won 2nd Place in the Yearling dog class earlier that morning, so all in all the pops just couldn't stay in the bottles any longer!  We enjoyed a toast with friends from far and wide to our fabulous dogs, to Indie (at home) whos babies had won a 1st, RDCC, and two 2nd places, to Rio on teaching Kamba how to take it all in his stride, and to the great success of a fabulous day!  Congratulations to all who qualified, placed and won top honours on the day and thanks and gratitude to our judge Gill Lawless for her impeccable ring management and manner with our dogs.  
It seems a long time ago now, but we ended 2014 on a high, and really enjoyed our day out at Ladies Kennel Association Championship Show, where we had the pleasure of presenting to Breed Specialist Sue Campbell from the famous Nyassa Kennels.   
Sue awarded Kamba 1st Place in Post-Graduate - here is the exciting critique Sue wrote for him:
"PG (6,2) 1 Hodge's Colkeririn's Sunlight, 17 month l/w dog. Lovely type, in excellent condition & well muscled. Nice upstanding boy, strong bone & excellent feet, good topline & well ribbed back .Strong quarters used well on move, best mover in this class, nice boy maturing nicely."
I am particularly thrilled to read "Lovely type", which shows up often in Kamba's critiques.  To have a breed specialist of Sue's experience acknowledging his type is a real compliment.  We're thrilled to bits!  
Kamba has been shown lightly over the summer this year, and has placed well in the  shows he's attended.  We enjoyed reading his critique written by breed specialist Gillian Hutcheson who judged us at Bournemouth Championship Show in early August (he was 13 months and a week old at the time) where he placed 2nd in Junior Dog:
"Hodge's Colkeririn's Sunlight.  Handsome red dog, lovely crest of neck leading to a good front assembly, this boy just needs to drop in brisket, good body proportions with a lovely turn of stifle. Moved and handled beautifully."   Thank you Gillian for going over our boy so diligently and for such encouraging words.  
We are delighted to share Kamba's first month in the show ring has gone very well indeed.  He's qualified for Crufts 2014 and will be (with his sister Lana and brother Lomax) the youngest Rhodesian Ridgeback competitors in the Special Puppy Class.   
His collection of rosettes has blossomed in a few short weeks, to list some of his achievements, he won the Minor Puppy Dog Class under respected all-round judge Mrs Liz Cartledge at Manchester Championship Show 2014, and took the Junior Class at Cheltenham and District Canine Society under judge Marina Scott.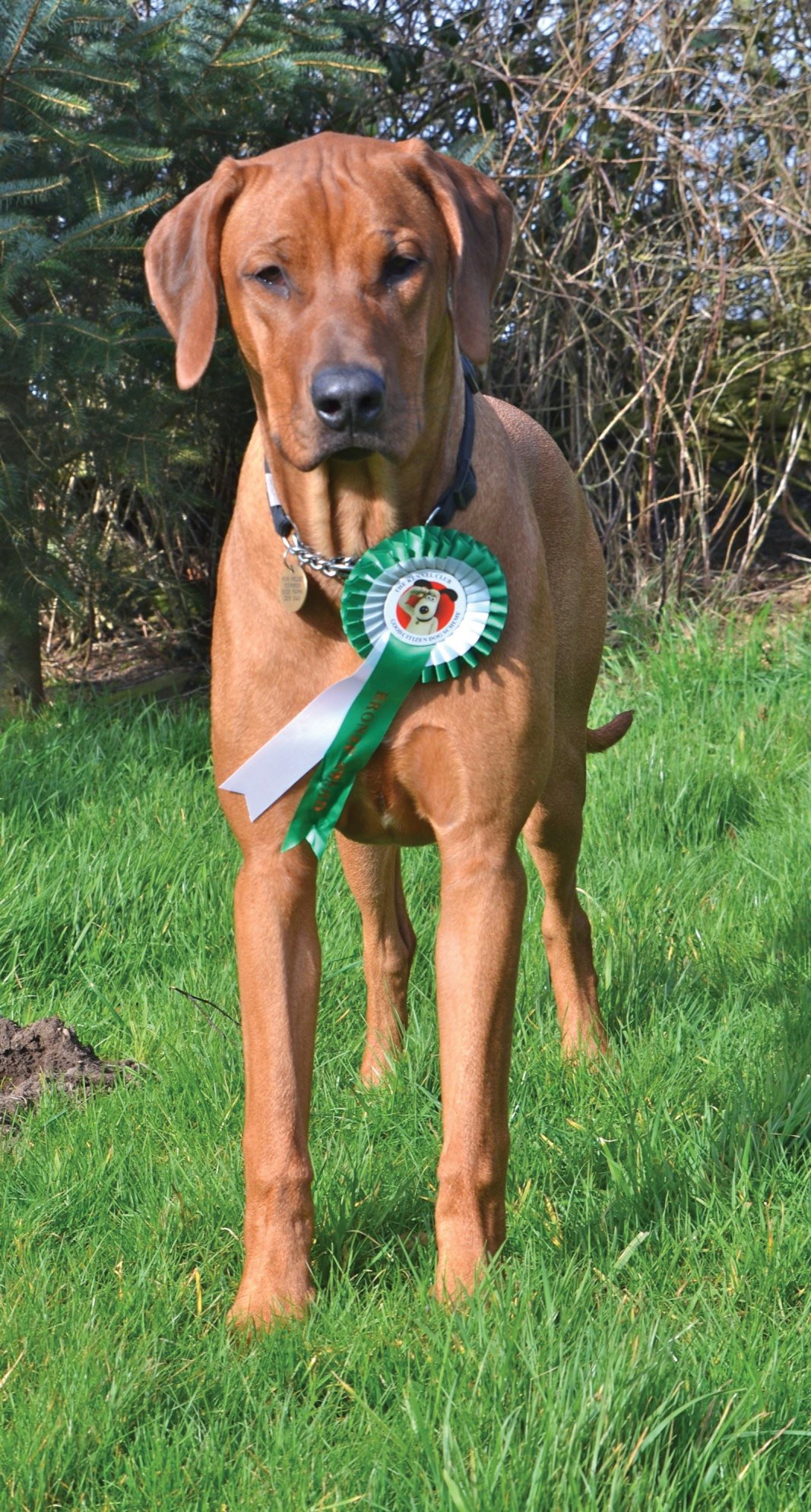 His latest addition to his collection is his lovely rosette for winning his Canine Good Citizen Scheme Bronze Award!  We are so thrilled with this lovely, happy, gentle, kind, loving boy.   
Here he is sporting his Bronze Award rosette!   
/