Colkeririn Rhodesian Ridgebacks
Quality Rhodesian Ridgebacks, Derbyshire, E​ngland
We like to remind ourselves regularly of our breed standard, so I thought I'd make an inclusion on the Rhodesian Ridgeback head.  Here is our UK breed standard for heads:
"Head and Skull - Of fair length, skull flat, rather broad between ears, free from wrinkles when in repose. Stop reasonably well defined. Nose black or brown in keeping with colour of dog. Black nose accompanied by dark eyes, brown nose by amber eyes".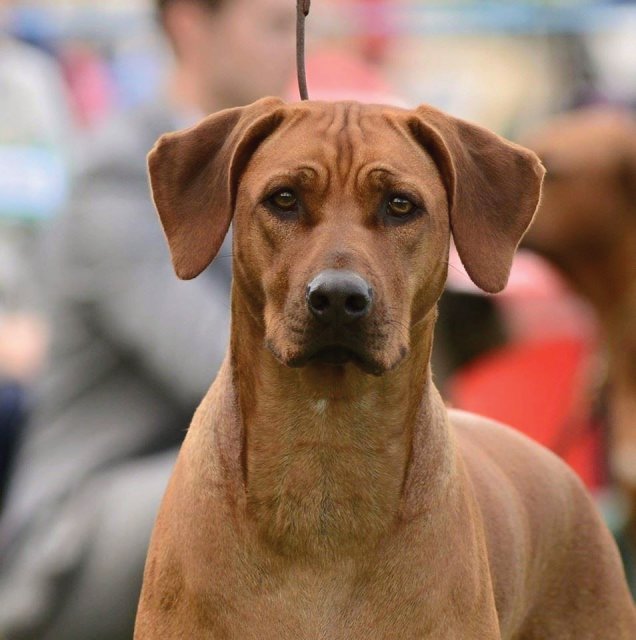 Now, Lana is not in repose in this shot, but we think she has a strong head, yet it remains feminine, her stop (the part that changes plain between the top of the head and the muzzle - between the eyes) is nicely defined.  We love her depth of muzzle and to me, she has enough cheek, but not too much. (Of course I'm referring to her facial cheek and not character cheek - that she has an abundance of!)
(Photo: Lena Piehl)
I'm pretty sure in a former life this youngster was a supermodel, because she has the ability to look right into the lens, perhaps those beautiful eyes can see the shutter opening and closing, and like any good sighthound is stimulated by the tiniest movement.  
It seems a long time ago now, but we ended 2014 on a high, and really enjoyed our day out at Ladies Kennel Association Championship Show, where we had the pleasure of presenting to Breed Specialist Sue Campbell from the famous Nyassa Kennels.   
Sue awarded Kamba 1st Place in Post-Graduate - here is the exciting critique Sue wrote for him:
"PG (6,2) 1 Hodge's Colkeririn's Sunlight, 17 month l/w dog. Lovely type, in excellent condition & well muscled. Nice upstanding boy, strong bone & excellent feet, good topline & well ribbed back .Strong quarters used well on move, best mover in this class, nice boy maturing nicely."
I am particularly thrilled to read "Lovely type", which shows up often in Kamba's critiques.  To have a breed specialist of Sue's experience acknowledging his type is a real compliment.  We're thrilled to bits!  
The depth of chest in a Rhodesian Ridgeback is hugely important to our breed.  The rib cage hosts the heart and lungs which need good space to work in and, if necessary, for long periods of time.  The chest of a Rhodesian Ridgeback should reach the elbow - and the measurement from Withers (bottom of neck) to Elbow should be exactly the same as the measurement as Elbow to Floor.
Here is the entry in the UK Breed Standard for the chest region:
"Chest not too wide, very deep and capacious, ribs moderately well sprung, never barrel ribbed. Back powerful, loins strong, muscular and slightly arched."
Demonstrating this measurement perfectly is Lana (Colkeririn Indigo Lightly at Lonaza) (Indie x Bhali) who we co-own with Jane Hawkins and John Smith.  This is beautiful Lana at 18 months.  Give it a try - measure her for yourself and you'll see she's spot on!  (Photo Lena Piehl)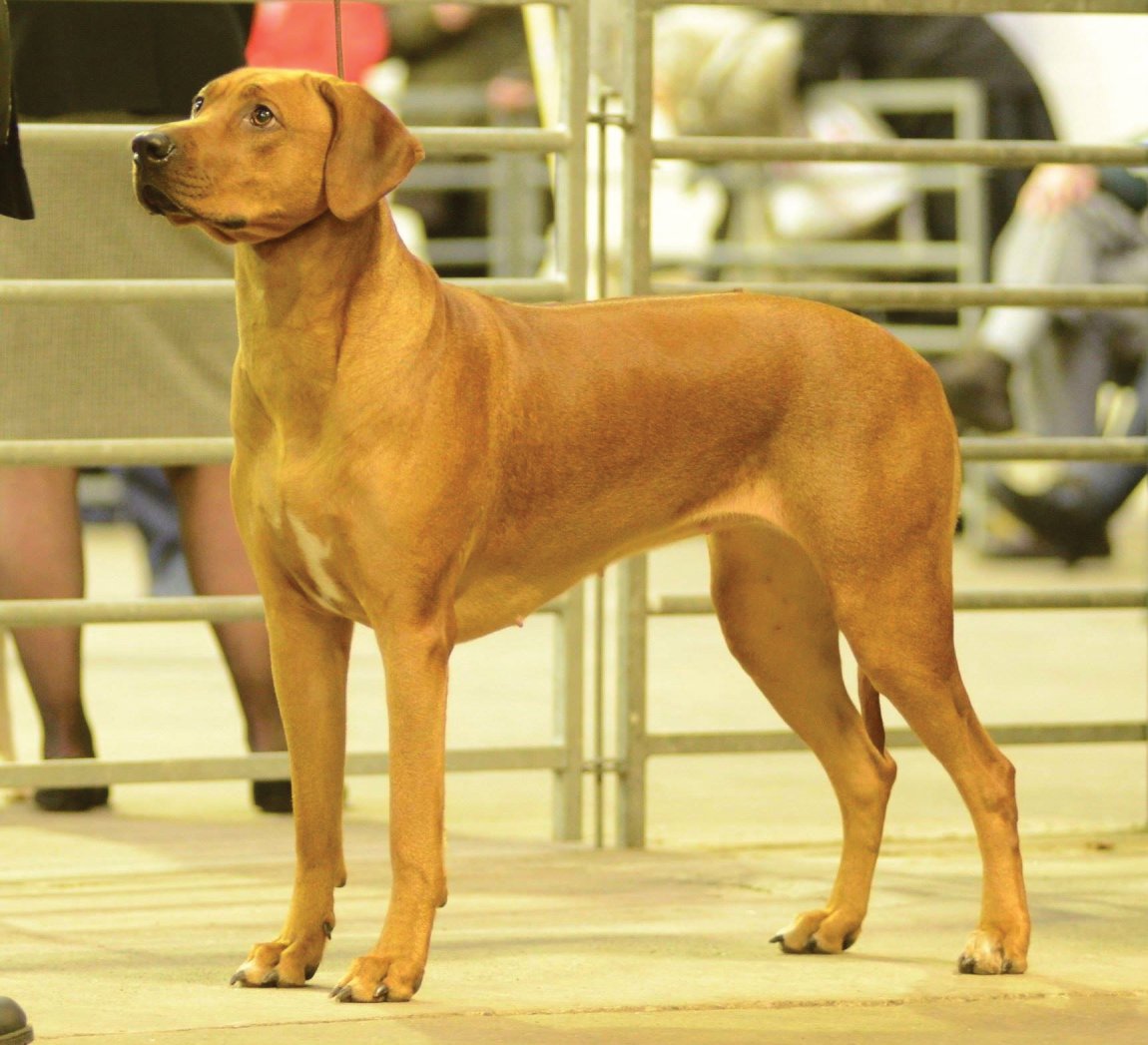 We really do care about the puppies we breed, and wherever possible will stay in touch with them for their lifetime. We recently had the enormous pleasure of welcoming Mojo from our Keira x Colby litter back to stay with his extended family.   His humans call his visits to us "boot camp" and we really think Mojo had fun discovering all kinds of new adventures around the farm.  His new favourite trick is picking blackberries off the hedgerows - he studied Indie very carefully and realised he was pretty good at it himself!  He traded his dry food for some local fresh raw meat and thought clearing the fallen branches and hedgerow trimmings into the bonfire was a very important job.  Best of all though, he enjoyed racing over the fields with his Rhodesian Ridgeback family.  We miss him already, but we know his loving family are so happy to have him home again.  
Rhodesian Ridgeback Puppies - Spring 2015
We are excited to announce our Spring 2015 planned breeding of our home bred Rhodesian Ridgebacks Verde (Colkeririn Your Good Elf) and Kamba (Colkeririn's Sunlight).   
If you are interested in finding out more about this litter of puppies, please visit our Planned Litter page.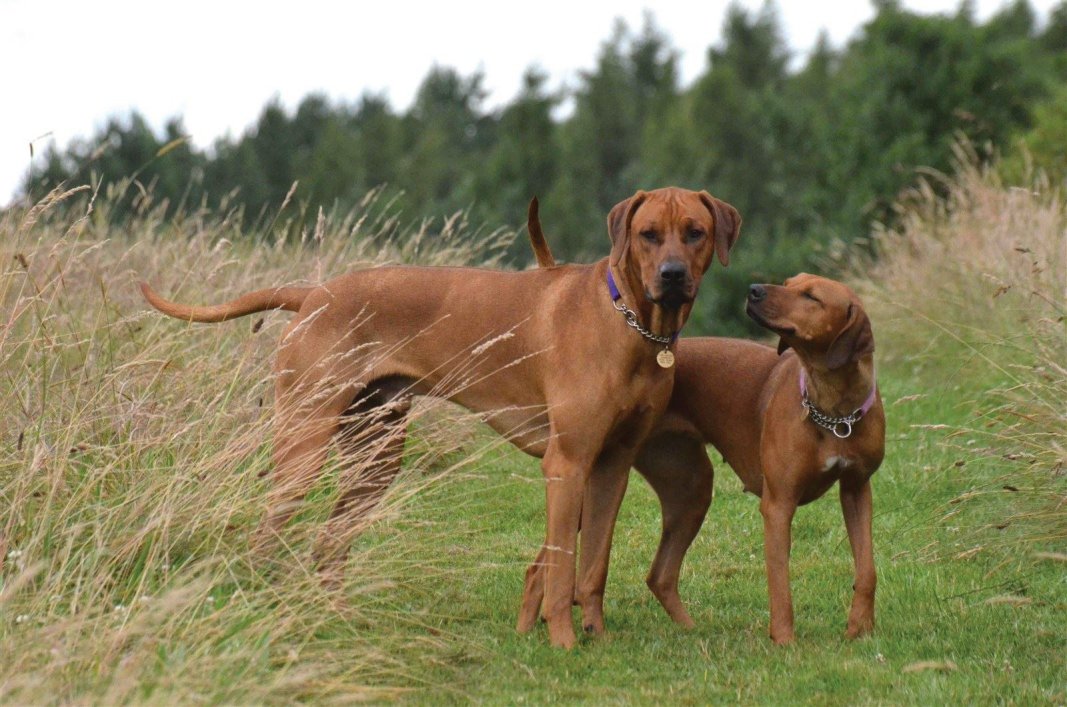 /