Colkeririn Rhodesian Ridgebacks
Quality Rhodesian Ridgebacks, Derbyshire, E​ngland
Colkeririn Face To The Sun JW ShCM in the news!
Many of you have commented that you've missed our regular updates.   2018 was a busy year for many reasons and it was a simple case of somethings gotta give!  Apologies for our absence, and with all good intentions, we plan to return to giving our readers more regular reports on what we've been up to.
Sere's news in particular, has been exciting.  During 2018 she won her way out of Limit, taking her 8th Class win under judge Espen Engh at the Midland & Northern Rhodesian Ridgeback Club 2018 Championship Show.  This win necessitated her to move into the Open Bitch class, where she instantly found her feet and almost immediately won her first, then second Challenge Certificates at back to back shows!
Thank you to Hector Heathcote for the BCC at South Wales Kennel Association and to Ann Ingram for the BCC at Midland Counties.   At SWKA she also won the Good Citizen Stakes under Meg Purnell-Carpenter (see photo).  What a month October was!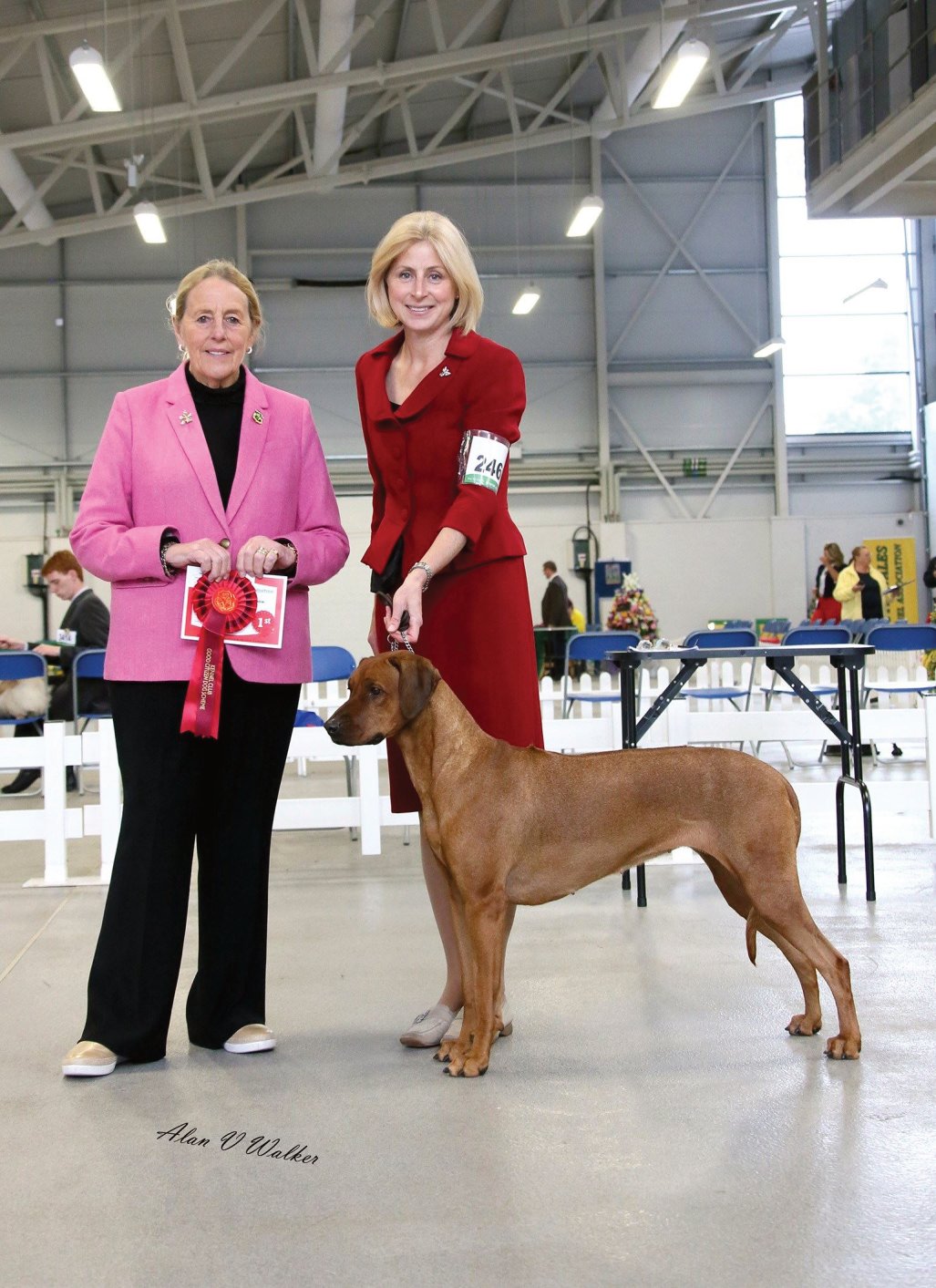 She's had a restful winter with only a handful of outings, and we're ready, willing and able to do our very best in the 2019 show season!   We look forward to seeing some more great judges scheduled for our breed throughout the year and of course to spending time with our friends around the ring.  We'll keep you posted! x
Happy Birthday Colby - 12 years young!  
It's a special weekend here at Colkeririn Rhodesian Ridgebacks HQ - we're busy celebrating Colby's 12th Birthday!   Here are some photos of our birthday boy.  He loves "Happy Birthday to You" so much, I think, after 12 years of having it sung to him, he could almost sing it himself!  Every year he gets a dog birthday cake - and this year's was a big hit!  (Recipe below).
Born and bred in the beautiful Sonoran Desert in Arizona, USA, our desert dog enjoyed some lovely UK Winter sunshine whilst out on one of his two daily walks, and not surprisingly stopped for a roll in the grass!   
Colby is loved by so many around the globe, Multi International Champion, American Dual Champion, Multi Int. Ch, AM DC Columbia Blue Sky of Courage, SC (Senior Courser) is a proud father to Roobarb, Hugo, Mojo, Buster, Verde, Tikka, Angel and Liona and grandfather to Bear, Bear, Rubus, Claude, Sere, Indie, Bella, Bella, Twiga, Kenya, Benya and Phloxy and a good friend to many near and far - he sends his greetings to all.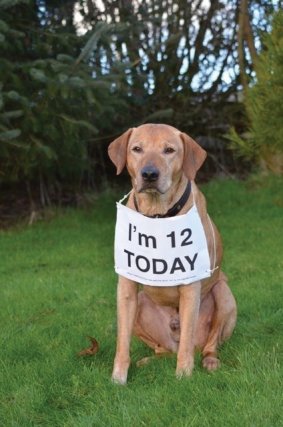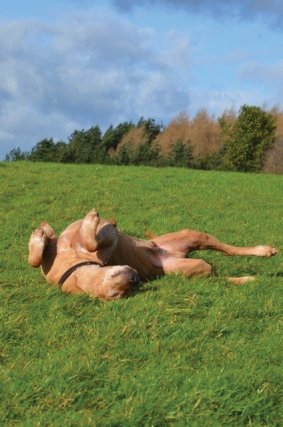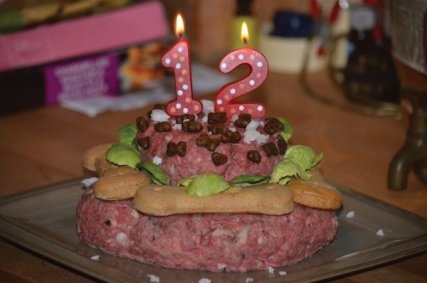 Minced Beef & Sardine Cake
1 kg Minced Beef (20% Fat)
1 120g Can Sardines in Spring Water
1 tbs Grated
Coconoil
and 1 additional tsp
4 Large Bonio
1 Brussel Sprout (divided leaf by leaf)
Handful of small training treats for decoration
In a large mixing bowl mix together Minced Beef, Sardines and the tbs Grated
Coconoil
.   Form the mix into a large round patty and flatten, form a second, smaller round patty and flatten, then place on top of the larger patty.  
Place all 4 Boinos around the top patty, then decorate with Brussel Sprout leaves. Sprinkle the training treats and additional tsp of
Coconoil
over the top and place candles if using (please supervise the entire time and do not to allow your dog to sniff or eat the cake whilst the candles are lit).
Planned Litter Summer 2015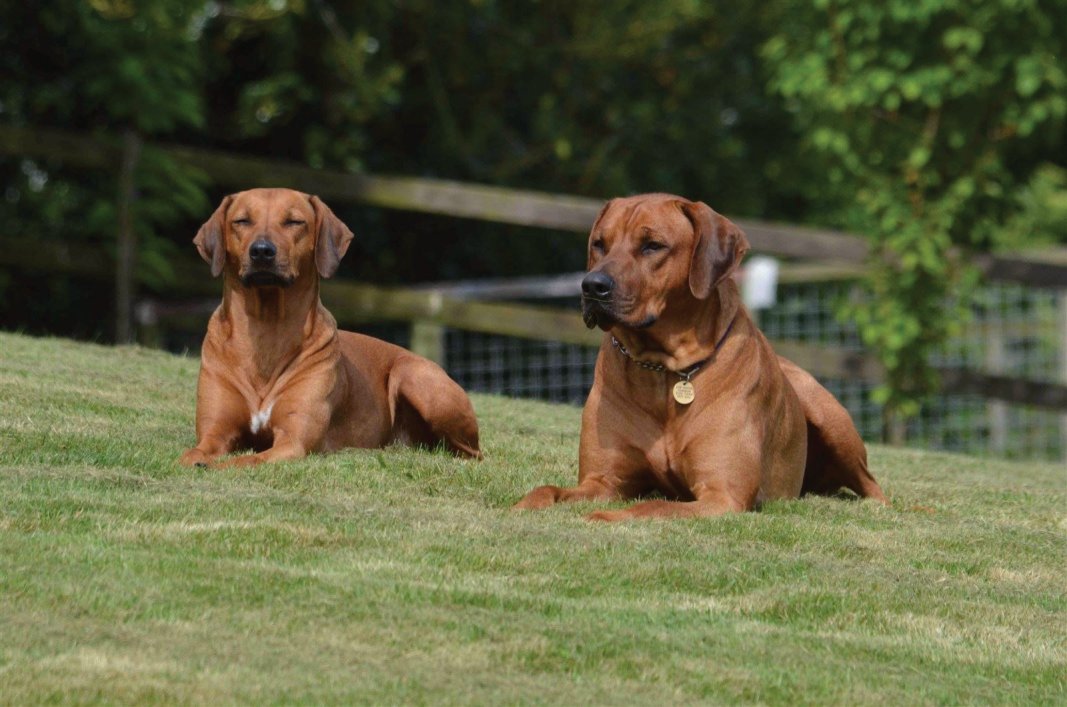 Verde & Kamba (above) are expecting puppies!! 
Verde has been scanned and is confirmed in whelp with at least 12 puppies!  Her due date is on or near to August 21st.
This is a larger litter than we anticipated, so we are accepting additional enquiries through our Contact Us page on this website from families seriously interested in owning one of our puppies.
This is our first Colkeririn to Colkeririn breeding, and brings together the beautiful American lines behind Verde's father Colby and Kamba's mother Indie, all supported by the best of British behind Kamba's father Bhali and the old African lines behind Verde's mother Keira - a long awaited combination. 
Verde and Kamba both live with us in our home along with Verde's father, Kamba's mother and two aunties!  We have detailed health test results on several generations behind Verde & Kamba who are both hip and elbow scored with great results (see test results on "Our Dogs" page), they are both tested and clear of Degenerative Myelopathy and are both tested with High Confidence Clear results on EOAD.  (Early Onset Adult Deafness).
We are therefore hoping for a dozen (maybe more!) happy, healthy puppies next month!  
Colkeririn's Sunlight (Kamba) and Colkeririn Indigo Lightly at Lonaza (Lana) had a fabulous day at W.E.L.K.S. 2015 on Saturday, 25th April.  The sun managed to keep shining on our youngsters who both showed their way to excellent placements under Breed Specialist Liz Storey (Kiromol).   Kamba won the 9-strong Limit Class and went on to win the Reserve Dog Challenge Certificate - his second RDCC in two consecutive championship shows for him (we didn't get to Hound Assoc Scotland) and Lana placed 2nd in her well stocked Limit Class, placing behind the day's BCC winner.  Here's Lana standing for her judge's critique - we are so proud of her and Jane.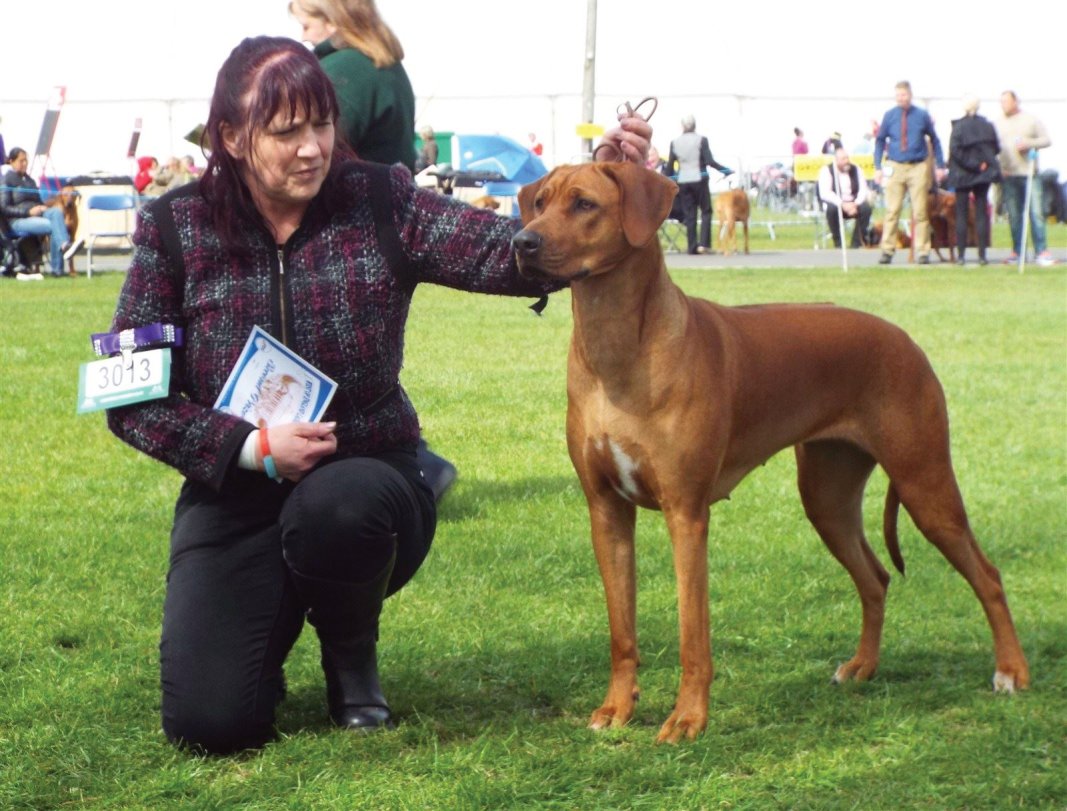 (Photo with kind permission from John and Gillian Mulligan)
Kamba's show career since leaving the Junior Class has been a real thrilling journey.  Still at only 21 months, this is Kamba's 4th class win and 2nd RDCC under Breed Specialists at Championship Show level (in only 8 Champ Shows we've attended - where he's placed in the cards at every show):
Gillian Mitchelson (Voortrekker) 1st PGD Hound Assoc 2014
Sue Campbell (Nyassa) 1st PGD LKA 2014
Gill Lawless (Faahac) 1st PGD and RDCC Crufts 2015
Liz Storey (Kiromol) 1st Limit and RDCC WELKS 2015.  
Under 2 more Breed Specialists he's been placed 2nd:
Gill Hutcheson (Gabisa) 2nd PGD Bournemouth 2014
Charlotte Strickland (Voortrekker) 2nd PGD Richmond 2014.  
We are so grateful this first class group of ladies with so much combined experience and knowledge of our breed appreciate Kamba, so much thanks for keeping us smiling on our journey!  Although we can't attend every Championship Show in the year, we are looking forward to what has started out to be a really exciting 2015 for us!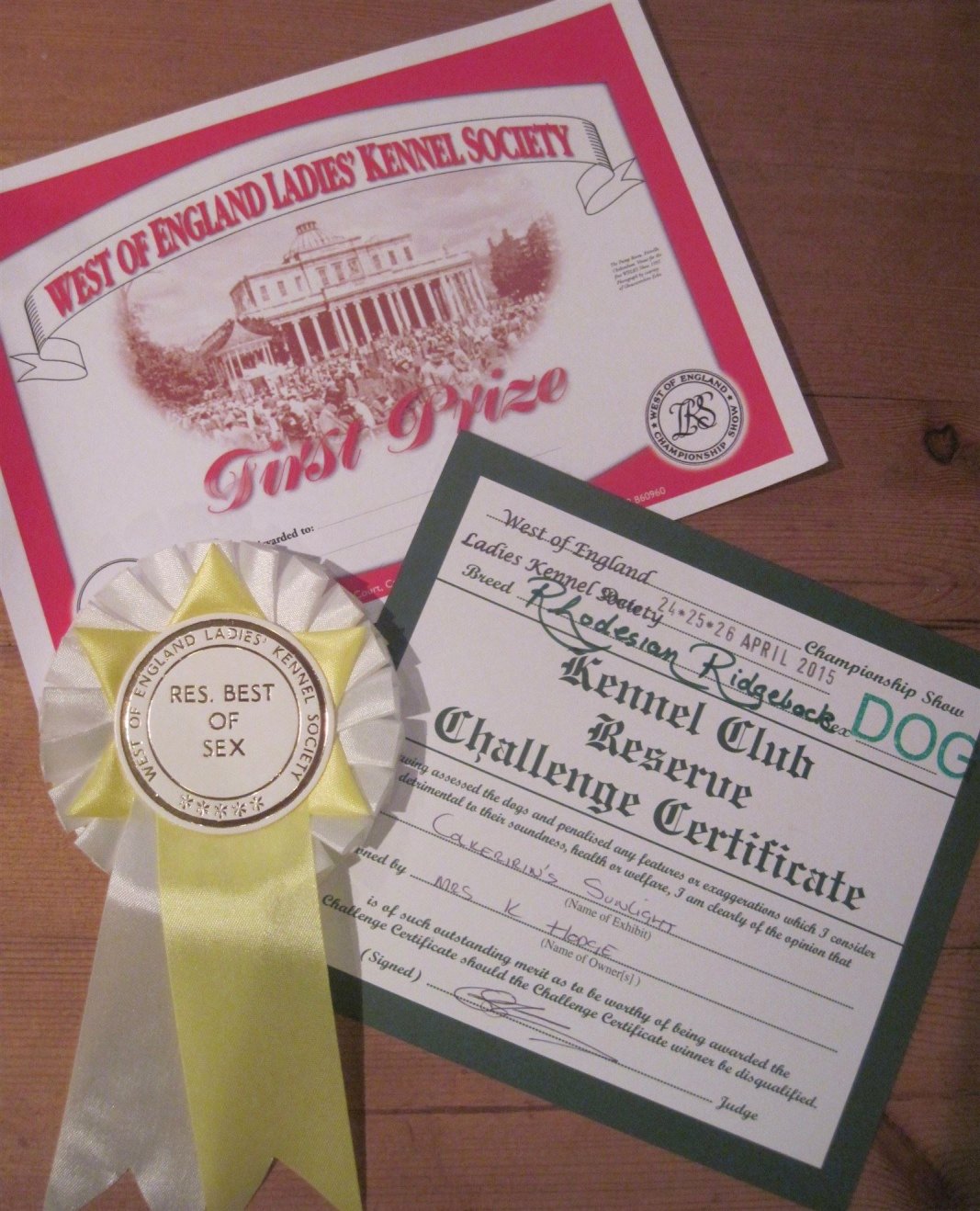 Colkeririn Rhodesian Ridgebacks are raw fed dogs.  We have recently discovered a fabulous source of Coconut Oil which we supplement our dogs' diets with, by adding a tablespoon to their morning feed.   We enjoyed recently meeting Garry Stiven, CEO at Coconoil.co.uk, and are thrilled to bits to be included in Garry's company website in a recent blog entitled "Coconuts for Canines".  
CRUFTS 2015 - What a day for Colkeririn!! (Show ring photos by kind permission of Lena Piehl)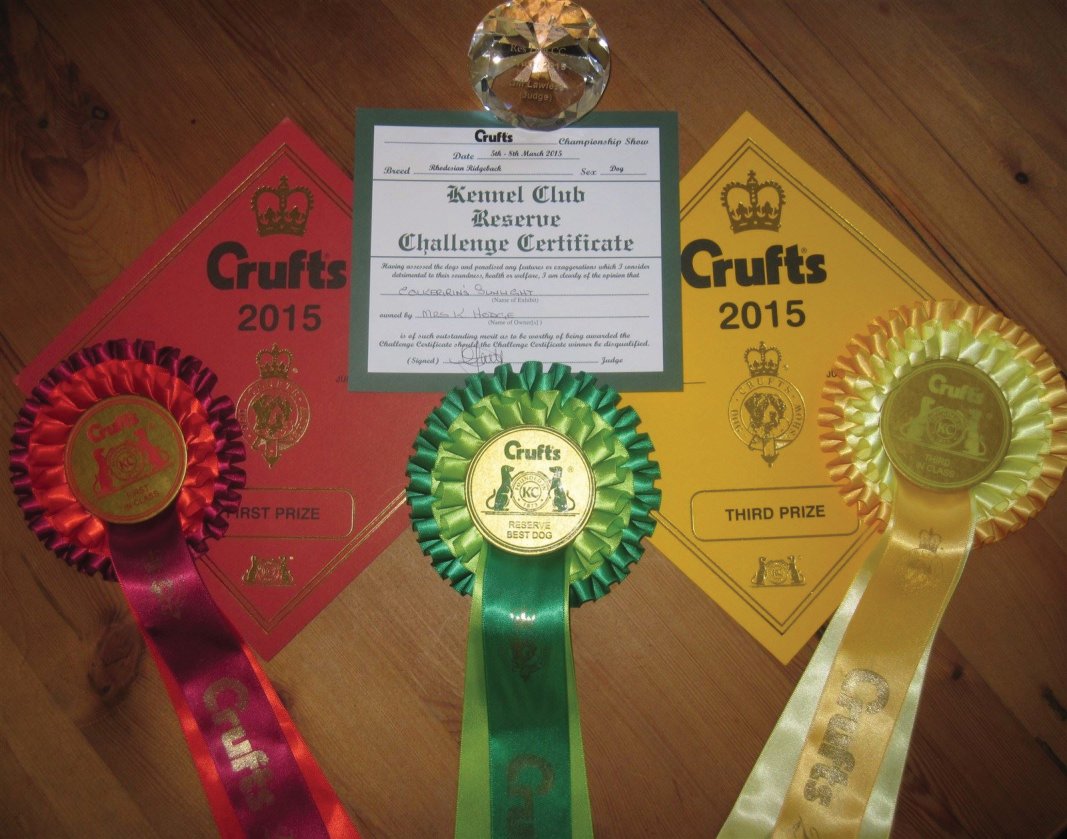 The world's largest dog show attracts the biggest breed entry of our year at Championship Show level.   With visitors in attendance from all over the globe, we wanted to step into Breed Specialist Gill Lawless (Faahac)'s ring in the best condition we could, so in January ramped up our training to ensure we were all in tip top shape!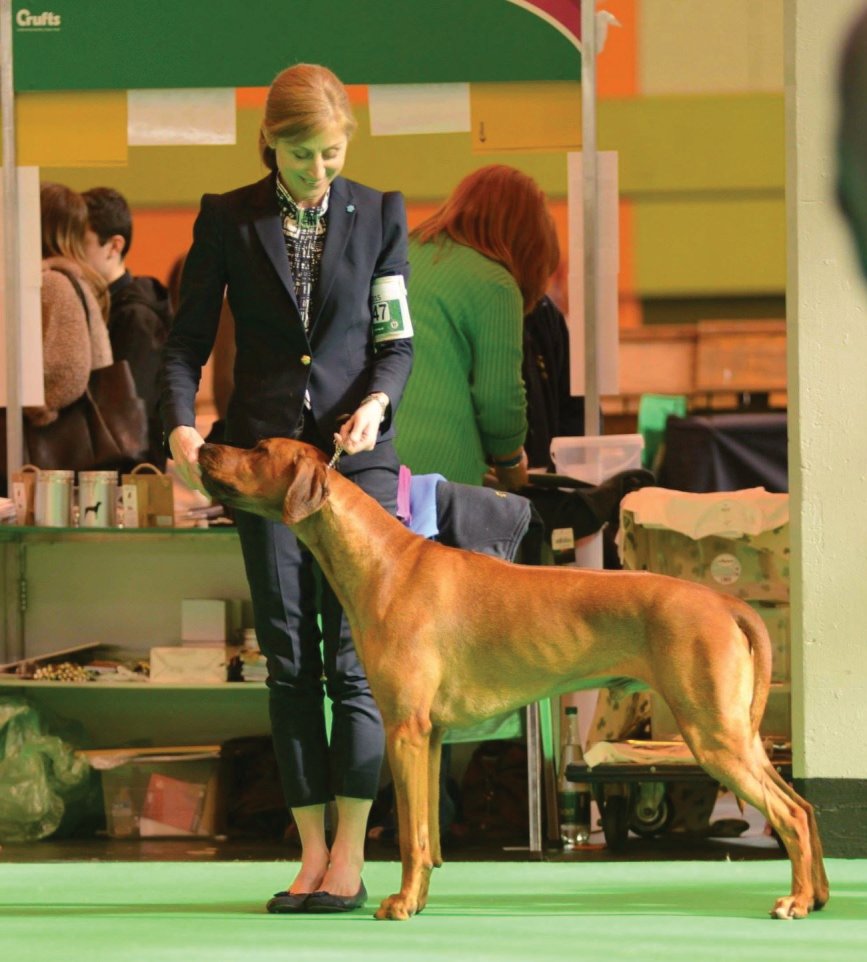 Although Colby qualified, we decided to focus on Kamba and Rio for Crufts 2015.  Kamba was first off the benches and gaited confidently into the ring to take his place in the 16 strong Post Graduate Class, he demonstrated his form enough to take the class and win our first ever Crufts red ribbon! (Rio won a RBCC in 2012 as the 2nd placed bitch in Open Class).  A short time later Kamba was back in the ring for the Dog Challenge.  
Standing amongst some truly magnificent dogs and soaking up the wonderful atmosphere which surrounded our ring was a magical feeling enough, but when Gill walked up to us and asked for a down and back to assess his movement one more time we felt elated.  Kamba rose to the occasion and gaited enthusiastically with his powerful reach and drive, we stood back in line and watched carefully as Gill considered her line up.  She awarded her DCC to her Open Dog class winner, a handsome dog from The Netherlands, and then to our absolute delight awarded the Reserve Dog CC to Kamba.  Gaining a Kennel Club Stud Book number under a breed specialist of Gill's calibre at Crufts just doesn't come any better!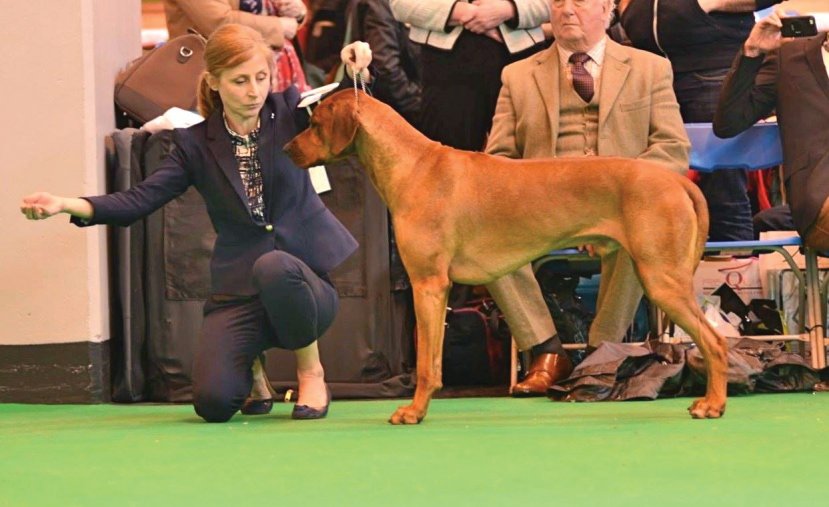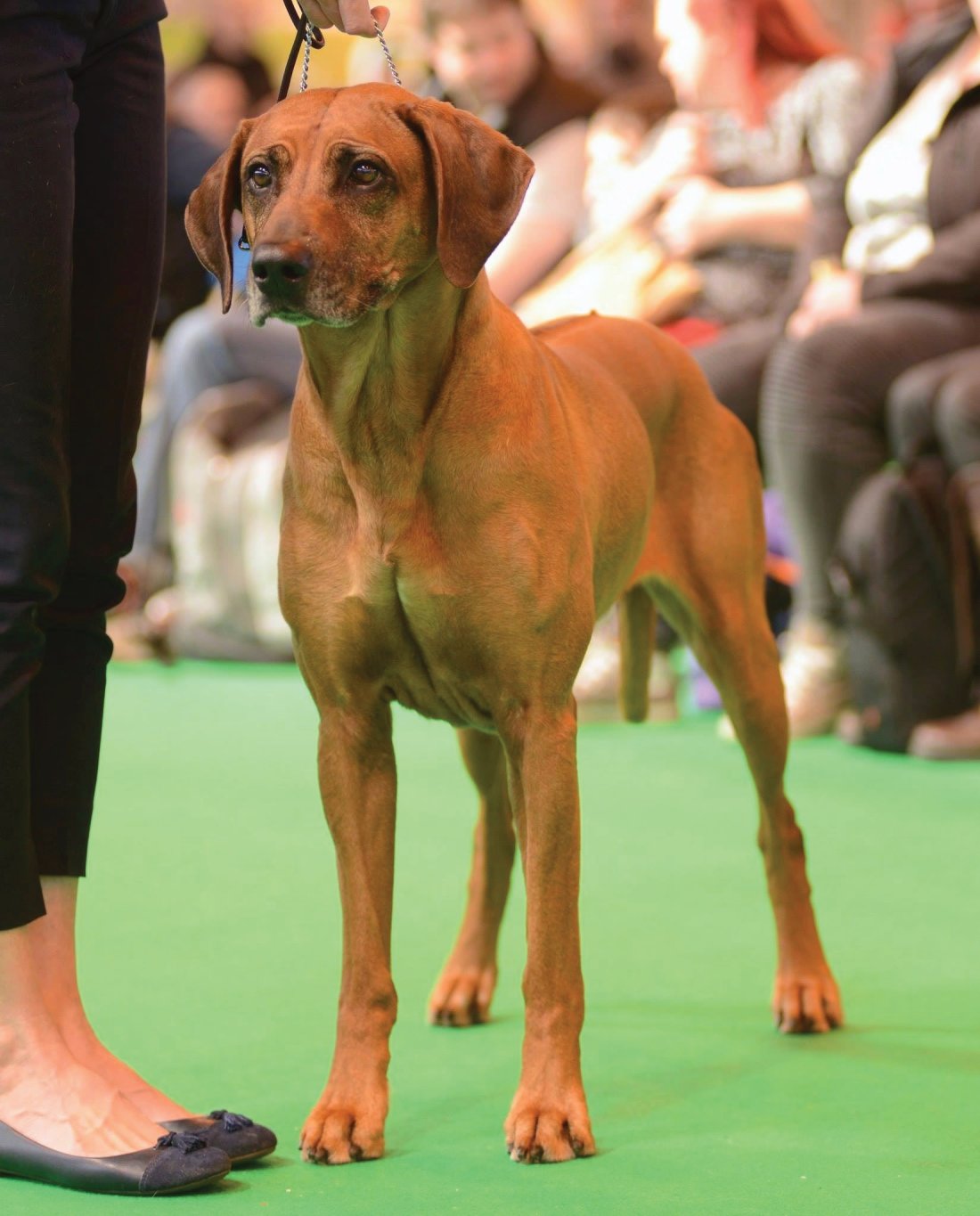 Rio was the very next class of the day and amongst all the excitement we were both a little over exuberant and after flying round the ring were delighted to be awarded 3rd Place in Veteran Bitch behind two spectacular Grand Dames who we've stood alongside in the ring for several years now.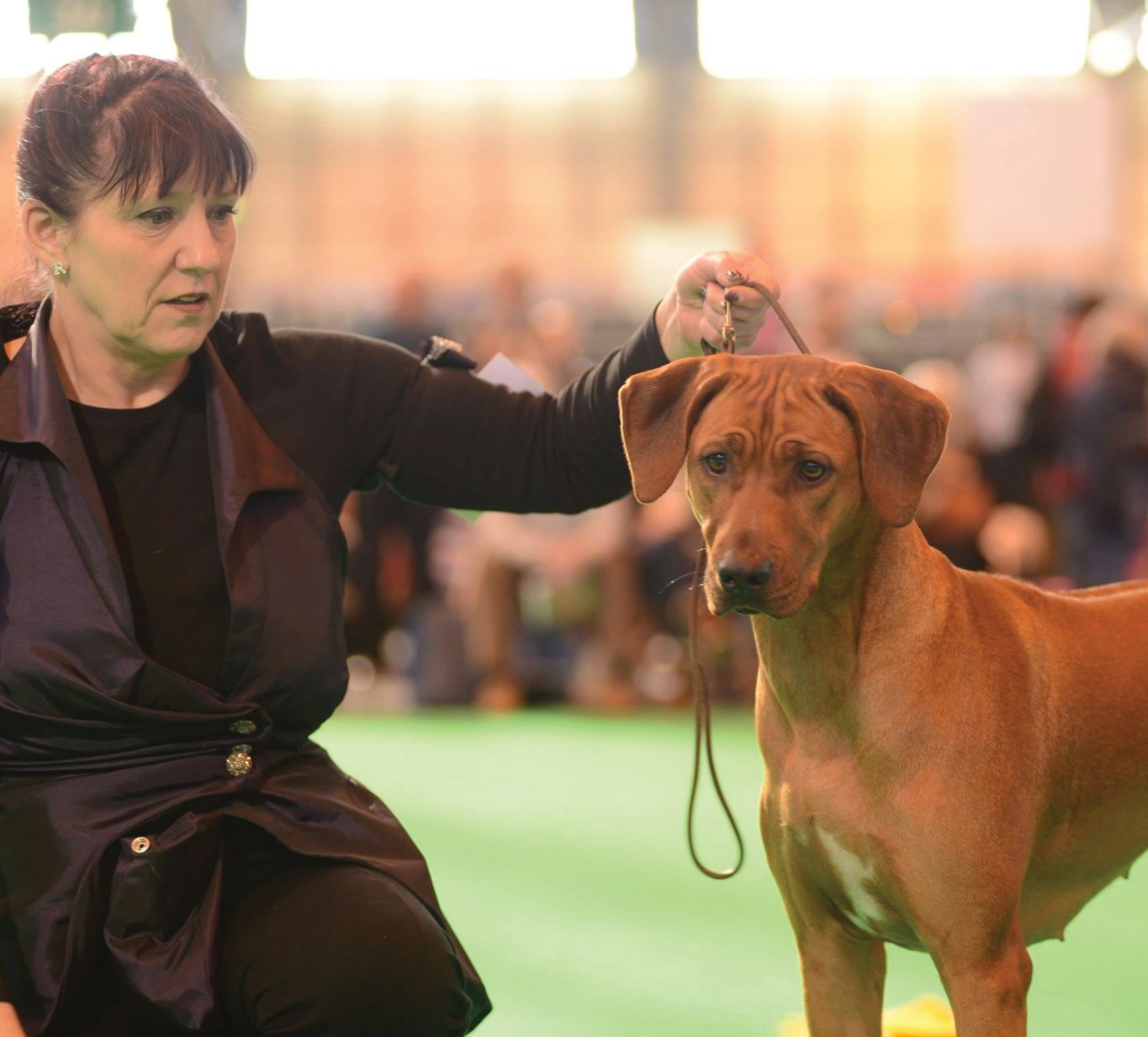 Our beautiful Lana who we co-own with Jane Hawkins and John Smith was next up in Yearling Bitch and with tears in my eyes as I watched Jane and Lana standing to perfection, let out a shriek of excitement when they were awarded 2nd Place in a 12-strong class.  Not only that, Kamba and Lana's litter brother had also won 2nd Place in the Yearling dog class earlier that morning, so all in all the pops just couldn't stay in the bottles any longer!  We enjoyed a toast with friends from far and wide to our fabulous dogs, to Indie (at home) whos babies had won a 1st, RDCC, and two 2nd places, to Rio on teaching Kamba how to take it all in his stride, and to the great success of a fabulous day!  Congratulations to all who qualified, placed and won top honours on the day and thanks and gratitude to our judge Gill Lawless for her impeccable ring management and manner with our dogs.  
It seems a long time ago now, but we ended 2014 on a high, and really enjoyed our day out at Ladies Kennel Association Championship Show, where we had the pleasure of presenting to Breed Specialist Sue Campbell from the famous Nyassa Kennels.   
Sue awarded Kamba 1st Place in Post-Graduate - here is the exciting critique Sue wrote for him:
"PG (6,2) 1 Hodge's Colkeririn's Sunlight, 17 month l/w dog. Lovely type, in excellent condition & well muscled. Nice upstanding boy, strong bone & excellent feet, good topline & well ribbed back .Strong quarters used well on move, best mover in this class, nice boy maturing nicely."
I am particularly thrilled to read "Lovely type", which shows up often in Kamba's critiques.  To have a breed specialist of Sue's experience acknowledging his type is a real compliment.  We're thrilled to bits!  
Kamba has been shown lightly over the summer this year, and has placed well in the  shows he's attended.  We enjoyed reading his critique written by breed specialist Gillian Hutcheson who judged us at Bournemouth Championship Show in early August (he was 13 months and a week old at the time) where he placed 2nd in Junior Dog:
"Hodge's Colkeririn's Sunlight.  Handsome red dog, lovely crest of neck leading to a good front assembly, this boy just needs to drop in brisket, good body proportions with a lovely turn of stifle. Moved and handled beautifully."   Thank you Gillian for going over our boy so diligently and for such encouraging words.  
We really do care about the puppies we breed, and wherever possible will stay in touch with them for their lifetime. We recently had the enormous pleasure of welcoming Mojo from our Keira x Colby litter back to stay with his extended family.   His humans call his visits to us "boot camp" and we really think Mojo had fun discovering all kinds of new adventures around the farm.  His new favourite trick is picking blackberries off the hedgerows - he studied Indie very carefully and realised he was pretty good at it himself!  He traded his dry food for some local fresh raw meat and thought clearing the fallen branches and hedgerow trimmings into the bonfire was a very important job.  Best of all though, he enjoyed racing over the fields with his Rhodesian Ridgeback family.  We miss him already, but we know his loving family are so happy to have him home again.  
/