Colkeririn Rhodesian Ridgebacks
Quality Rhodesian Ridgebacks, Derbyshire, E​ngland
** Kamba's Going to be a Daddy * Puppies Due June 2nd **
We are very happy to make the exciting announcement for Janet Larkin of Msaka Ridgebacks that her beautiful liver nose girl Asha (Faahac Royaal Finesse) is in whelp with at least 8 wriggling wonders sired by our handsome boy Kamba (Colkeririn's Sunlight).  Janet was so happy Asha was in whelp she stopped counting at 8 when Asha was being scanned recently!  
Puppies are due on June 2nd.   Janet is accepting enquiries about the litter.  We are happy to pass enquiries on, or to contact Janet directly, her details are on our announcement photo below.   
We'll be sure to share some photos of this beautiful combination once they are born. We take huge responsibility in breeding and Kamba will only be used on selected, health tested bitches with good hip and elbow scores. We are honoured Janet should have selected Kamba to sire Asha's first litter.   As our announcement says, 2 beautiful parents with 4 stunning grandparents - we have excellent knowledge of the dogs behind both Asha and Kamba and have fully documented health test results for several generations behind them.
Asha:  (Faahac Royaal Finesse) Elbows:  0/0   Hips:  4/5 = 9
Kamba: (Colkeririn's Sunlight)     Elbows:  0/0   Hips:  3/4 = 7
Both Asha and Kamba are tested for and clear of Degenerative Myelopathy.
Good Luck to Janet and Asha!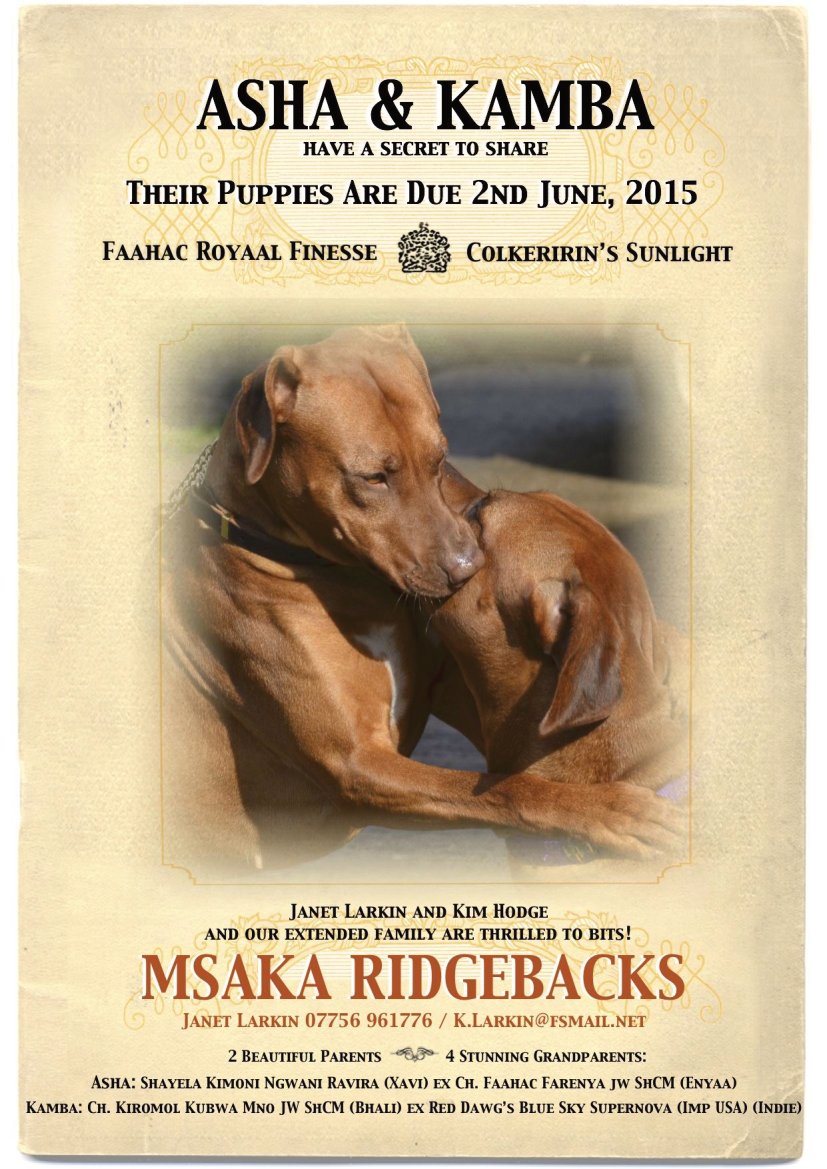 Colkeririn Rhodesian Ridgebacks are raw fed dogs.  We have recently discovered a fabulous source of Coconut Oil which we supplement our dogs' diets with, by adding a tablespoon to their morning feed.   We enjoyed recently meeting Garry Stiven, CEO at Coconoil.co.uk, and are thrilled to bits to be included in Garry's company website in a recent blog entitled "Coconuts for Canines".  
I am a advocate of health testing and research for Rhodesian Ridgebacks, and  this conclusion of Early Onset Adult Deafness research by ProjectDog in California, USA summarises my feelings welll. "It has been indicated that the gene responsible for adult onset deafness in the Ridgeback is highly likely to be responsible for a similar deafness in humans. Specifically, human genetics literature suggests that this human deafness affects infants before they learn how to speak, thus sentencing these children to a lifetime of challenges in communicating. It is hoped that a successful conclusion of this research will enable Rhodesian Ridgeback breeders to improve the health of future generations of dogs, and beyond this, have important implications for improving human health as well. Dr. Neff and his team have expressed deep appreciation for the long term commitment and patience by the Ridgeback community, and for the continued support of this important research". 
I am happy to report that having forwarded a donation to ProjectDog and DNA for 3 Colkeririn Hounds, results are: 
Colkeririn Your Good Elf - Verde:              High Confidence CLEAR 
Colkeririn's Sunlight - Kamba:                  High Confidence CLEAR 
Colkeririn Indigo Lightly at Lonaza - Lana: High Confidence CLEAR
We are proud to support the research at ProjectDog and thank the generous donors from the RRCUS community who enabled the DNA sequencing and analysis, research and to subsidize DNA testing against the hereditary basis of Early Onset Adult Deafness in a large number of Rhodesian Ridgeback dogs.   

/