Colkeririn Rhodesian Ridgebacks
Quality Rhodesian Ridgebacks, Derbyshire, E​ngland
This long weekend has been nothing short of miraculous in Derbyshire.
As some of you know Lana was mated in August.  Everything with the mating was text book and was a positive experience for both Lana and her beau.
As the weeks progressed every single sign told us she was in whelp, which is why our hearts sank when we looked at Dominie's screen on day 29 as what can only be described as peering into an empty abyss.  Not one sign of life or even a change in gradient or colour from one side of the monitor to the other. 
In disbelief, we pregnancy tested her again to get a negative result.  A period of readjustment, re-focussing and what felt like mourning commenced, this may sound dramatic to some, but is an honest account, nonetheless.   
John and Jane visited with Lana two weeks later and Lana seemed, as so many often do, to be fully indulged in a phantom pregnancy.  And two more weekends later, as this was the weekend we were all hoping to whelp her litter, Jane and I decided to keep the time we had both booked off work and all spend the time together to try and find something nice to do, and stop ourselves thinking of what should be happening.
On Friday morning we planned a walk with Lana and her some of her family and friends here.  Luckily Jane decided to mention that as Lana had woken up she had passed what seemed like a combination of wee and some clear discharge.   This to me seemed like a bitch whose waters had broken, and my initial thought was how could a bitch fake waters breaking as part of a phantom (she was, after all, on day 60).   I decided to call a friend, Janet Larkin, who has been nothing short of brilliant since the day I met her 18 months ago, providing invaluable knowledge from her veterinary nurse training and experience as a breeder.  Talking through my thoughts it swiftly became clear Lana should see a vet.  
The brilliant practice, Blenheim Veterinary who I'm so lucky to call my vets, made space immediately in their back to back appointments for Sarah to see Lana.  As soon as she put her hands on her she could feel something.  We progressed into the darkened scanning room, lubed Lana's tummy and faced towards the screen.  A backbone was immediately visible, followed by a strong, regular heart beat!  A miracle!
We looked for more puppies through the 2 dimensions of the scanner and as if to make sure and probably to reconfirm what our eyes had just seen, asked for an x-ray.   A single puppy, who Sarah noted appeared very large, was confirmed.
Stunned, excited, confused, elated and now with a whole new set of emotions to manage, we left the vet and came home.  We called the sire's owner and tried to comprehend how brilliantly Lana had kept her secret for 60 days.  And we marveled at how her master plan had been played out.
A weekend of reading, thinking, talking and weighting up our options to ensure the best outcome commenced, and with the help of the sire's owner, breeder, and with Jo Pyke volunteering a back up surrogate mother/litter on standby, we decided an elective c-section on Monday morning was the way forward. 
Lana, with just a solo puppy in her uterus, was clearly lacking the full blown stimulation to go into labour, but with her plug removed and a potential very large puppy and now at day 63, our minds were made up.  
Yesterday morning we welcomed the arrival of a thriving correct boy who has won a village  of peoples' hearts and minds in 24 short hours.  
Lana is slow to bond with him, but has allowed him to feed occasionally and to his delight have a wonderful explore over his mummy's tummy.  
We know the road ahead might have bumps, but we're so grateful for the gift of this beautiful soul, so please join myself, Jane, John, Lisa and Sharon to welcome Lana and Elvis's miracle son.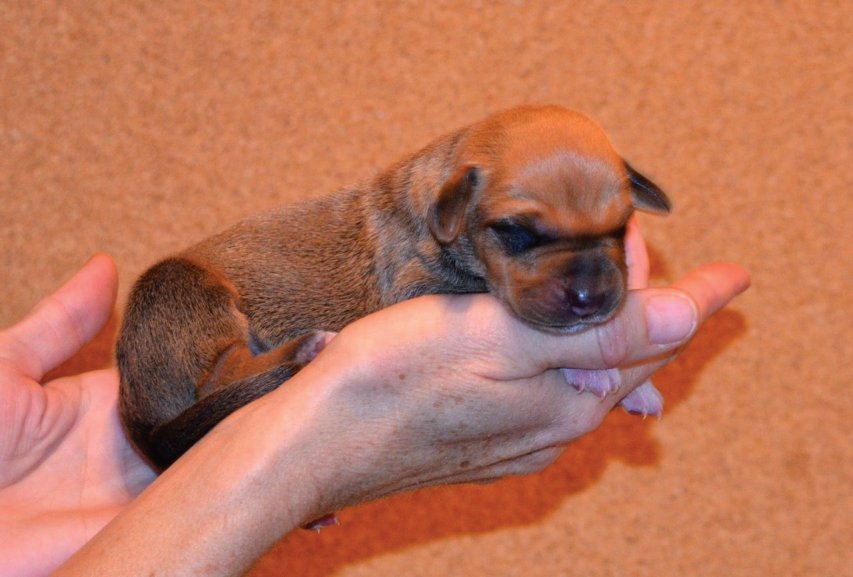 Ch Sonstraal's Chocolate Storm JW, ShCM x Colkeririn Indigo Lightly at Lonaza
We are absolutely delighted to read the critiques for both Colkeririn's Sunlight and Colkeririn Indigo Lightly at Lonaza from the recent Championship Show, WELKS 2015 judged by breed specialist Liz Storey (Kiromol).   
Kamba won the Limit Dog Class (entry 13 with 4 absentees) and went on to win his second Reserve Dog Challenge Certificate (at his 2nd consecutive Championship Show) and his litter sister Lana placed 2nd in the Limit Bitch Class (entry 15 with 3 absentees).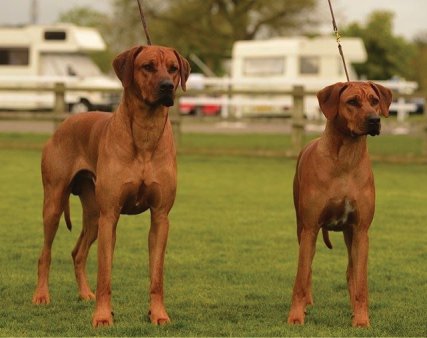 Photo by kind permission of Lena Piehl
For anyone who has observed Liz's judging, you will notice she is as thorough with her hands on the dogs as she is critical with her eye, so we were delighted she acknowledged what she saw and felt on both youngsters. 
Kamba:
"1st. Hodge's Colkeririn's Sunlight. Handsome and upstanding hound of excellent proportions. Well off for bone and substance. Very attractive head type with parallel planes. Kind, round eye. Excellent length and depth of muzzle to skull proportions with good width to underjaw. Good sized ear carried correctly. Well crested neck of good length into excellent shoulder placement with corresponding length of upper arm. Deep brisket, well ribbed back. Elbows carried close. Strong topline and good strong rear quarters. Moved out true with reach and drive. Very well muscled and in top condition. Expertly handled. Pleased to award him the RCC."
Lana:
"2nd. Hawkins, Smith and Hodge's Colkeririn's Indigo Lightly at Lonaza. Slightly smaller stamp, well proportioned all through. Very alert and typical expression, eye colour harmonising with her red wheaten coat. Nice head planes, good muzzle proportions. Excellent front assembly, well boned for size and good, compact feet. Elbows well under withers and carried close. Very good spring of rib, excellent rear with correct set on of pelvis. Strong and well muscled thighs of good width all through. Purposeful mover, very accurate for and aft. Nicely handled."
We like to remind ourselves regularly of our breed standard, so I thought I'd make an inclusion on the Rhodesian Ridgeback head.  Here is our UK breed standard for heads:
"Head and Skull - Of fair length, skull flat, rather broad between ears, free from wrinkles when in repose. Stop reasonably well defined. Nose black or brown in keeping with colour of dog. Black nose accompanied by dark eyes, brown nose by amber eyes".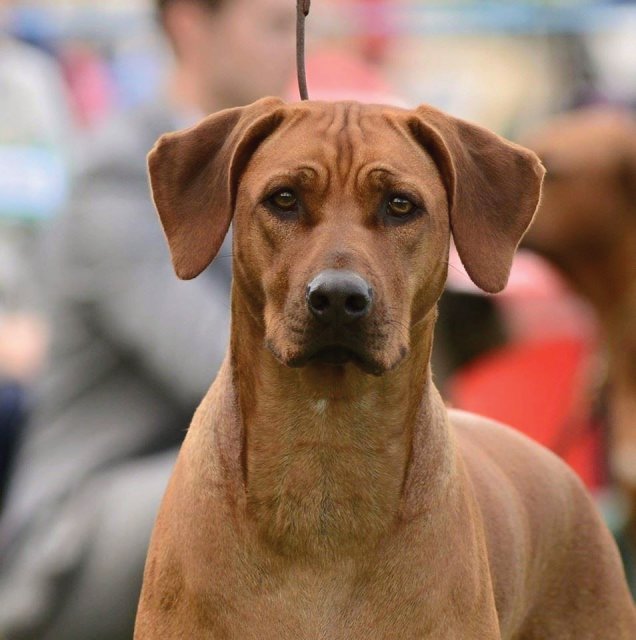 Now, Lana is not in repose in this shot, but we think she has a strong head, yet it remains feminine, her stop (the part that changes plain between the top of the head and the muzzle - between the eyes) is nicely defined.  We love her depth of muzzle and to me, she has enough cheek, but not too much. (Of course I'm referring to her facial cheek and not character cheek - that she has an abundance of!)
(Photo: Lena Piehl)
I'm pretty sure in a former life this youngster was a supermodel, because she has the ability to look right into the lens, perhaps those beautiful eyes can see the shutter opening and closing, and like any good sighthound is stimulated by the tiniest movement.  
Colkeririn's Sunlight (Kamba) and Colkeririn Indigo Lightly at Lonaza (Lana) had a fabulous day at W.E.L.K.S. 2015 on Saturday, 25th April.  The sun managed to keep shining on our youngsters who both showed their way to excellent placements under Breed Specialist Liz Storey (Kiromol).   Kamba won the 9-strong Limit Class and went on to win the Reserve Dog Challenge Certificate - his second RDCC in two consecutive championship shows for him (we didn't get to Hound Assoc Scotland) and Lana placed 2nd in her well stocked Limit Class, placing behind the day's BCC winner.  Here's Lana standing for her judge's critique - we are so proud of her and Jane.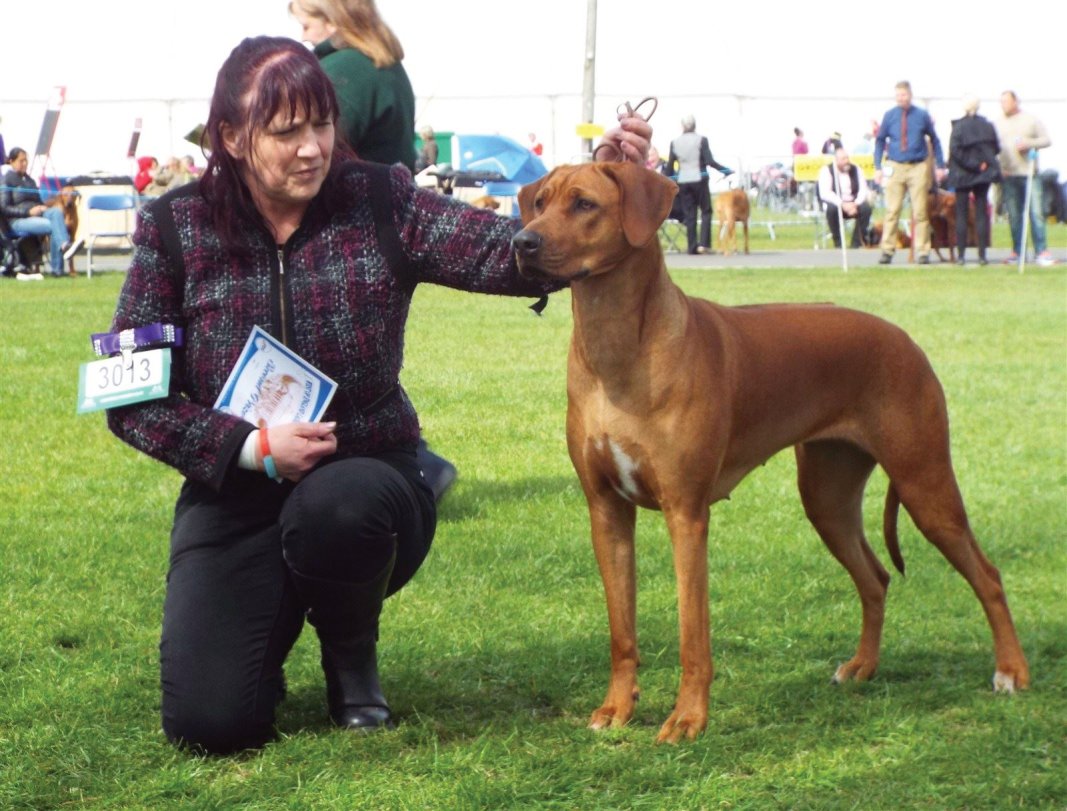 (Photo with kind permission from John and Gillian Mulligan)
Kamba's show career since leaving the Junior Class has been a real thrilling journey.  Still at only 21 months, this is Kamba's 4th class win and 2nd RDCC under Breed Specialists at Championship Show level (in only 8 Champ Shows we've attended - where he's placed in the cards at every show):
Gillian Mitchelson (Voortrekker) 1st PGD Hound Assoc 2014
Sue Campbell (Nyassa) 1st PGD LKA 2014
Gill Lawless (Faahac) 1st PGD and RDCC Crufts 2015
Liz Storey (Kiromol) 1st Limit and RDCC WELKS 2015.  
Under 2 more Breed Specialists he's been placed 2nd:
Gill Hutcheson (Gabisa) 2nd PGD Bournemouth 2014
Charlotte Strickland (Voortrekker) 2nd PGD Richmond 2014.  
We are so grateful this first class group of ladies with so much combined experience and knowledge of our breed appreciate Kamba, so much thanks for keeping us smiling on our journey!  Although we can't attend every Championship Show in the year, we are looking forward to what has started out to be a really exciting 2015 for us!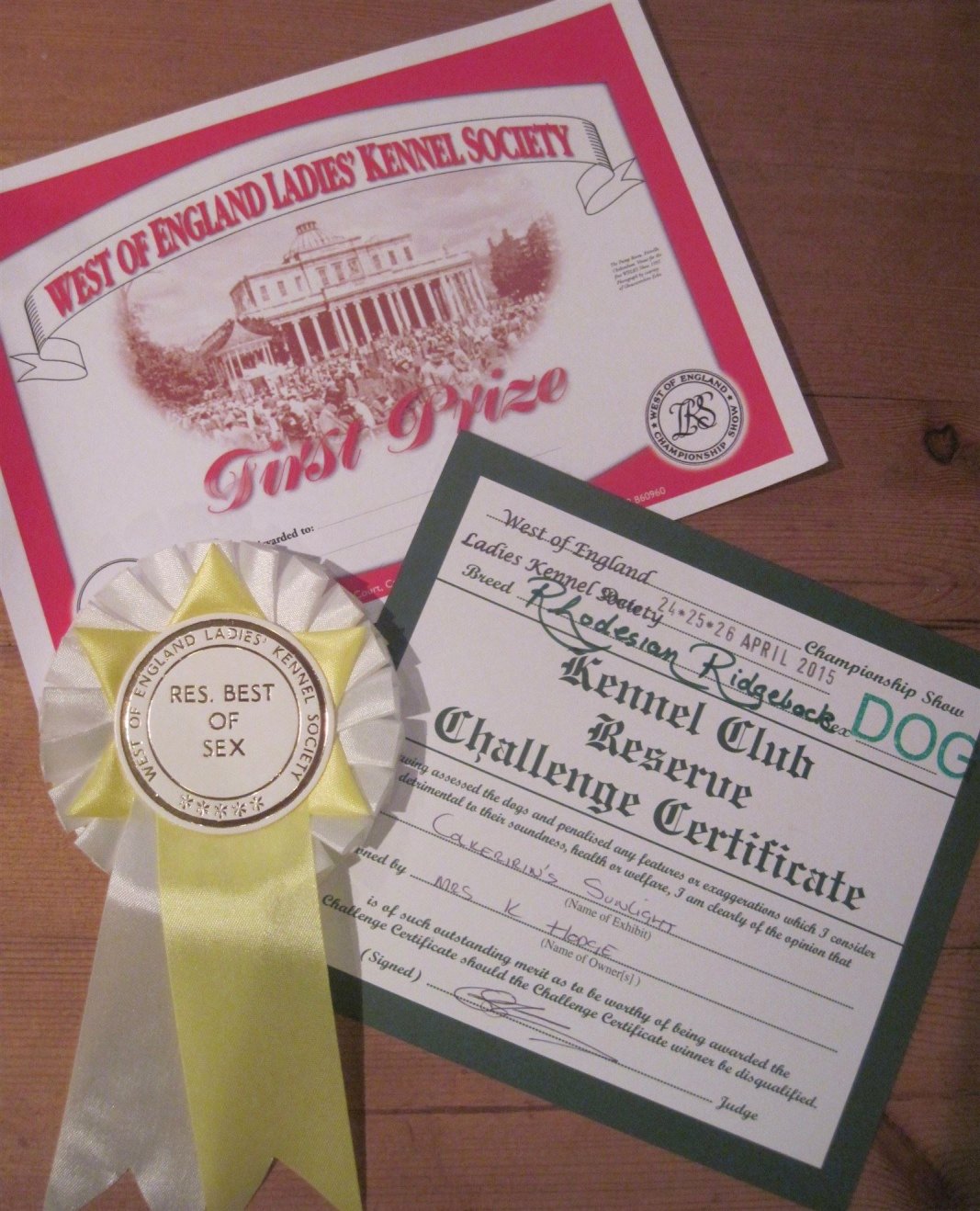 Our Crufts 2015 experience keeps on giving! We are thrilled to be able to share our two fabulous critiques for Rhodesian Ridgeback litter mates Kamba (Reserve CC) and Lana (2nd Place Yearling Bitch).  Our breed specialist judge Gill Lawless (Faahac) created not just a magical day at the NEC for what seems like her entire Rhodesian Ridgeback entry, but has also delivered a beautifully, comprehensively and throughly written set of critiques which have most certainly put smiles on our faces!  
We have picked this photo by Lena Piehl as an excellent one to look at as you read Kamba's critique, we can easily follow Gill's description as she considers his form: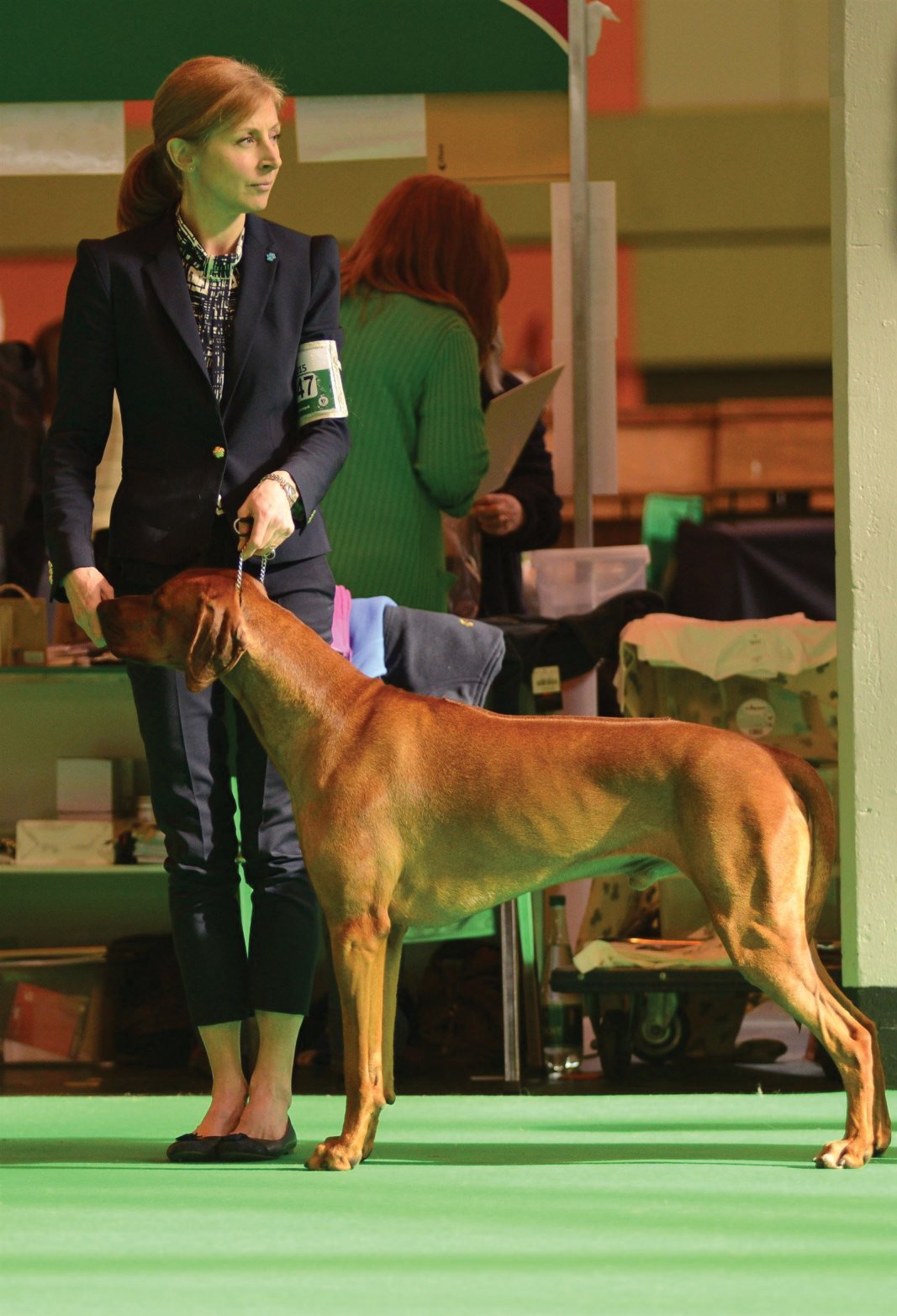 (16/1) 1 Hodge's Colkeririn's Sunlight. Super young dog with a lovely balanced outline. Well proportioned head with equal plains, kind expression, nice dark round eye, strong well arched neck with nicely shaped shoulder and length to upper arm.  Level top line and well arched loin, deep chest down to tight elbows. Nicely angulated rear quarters with good width to second thigh  He stands on well boned limbs and tight feed. Moved out accurately with drive and purpose.  At one with his handler. RCC.
And here's Lana's:
2 Hawkins, Smith and Hodge's Colkeririn Indigo Lightly at Lonaza.  A slightly larger framed bitch with balanced proportions.  Lovely head plains with a soft kind expression.  Clean neck on a nice front, good shoulder, straight well boned forelimbs and excellent tight feet. Deep chest well let down and close elbows. Good length to ribbing slightly short in loin, strong top line. Nicely angulated rear quarters with good width to second thigh. Moved out well with easy stride.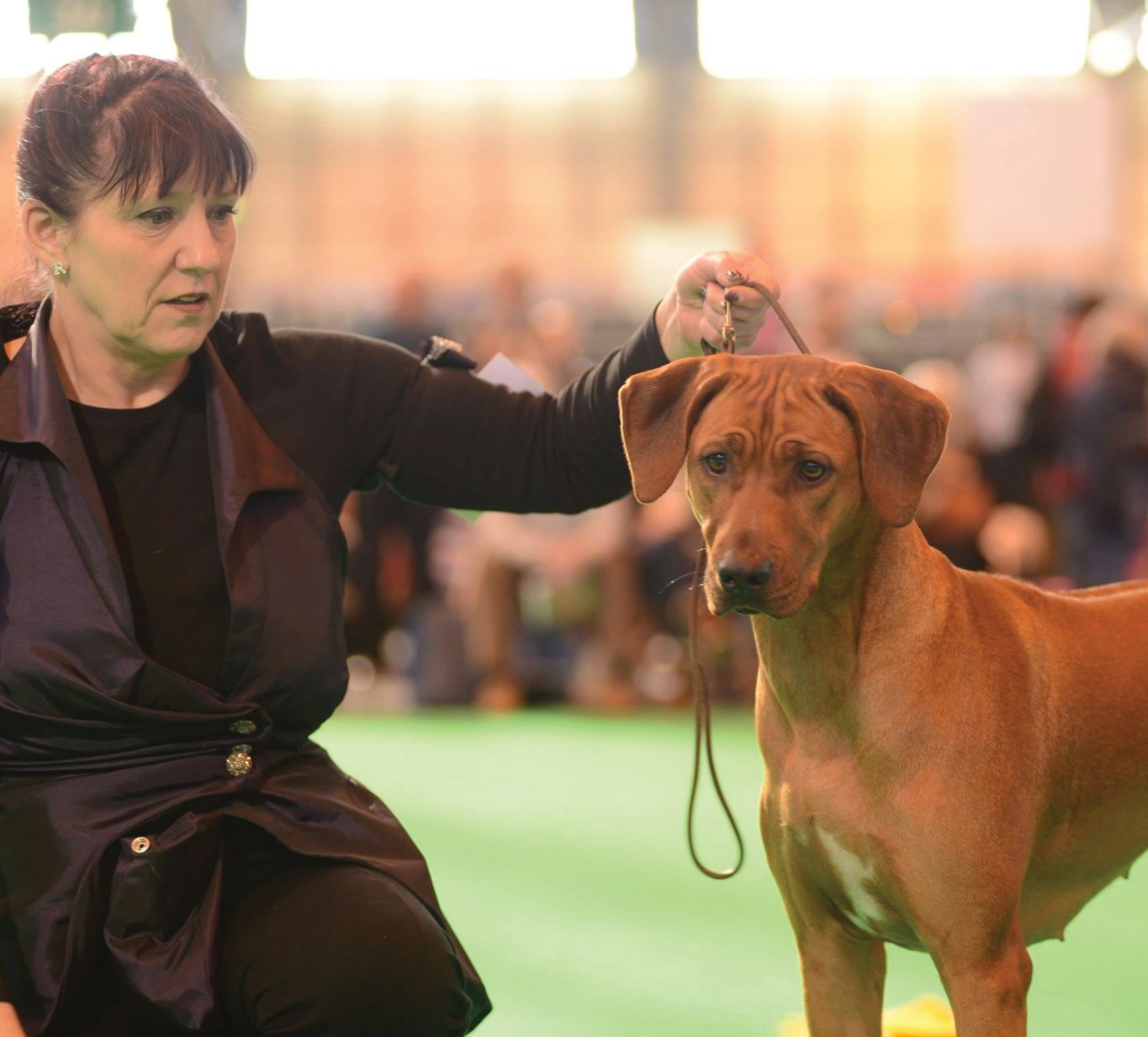 Photo: Lena Piehl
CRUFTS 2015 - What a day for Colkeririn!! (Show ring photos by kind permission of Lena Piehl)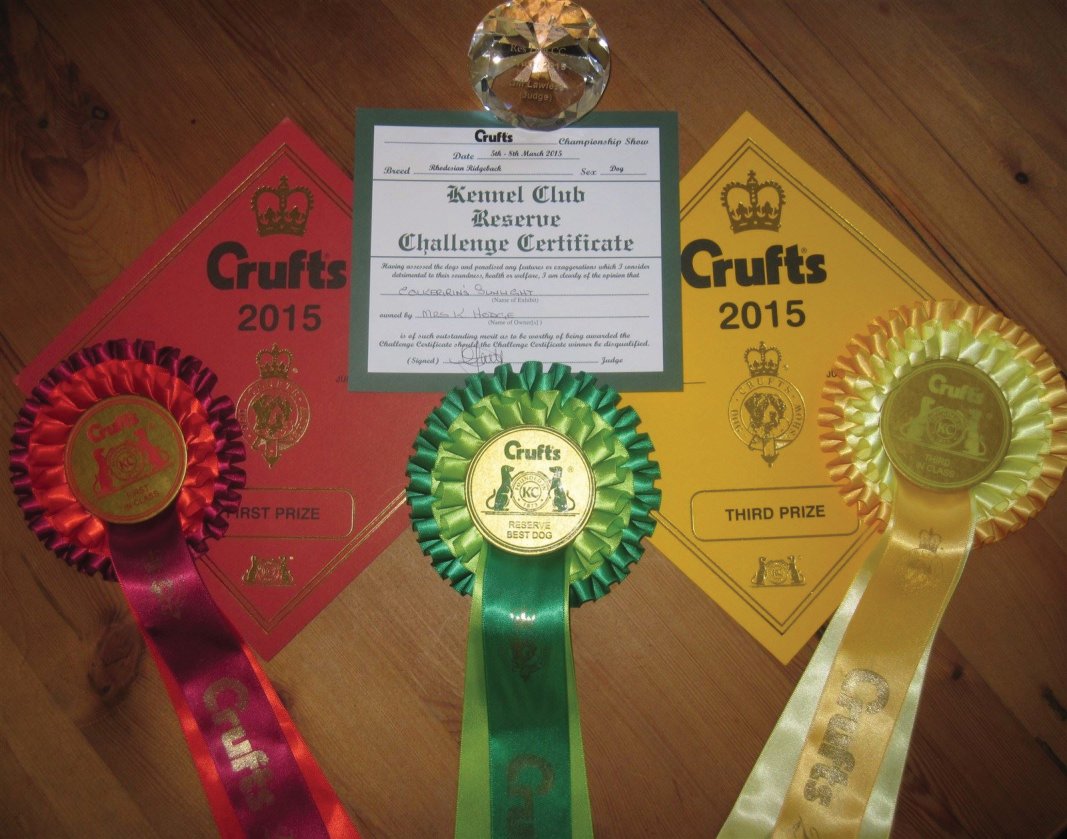 The world's largest dog show attracts the biggest breed entry of our year at Championship Show level.   With visitors in attendance from all over the globe, we wanted to step into Breed Specialist Gill Lawless (Faahac)'s ring in the best condition we could, so in January ramped up our training to ensure we were all in tip top shape!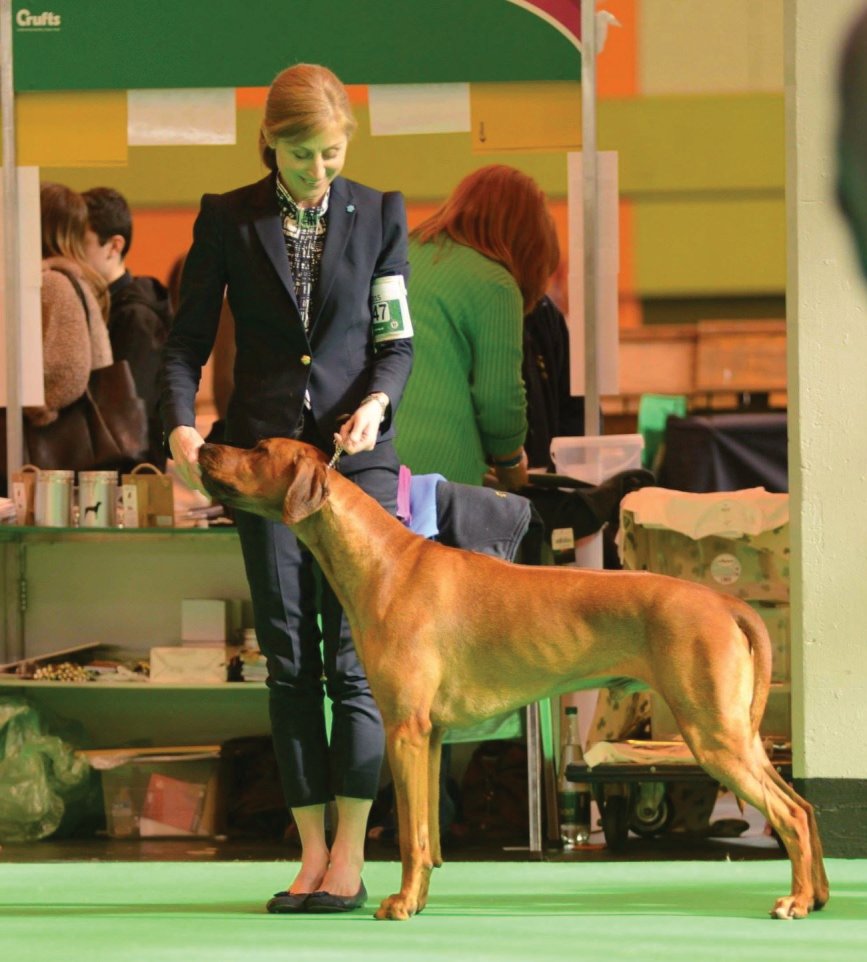 Although Colby qualified, we decided to focus on Kamba and Rio for Crufts 2015.  Kamba was first off the benches and gaited confidently into the ring to take his place in the 16 strong Post Graduate Class, he demonstrated his form enough to take the class and win our first ever Crufts red ribbon! (Rio won a RBCC in 2012 as the 2nd placed bitch in Open Class).  A short time later Kamba was back in the ring for the Dog Challenge.  
Standing amongst some truly magnificent dogs and soaking up the wonderful atmosphere which surrounded our ring was a magical feeling enough, but when Gill walked up to us and asked for a down and back to assess his movement one more time we felt elated.  Kamba rose to the occasion and gaited enthusiastically with his powerful reach and drive, we stood back in line and watched carefully as Gill considered her line up.  She awarded her DCC to her Open Dog class winner, a handsome dog from The Netherlands, and then to our absolute delight awarded the Reserve Dog CC to Kamba.  Gaining a Kennel Club Stud Book number under a breed specialist of Gill's calibre at Crufts just doesn't come any better!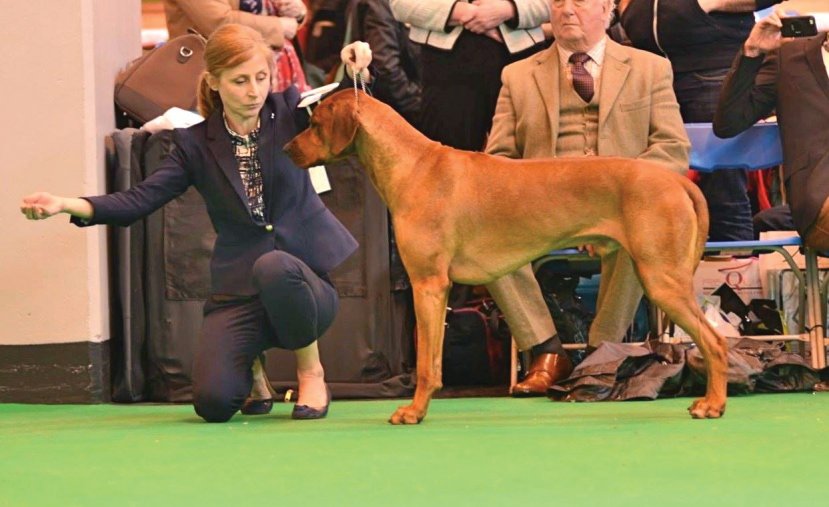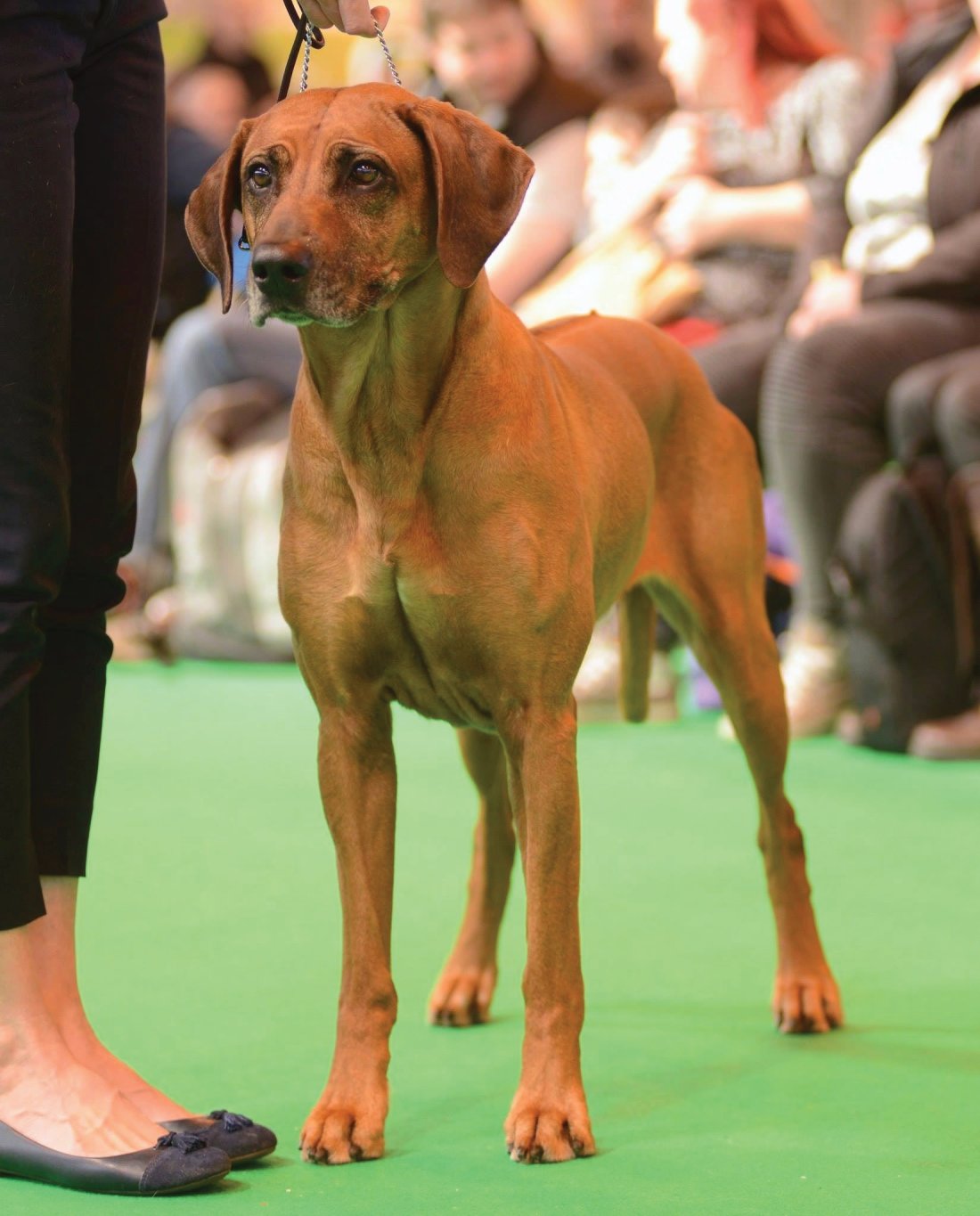 Rio was the very next class of the day and amongst all the excitement we were both a little over exuberant and after flying round the ring were delighted to be awarded 3rd Place in Veteran Bitch behind two spectacular Grand Dames who we've stood alongside in the ring for several years now.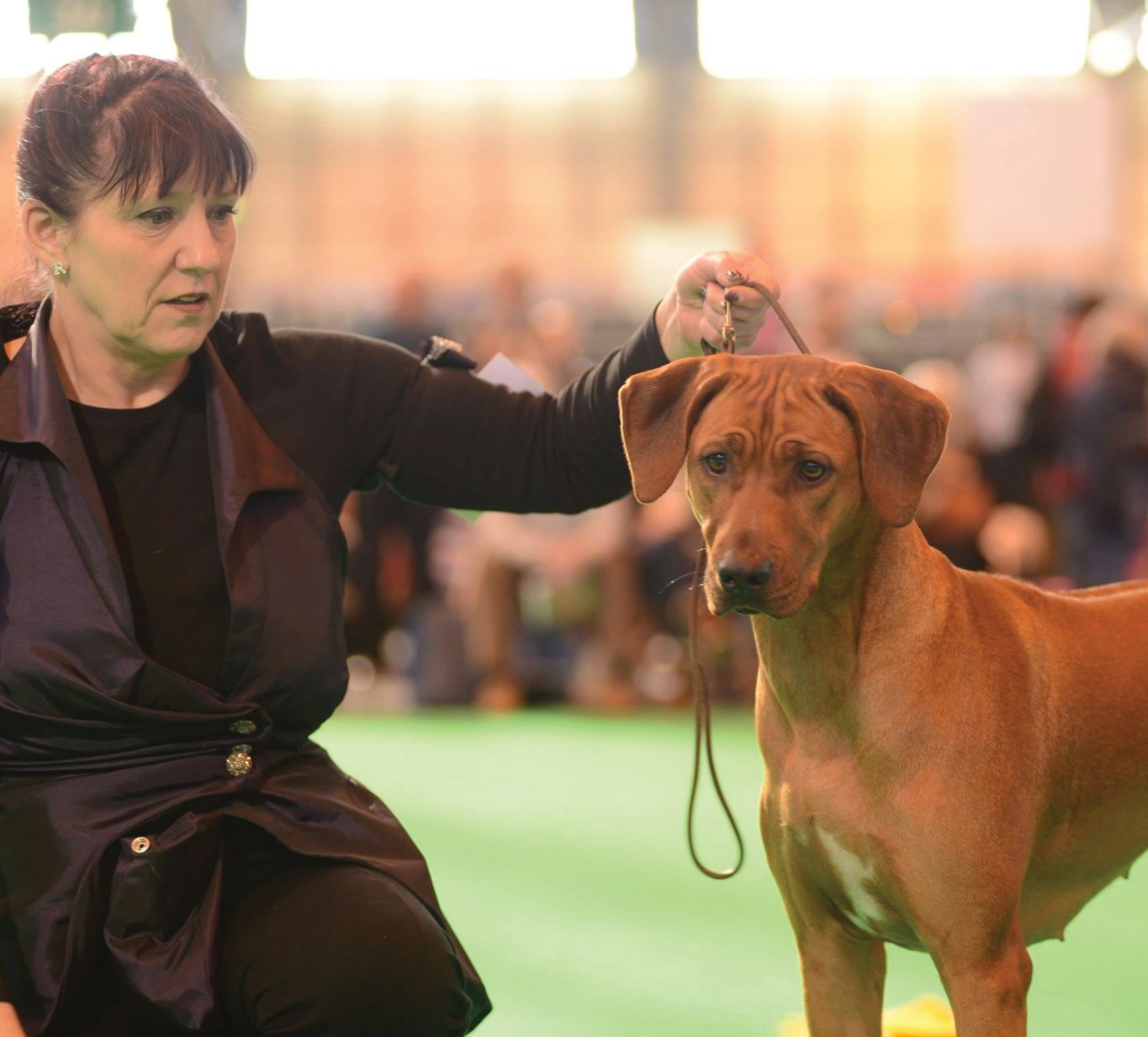 Our beautiful Lana who we co-own with Jane Hawkins and John Smith was next up in Yearling Bitch and with tears in my eyes as I watched Jane and Lana standing to perfection, let out a shriek of excitement when they were awarded 2nd Place in a 12-strong class.  Not only that, Kamba and Lana's litter brother had also won 2nd Place in the Yearling dog class earlier that morning, so all in all the pops just couldn't stay in the bottles any longer!  We enjoyed a toast with friends from far and wide to our fabulous dogs, to Indie (at home) whos babies had won a 1st, RDCC, and two 2nd places, to Rio on teaching Kamba how to take it all in his stride, and to the great success of a fabulous day!  Congratulations to all who qualified, placed and won top honours on the day and thanks and gratitude to our judge Gill Lawless for her impeccable ring management and manner with our dogs.  
Lana is Kamba's full litter sister and we are lucky and very grateful to co-own her with Jane Hawkins and John Smith.   Too good to not include on "Our Dogs" page, Lana now has her own entry, which Jane, John and I had great fun writing together!  Be sure to check her out (she likes nothing more than being in the spotlight!)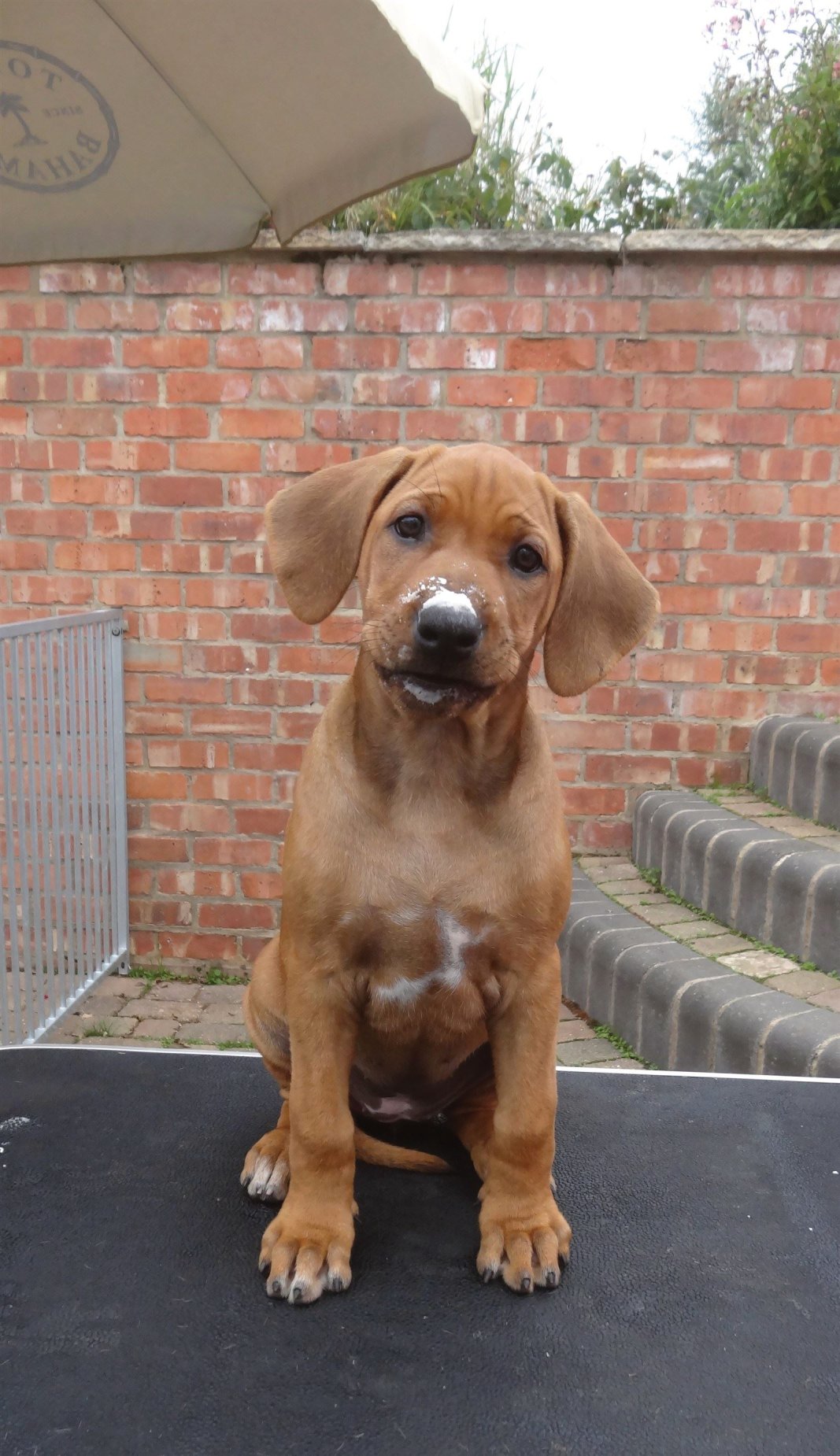 Here she is the day she left our home to go and live with Jane and John.  Cheeky then, and even cheekier now.
We are lucky she comes and stays with us regularly, and coming up very soon, her human entourage will all be going to cheer her on at the Kent Super Dog 2014 competition to which she qualified for winning BEST PUPPY IN SHOW at the East Kent Society Open Show in 2014 under Mike Spencer (Bannonbrig).   We are so proud of Lana and Jane for this fantastic win.
Wish us luck - photos to follow!  
/