Colkeririn Rhodesian Ridgebacks
Quality Rhodesian Ridgebacks, Derbyshire, E​ngland
Colkeririn Face To The Sun JW ShCM in the news!
Many of you have commented that you've missed our regular updates.   2018 was a busy year for many reasons and it was a simple case of somethings gotta give!  Apologies for our absence, and with all good intentions, we plan to return to giving our readers more regular reports on what we've been up to.
Sere's news in particular, has been exciting.  During 2018 she won her way out of Limit, taking her 8th Class win under judge Espen Engh at the Midland & Northern Rhodesian Ridgeback Club 2018 Championship Show.  This win necessitated her to move into the Open Bitch class, where she instantly found her feet and almost immediately won her first, then second Challenge Certificates at back to back shows!
Thank you to Hector Heathcote for the BCC at South Wales Kennel Association and to Ann Ingram for the BCC at Midland Counties.   At SWKA she also won the Good Citizen Stakes under Meg Purnell-Carpenter (see photo).  What a month October was!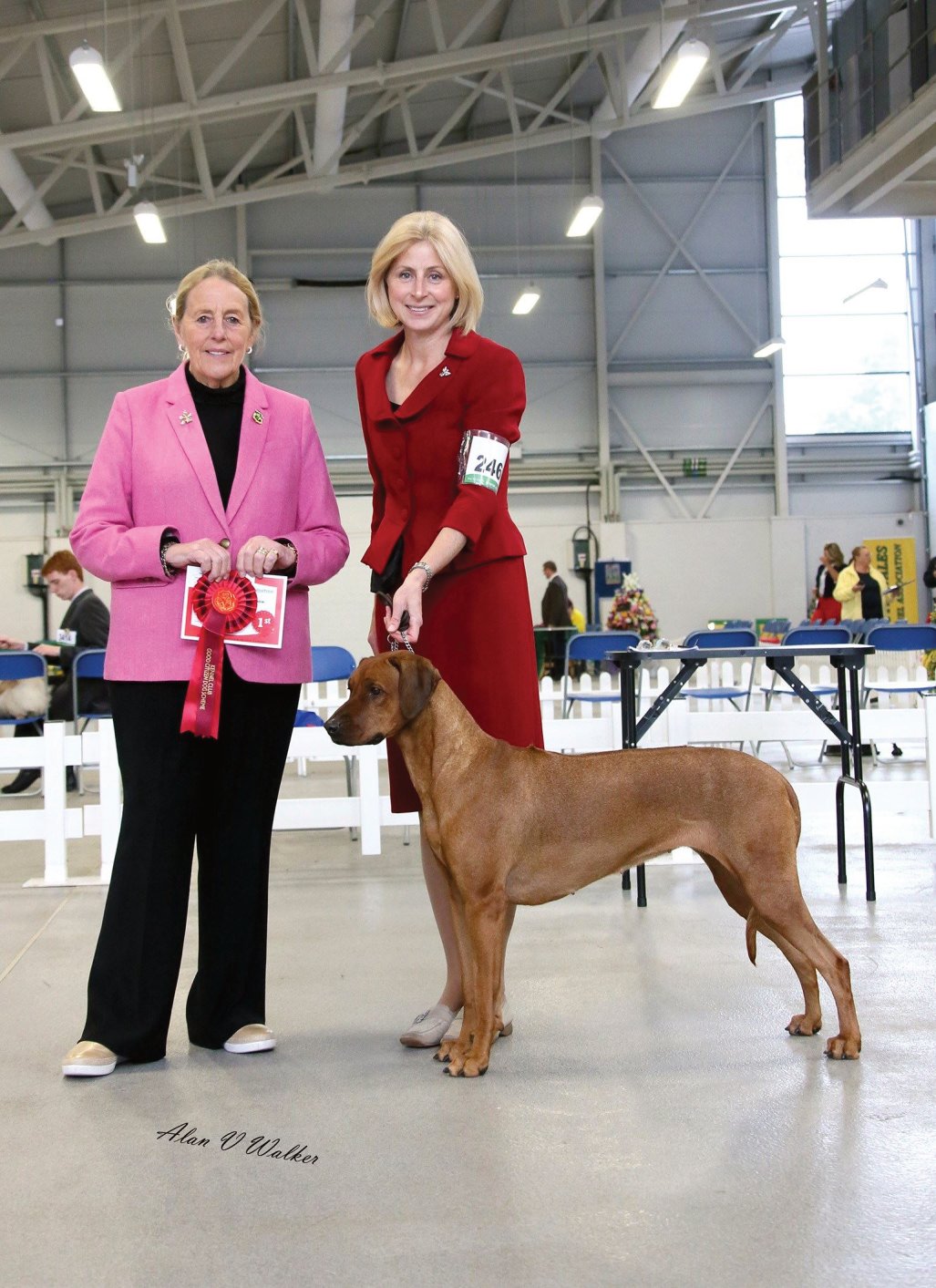 She's had a restful winter with only a handful of outings, and we're ready, willing and able to do our very best in the 2019 show season!   We look forward to seeing some more great judges scheduled for our breed throughout the year and of course to spending time with our friends around the ring.  We'll keep you posted! x
New Look for Colkeririn Rhodesian Ridgebacks' website!
It's been a while since we last updated our site, but with a refresh of photos and colours, and a tidy up on a few pages, we're happy to share our latest look.   (We hope you like it!). 
We also need to bring you up to date on some of our existing news - as the end of the 2018 show season was full of magic for us - we'll write a new post for that to follow shortly.  In the meantime, don't forget to refresh your browser, so our latest look can be viewed in its full glory!  
See you soon! 
Sere is awarded her Stud Book Number and has earned the title Junior Warrant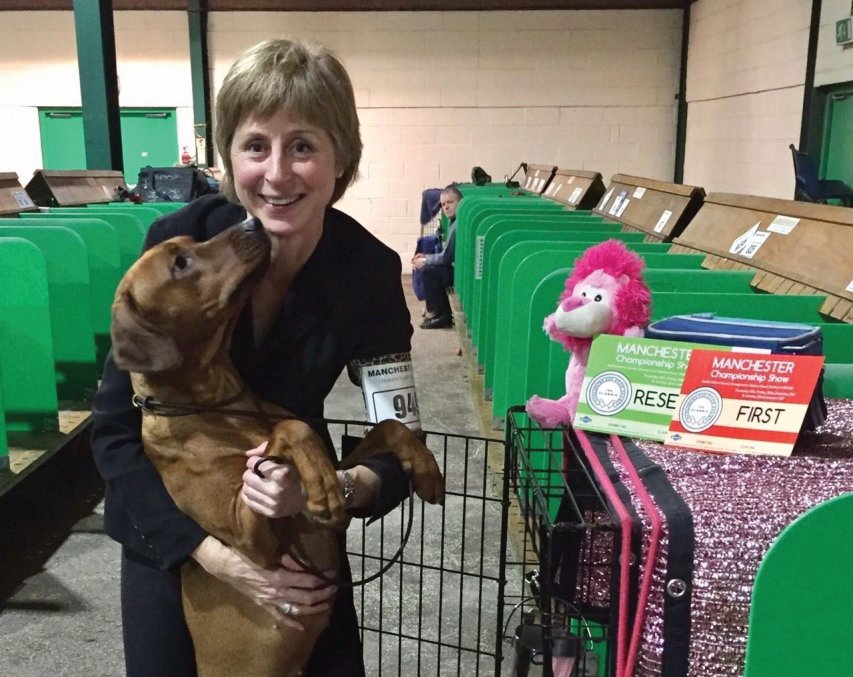 Photo: Sarah Nix
We are excited to share our youngster Sere - Colkeririn Face To The Sun, JW has been awarded her Stud Book Number and won her Junior Warrant title, just 9 months after her first show.   
To date, Sere has collected an impressive 24 1st Place Rosettes and Cards at Championship and Open level in both breed classes and stakes, including winning the Pup of the Year Puppy Bitch Stakes at Windsor Championship Show and Hound Group 1 at Burton on Trent Kennel Association Open Show under Hound Specialist Anne Defaye, after winning Best of Breed under Breed Specialist Lynda Fletcher.  
She's a delightfully joyful soul, charming us every day with her playful ways and "get on with it" attitude.   
Colkeririn Face To The Sun, JW
Stud Book Number:  0007DC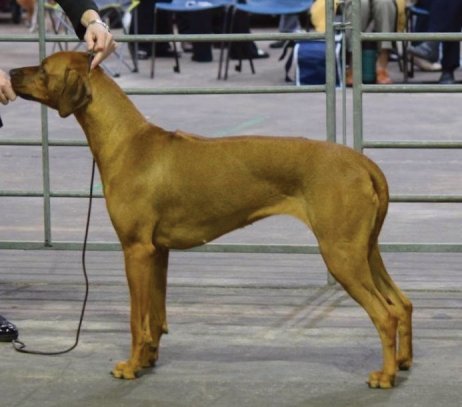 Photo credit: John & Gillian Mulligan
This long weekend has been nothing short of miraculous in Derbyshire.
As some of you know Lana was mated in August.  Everything with the mating was text book and was a positive experience for both Lana and her beau.
As the weeks progressed every single sign told us she was in whelp, which is why our hearts sank when we looked at Dominie's screen on day 29 as what can only be described as peering into an empty abyss.  Not one sign of life or even a change in gradient or colour from one side of the monitor to the other. 
In disbelief, we pregnancy tested her again to get a negative result.  A period of readjustment, re-focussing and what felt like mourning commenced, this may sound dramatic to some, but is an honest account, nonetheless.   
John and Jane visited with Lana two weeks later and Lana seemed, as so many often do, to be fully indulged in a phantom pregnancy.  And two more weekends later, as this was the weekend we were all hoping to whelp her litter, Jane and I decided to keep the time we had both booked off work and all spend the time together to try and find something nice to do, and stop ourselves thinking of what should be happening.
On Friday morning we planned a walk with Lana and her some of her family and friends here.  Luckily Jane decided to mention that as Lana had woken up she had passed what seemed like a combination of wee and some clear discharge.   This to me seemed like a bitch whose waters had broken, and my initial thought was how could a bitch fake waters breaking as part of a phantom (she was, after all, on day 60).   I decided to call a friend, Janet Larkin, who has been nothing short of brilliant since the day I met her 18 months ago, providing invaluable knowledge from her veterinary nurse training and experience as a breeder.  Talking through my thoughts it swiftly became clear Lana should see a vet.  
The brilliant practice, Blenheim Veterinary who I'm so lucky to call my vets, made space immediately in their back to back appointments for Sarah to see Lana.  As soon as she put her hands on her she could feel something.  We progressed into the darkened scanning room, lubed Lana's tummy and faced towards the screen.  A backbone was immediately visible, followed by a strong, regular heart beat!  A miracle!
We looked for more puppies through the 2 dimensions of the scanner and as if to make sure and probably to reconfirm what our eyes had just seen, asked for an x-ray.   A single puppy, who Sarah noted appeared very large, was confirmed.
Stunned, excited, confused, elated and now with a whole new set of emotions to manage, we left the vet and came home.  We called the sire's owner and tried to comprehend how brilliantly Lana had kept her secret for 60 days.  And we marveled at how her master plan had been played out.
A weekend of reading, thinking, talking and weighting up our options to ensure the best outcome commenced, and with the help of the sire's owner, breeder, and with Jo Pyke volunteering a back up surrogate mother/litter on standby, we decided an elective c-section on Monday morning was the way forward. 
Lana, with just a solo puppy in her uterus, was clearly lacking the full blown stimulation to go into labour, but with her plug removed and a potential very large puppy and now at day 63, our minds were made up.  
Yesterday morning we welcomed the arrival of a thriving correct boy who has won a village  of peoples' hearts and minds in 24 short hours.  
Lana is slow to bond with him, but has allowed him to feed occasionally and to his delight have a wonderful explore over his mummy's tummy.  
We know the road ahead might have bumps, but we're so grateful for the gift of this beautiful soul, so please join myself, Jane, John, Lisa and Sharon to welcome Lana and Elvis's miracle son.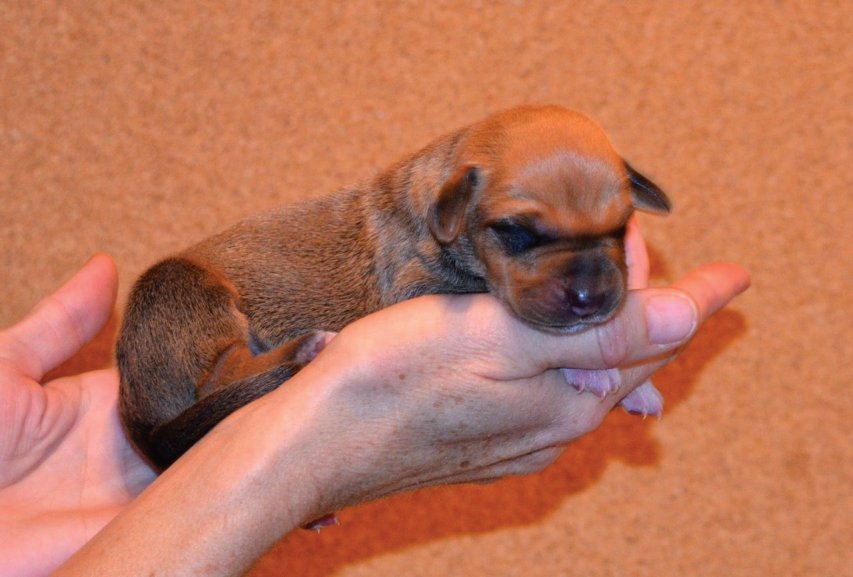 Ch Sonstraal's Chocolate Storm JW, ShCM x Colkeririn Indigo Lightly at Lonaza
Happy Birthday Colby - 12 years young!  
It's a special weekend here at Colkeririn Rhodesian Ridgebacks HQ - we're busy celebrating Colby's 12th Birthday!   Here are some photos of our birthday boy.  He loves "Happy Birthday to You" so much, I think, after 12 years of having it sung to him, he could almost sing it himself!  Every year he gets a dog birthday cake - and this year's was a big hit!  (Recipe below).
Born and bred in the beautiful Sonoran Desert in Arizona, USA, our desert dog enjoyed some lovely UK Winter sunshine whilst out on one of his two daily walks, and not surprisingly stopped for a roll in the grass!   
Colby is loved by so many around the globe, Multi International Champion, American Dual Champion, Multi Int. Ch, AM DC Columbia Blue Sky of Courage, SC (Senior Courser) is a proud father to Roobarb, Hugo, Mojo, Buster, Verde, Tikka, Angel and Liona and grandfather to Bear, Bear, Rubus, Claude, Sere, Indie, Bella, Bella, Twiga, Kenya, Benya and Phloxy and a good friend to many near and far - he sends his greetings to all.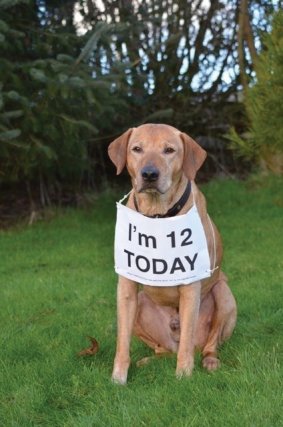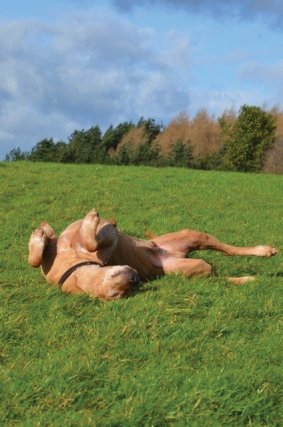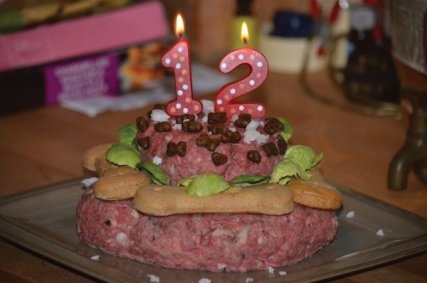 Minced Beef & Sardine Cake
1 kg Minced Beef (20% Fat)
1 120g Can Sardines in Spring Water
1 tbs Grated
Coconoil
and 1 additional tsp
4 Large Bonio
1 Brussel Sprout (divided leaf by leaf)
Handful of small training treats for decoration
In a large mixing bowl mix together Minced Beef, Sardines and the tbs Grated
Coconoil
.   Form the mix into a large round patty and flatten, form a second, smaller round patty and flatten, then place on top of the larger patty.  
Place all 4 Boinos around the top patty, then decorate with Brussel Sprout leaves. Sprinkle the training treats and additional tsp of
Coconoil
over the top and place candles if using (please supervise the entire time and do not to allow your dog to sniff or eat the cake whilst the candles are lit).
We've had a great time watching Kamba's puppies to the lovely Asha grow and flourish, and thank Janet again for asking us to have Kamba sire her litter.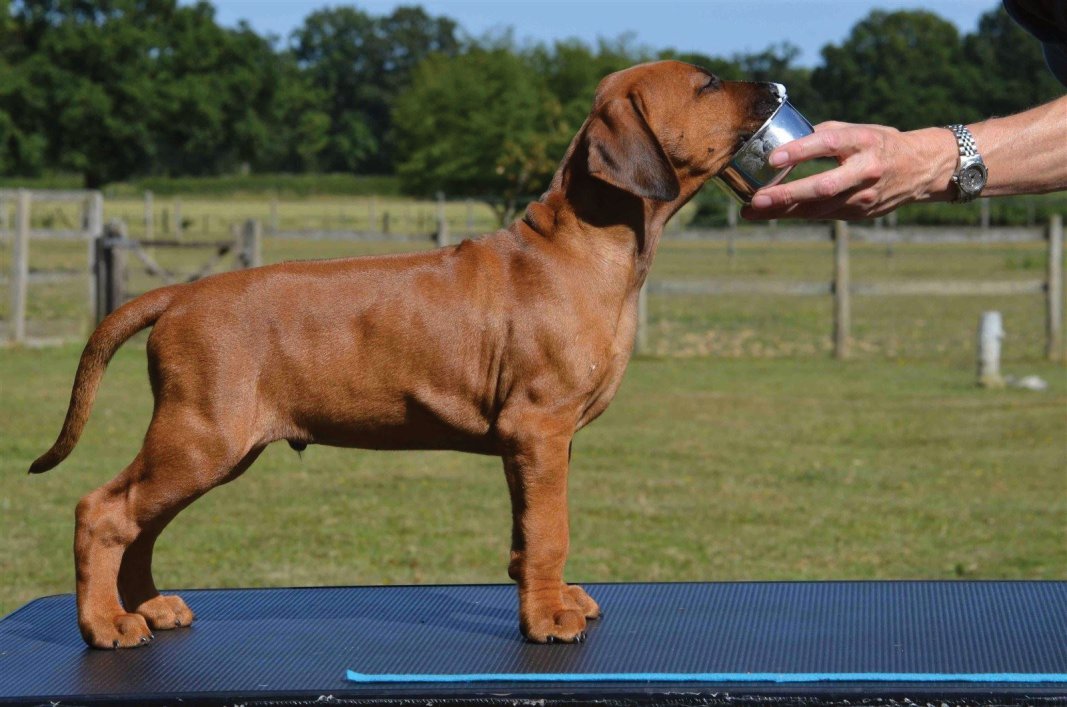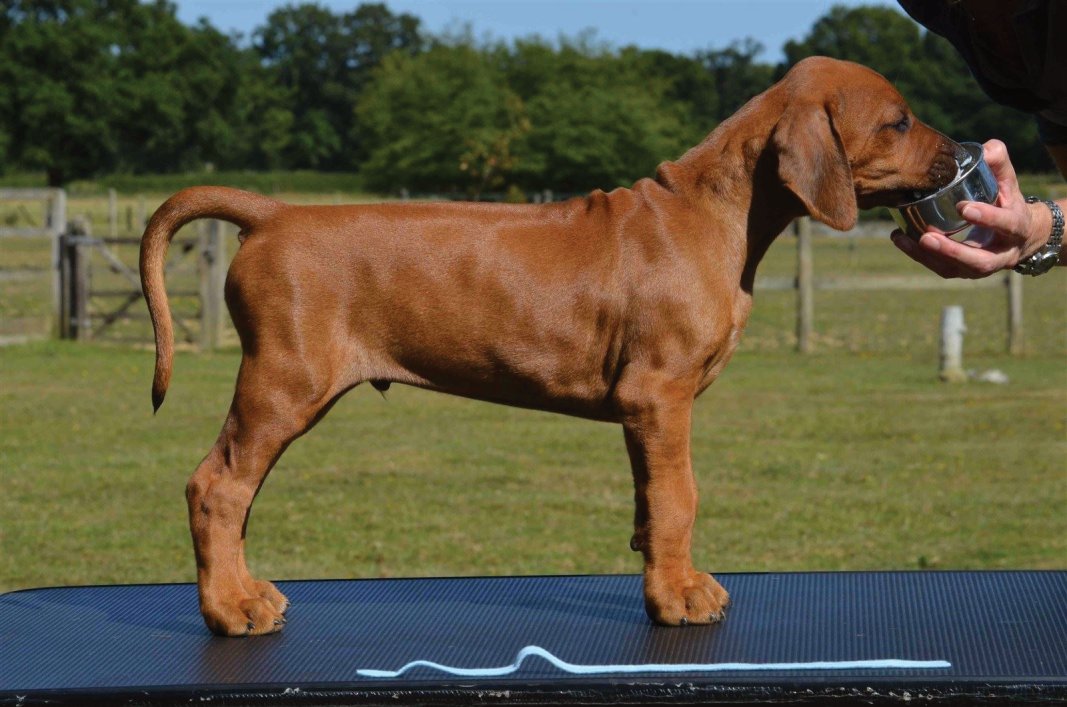 We had the pleasure of visiting Janet on the last weekend all the pups were together to take some photos of them all getting up to mischief and ones of them individually, which are great to have for reference and to show off the quality this pairing produced! Can you tell we're proud?!
They are all now settling into their new homes and we're loving hearing the news of how they are enjoying their new families and house mates - many are living with older Ridgebacks.  We're especially happy Janet kept a puppy girl from this fabulous litter.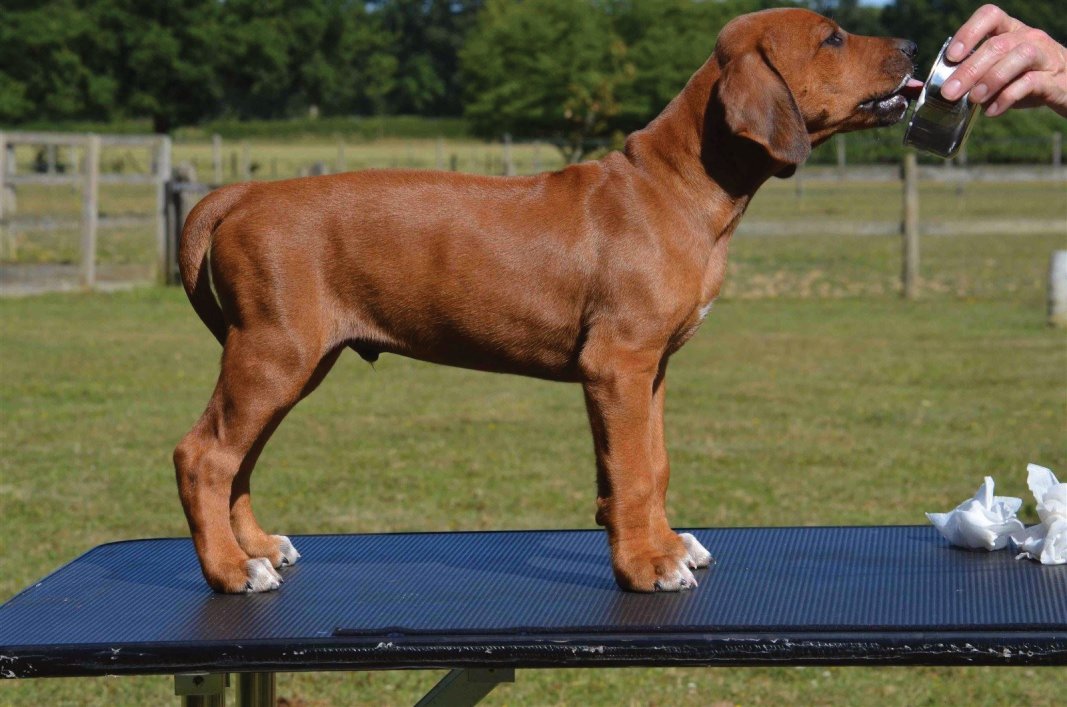 Our own litter Kamba has sired is due in 3 weeks' time, the dam is our very own Verde who is getting beautifully bigger by the day.   His litter to Verde has been a long time planned and we're very excited about this pairing and the pups it will produce.    
Verde is expecting 14 puppies which is a larger litter than we anticipated, so we are accepting additional enquiries through our Contact Us page on this website from families seriously interested in owning one of our puppies.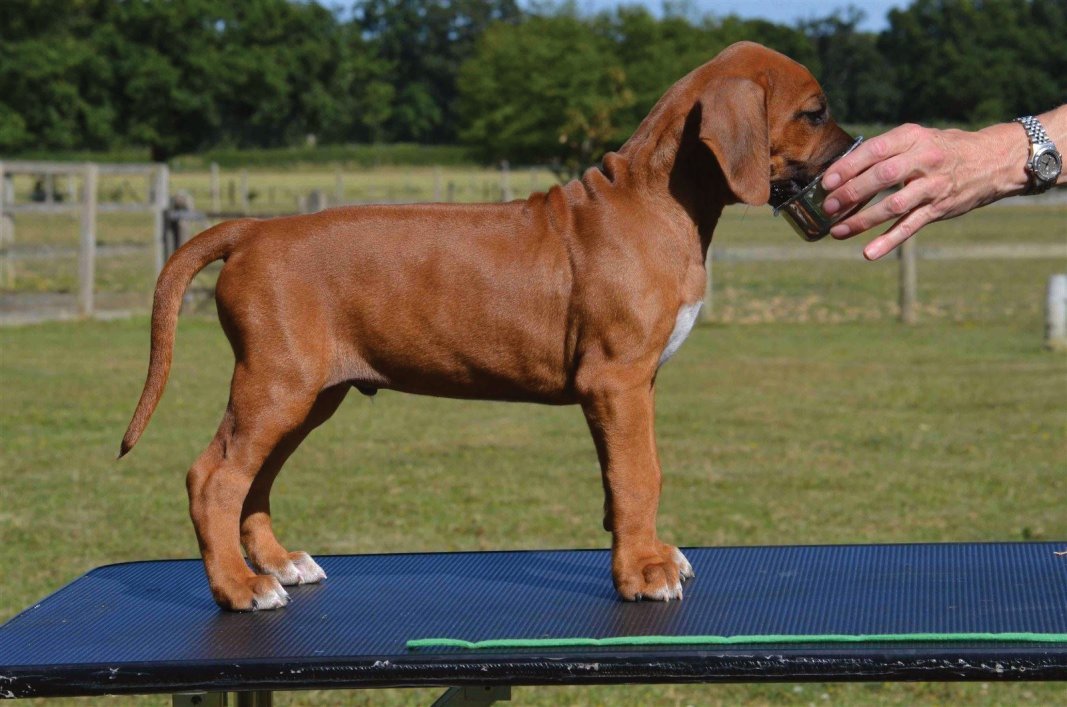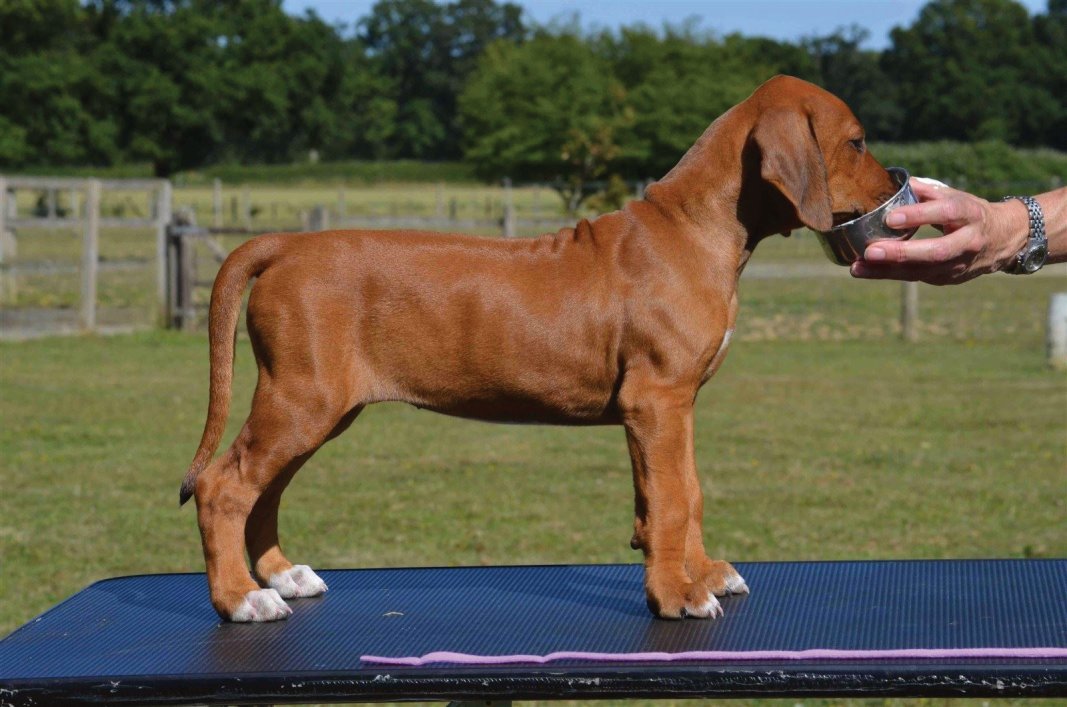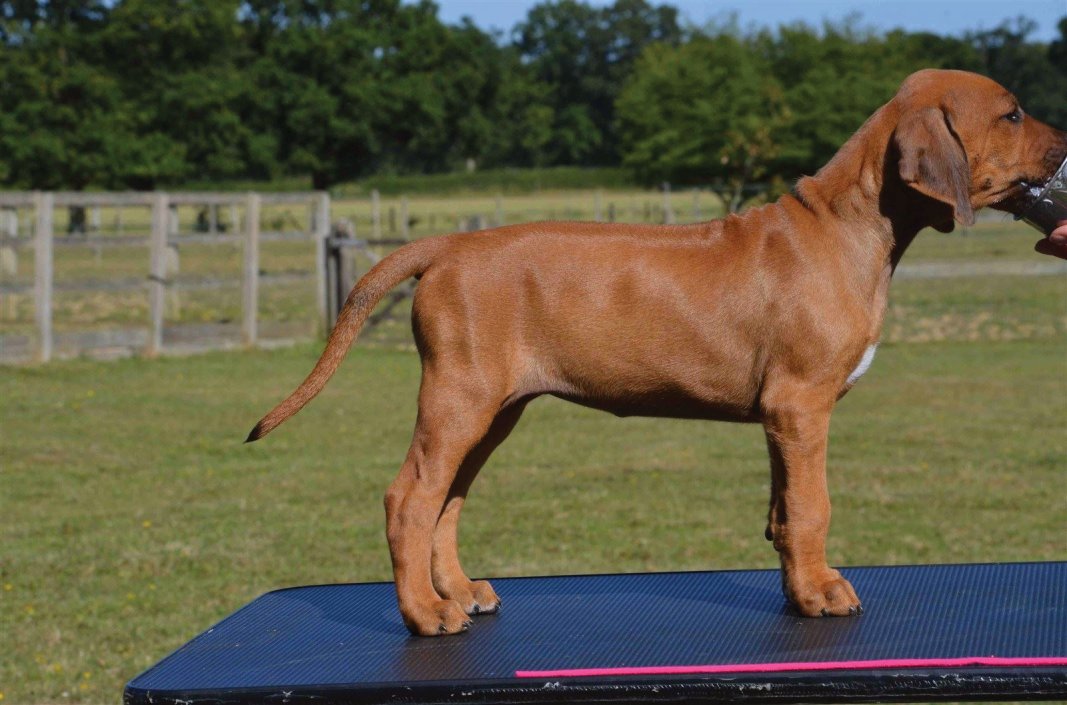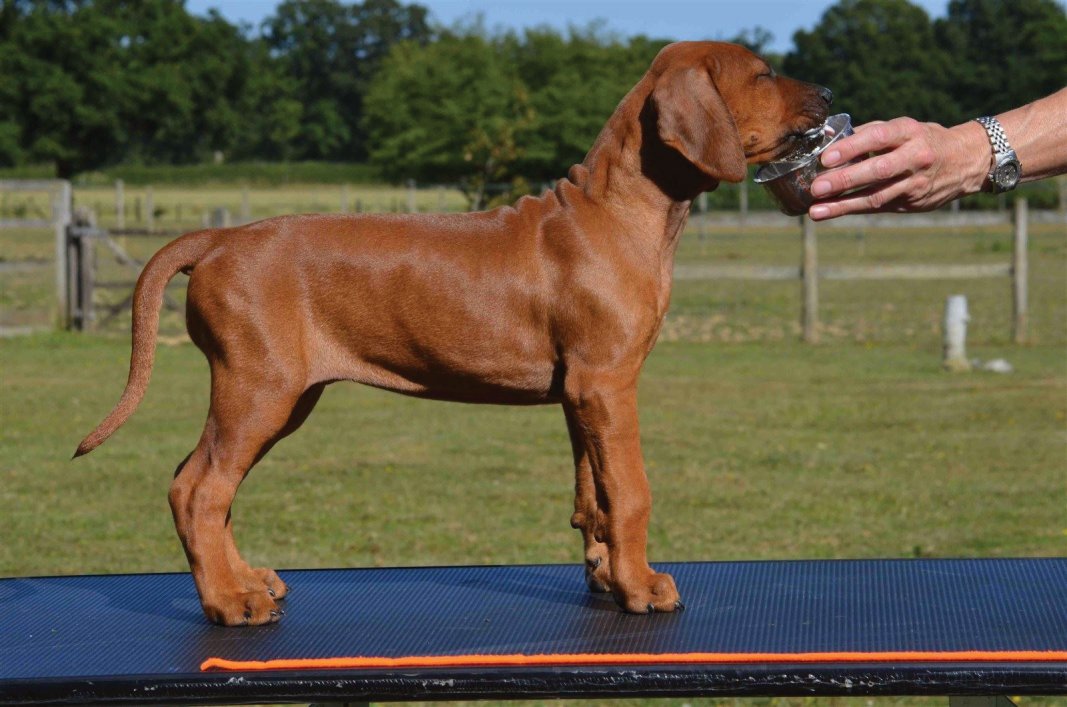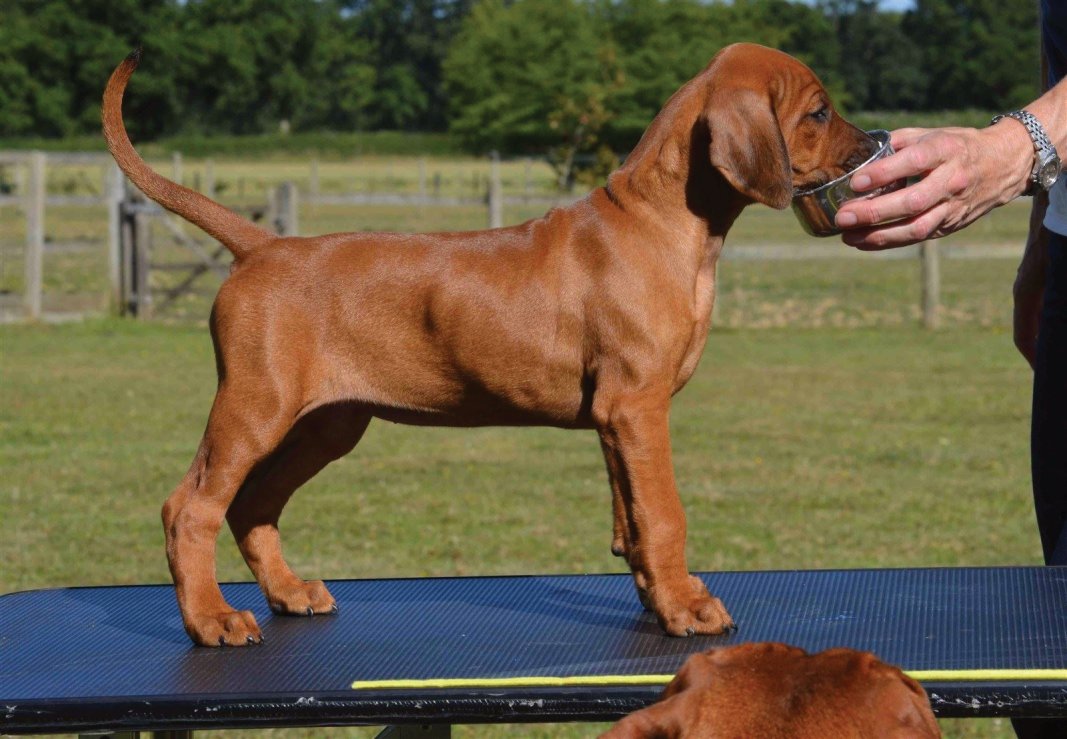 Planned Litter Summer 2015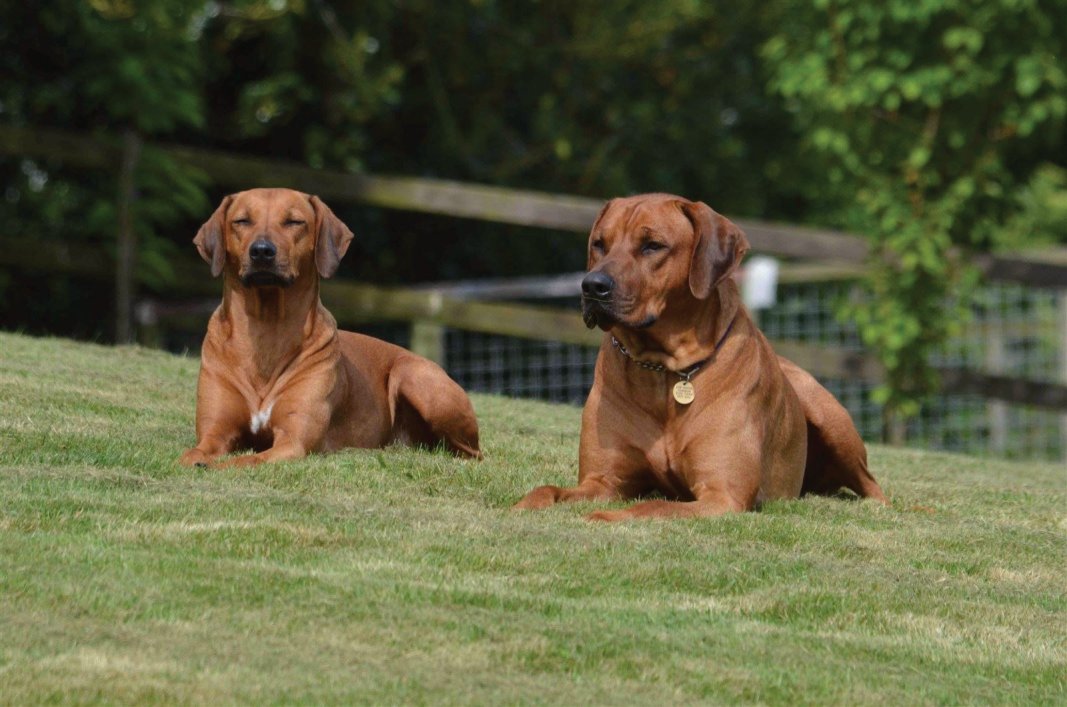 Verde & Kamba (above) are expecting puppies!! 
Verde has been scanned and is confirmed in whelp with at least 12 puppies!  Her due date is on or near to August 21st.
This is a larger litter than we anticipated, so we are accepting additional enquiries through our Contact Us page on this website from families seriously interested in owning one of our puppies.
This is our first Colkeririn to Colkeririn breeding, and brings together the beautiful American lines behind Verde's father Colby and Kamba's mother Indie, all supported by the best of British behind Kamba's father Bhali and the old African lines behind Verde's mother Keira - a long awaited combination. 
Verde and Kamba both live with us in our home along with Verde's father, Kamba's mother and two aunties!  We have detailed health test results on several generations behind Verde & Kamba who are both hip and elbow scored with great results (see test results on "Our Dogs" page), they are both tested and clear of Degenerative Myelopathy and are both tested with High Confidence Clear results on EOAD.  (Early Onset Adult Deafness).
We are therefore hoping for a dozen (maybe more!) happy, healthy puppies next month!  
Celebrations are in order as we are thrilled to share our news in from the Bath Championship Show 2015.  Jane and Lana (Colkeririn Indigo Lightly at Lonaza) have today won the Limit Bitch Class (of 11) and gone on to win the Reserve Bitch Challenge Certificate under breed specialist Janet Parker from Rejan!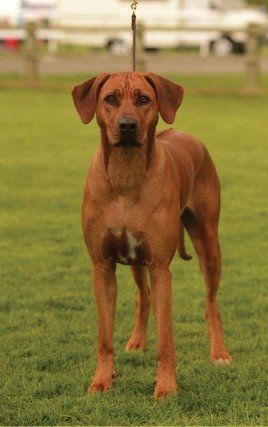 This makes a hat-trick of Stud Book Number wins this year for the 3 Indie x Bhali litter mates who have gone into the show ring - all before they are 23 months in age! We are so proud of Jane and Lana and wish we had been there to celebrate with them in person.
A Reserve Challenge Certificate carries the following wording which a judge has to sign their name to:  "Having assessed the dogs and penalised any features or exaggerations which I consider detrimental to their soundness, health or welfare, I am clearly of the opinion that <<Colkeririn Indigo Lightly at Lonaza >> (Name of exhibit) owned by <<Ms Jane Hawkins, Mr John Smith and Mrs Kim Hodge>> (Name of Owner/s) is of such outstanding merit as to be worthy of being awarded the Challenge Certificate should the Challenge Certificate winner be disqualified.  
Lana won the biggest attended class of the day (10 with 1 absentee) and won her RDCC from a bitch entry of 50. The overall entry was 84 Rhodesian Ridgebacks.   
Congratulations to all the winners of the day!
We are absolutely delighted to read the critiques for both Colkeririn's Sunlight and Colkeririn Indigo Lightly at Lonaza from the recent Championship Show, WELKS 2015 judged by breed specialist Liz Storey (Kiromol).   
Kamba won the Limit Dog Class (entry 13 with 4 absentees) and went on to win his second Reserve Dog Challenge Certificate (at his 2nd consecutive Championship Show) and his litter sister Lana placed 2nd in the Limit Bitch Class (entry 15 with 3 absentees).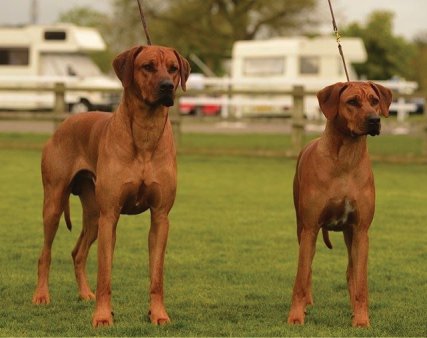 Photo by kind permission of Lena Piehl
For anyone who has observed Liz's judging, you will notice she is as thorough with her hands on the dogs as she is critical with her eye, so we were delighted she acknowledged what she saw and felt on both youngsters. 
Kamba:
"1st. Hodge's Colkeririn's Sunlight. Handsome and upstanding hound of excellent proportions. Well off for bone and substance. Very attractive head type with parallel planes. Kind, round eye. Excellent length and depth of muzzle to skull proportions with good width to underjaw. Good sized ear carried correctly. Well crested neck of good length into excellent shoulder placement with corresponding length of upper arm. Deep brisket, well ribbed back. Elbows carried close. Strong topline and good strong rear quarters. Moved out true with reach and drive. Very well muscled and in top condition. Expertly handled. Pleased to award him the RCC."
Lana:
"2nd. Hawkins, Smith and Hodge's Colkeririn's Indigo Lightly at Lonaza. Slightly smaller stamp, well proportioned all through. Very alert and typical expression, eye colour harmonising with her red wheaten coat. Nice head planes, good muzzle proportions. Excellent front assembly, well boned for size and good, compact feet. Elbows well under withers and carried close. Very good spring of rib, excellent rear with correct set on of pelvis. Strong and well muscled thighs of good width all through. Purposeful mover, very accurate for and aft. Nicely handled."
** Kamba's Going to be a Daddy * Puppies Due June 2nd **
We are very happy to make the exciting announcement for Janet Larkin of Msaka Ridgebacks that her beautiful liver nose girl Asha (Faahac Royaal Finesse) is in whelp with at least 8 wriggling wonders sired by our handsome boy Kamba (Colkeririn's Sunlight).  Janet was so happy Asha was in whelp she stopped counting at 8 when Asha was being scanned recently!  
Puppies are due on June 2nd.   Janet is accepting enquiries about the litter.  We are happy to pass enquiries on, or to contact Janet directly, her details are on our announcement photo below.   
We'll be sure to share some photos of this beautiful combination once they are born. We take huge responsibility in breeding and Kamba will only be used on selected, health tested bitches with good hip and elbow scores. We are honoured Janet should have selected Kamba to sire Asha's first litter.   As our announcement says, 2 beautiful parents with 4 stunning grandparents - we have excellent knowledge of the dogs behind both Asha and Kamba and have fully documented health test results for several generations behind them.
Asha:  (Faahac Royaal Finesse) Elbows:  0/0   Hips:  4/5 = 9
Kamba: (Colkeririn's Sunlight)     Elbows:  0/0   Hips:  3/4 = 7
Both Asha and Kamba are tested for and clear of Degenerative Myelopathy.
Good Luck to Janet and Asha!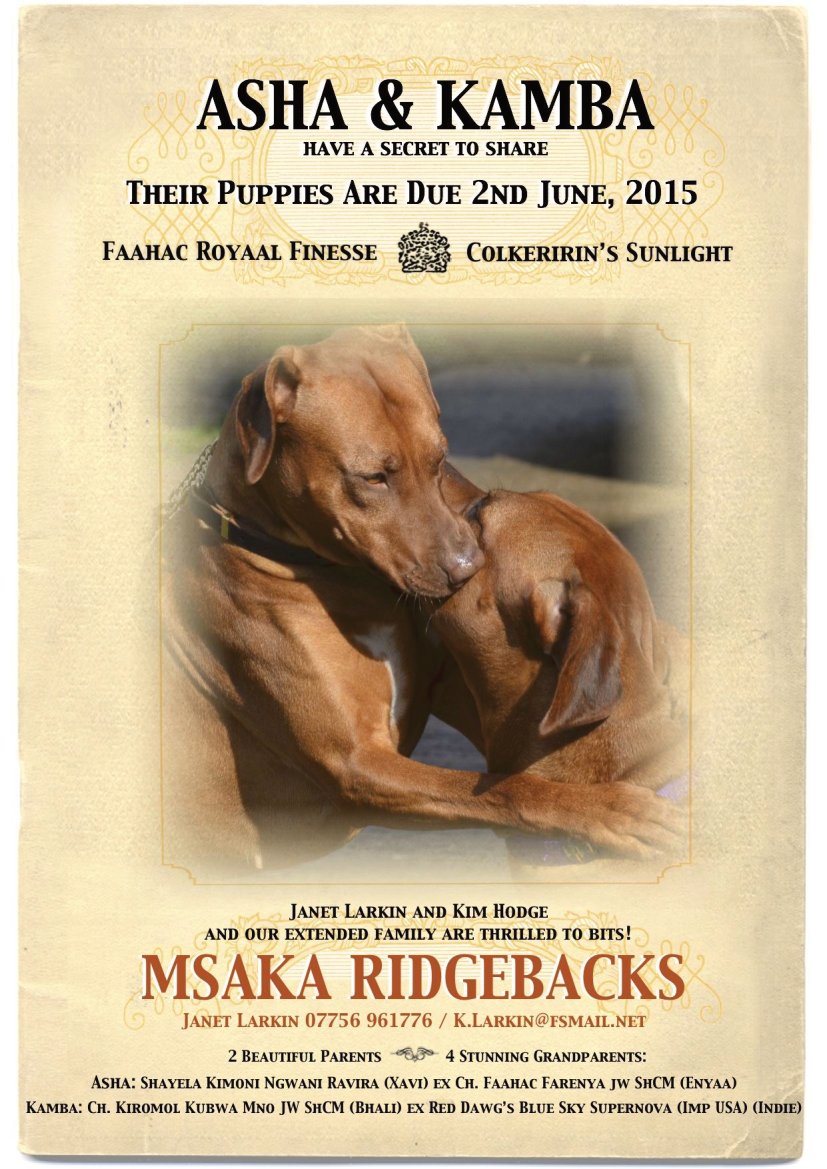 /